As you know garbage disposals are installed under the sink and they take about 12 to 18 inches height of space there. It is also advised to have 6 to 12 inches of extra space under the disposal so it is easy to install and dismantle them. So, in general, you need to have around 2 to 2.5 feet of space under your sink to install a garbage disposal.
But not all kitchens have this, especially if you are using deep sinks. So the solution is going for compact, low profile models. That's why I am listing here the best compact garbage disposals.
Please note that these are not the only compact disposals available but I am listing only the best of them.
How Did I Decide What A Compact Disposal Is?
InSinkErator Evolution Compact has the term 'compact' in its name, so I simply chose its height as the benchmark. So I made a list of garbage disposals that have an overall height of 13 inches or less. So in my definition, a compact, low profile garbage disposal is one which is 13" or less in height. I think it is justified because there aren't many disposals qualifying this criterion.
In the above list, I omitted some disposals even though they qualified because they are very similar to the ones already listed. Also, I didn't consider every brand, just the top ones.
Heights of compact garbage disposals compared
Here is a quick comparison of the heights of the garbage disposals in my list;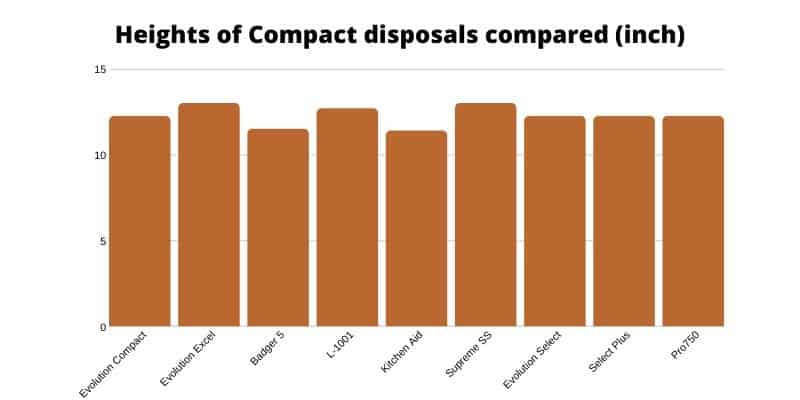 Top 9 Compact Garbage Disposals For Deep Sinks
Here is my list of the best compact garbage disposals for deep sinks;
As you can see my list is dominated by InSinkErator models. Yes, the best compact garbage disposals are made by InSinkErator. Waste King, their main competitor, hardly has any top-end low profile disposals so I chose L-1001 due to its popularity.
All the disposals in the above list were already reviewed in this blog so I don't think it is useful to review them again, so here I am just giving you the condensed version of my reviews.
1. InSinkErator Evolution Compact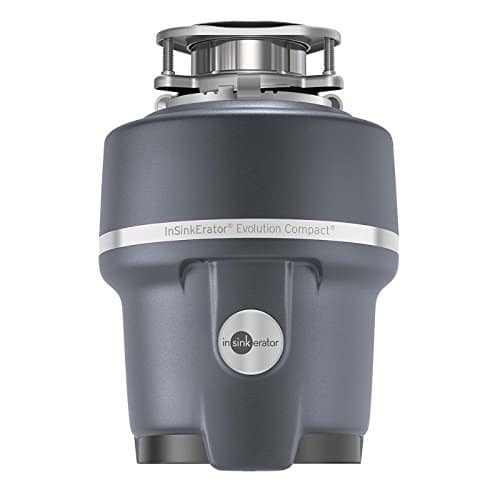 The first in my list is the Evolution Compact model simply because I chose it as the benchmark. This is not the best compact disposal in my list but it is number 2.
The Evolution Compact is equipped with a powerful 3/4HP Dura-Drive induction motor and it runs at a speed of 1725 RPM. It has a chamber capacity of 34.6 oz which is ample for a large household. This is a continuous feed type disposal where you can add food wastes continuously (Further reference – Feed types of garbage disposals).
Evolution Compact disposal is made of corrosion-resistant materials, and its grinding components are made of Stainless Steel.
It also uses Sound Seal technology (a noise insulation technology) which makes it the third quietest garbage disposal by InSinkErator. It also uses a 2-stage grinding system to finely grind all food wastes thrown into it. These grinding stages enable this unit to handle small bones and such hard foods that normal disposals can't handle.
Its overall dimensions are 12-1/4" height and 8-3/4" width which clearly puts it in the 'compact' category.
This disposal unit comes with a warranty of 8 years. Even for a large household, this small garbage disposal is an excellent choice. You can read my complete review of it here.
Note: Evolution Essential XTR is also a low profile disposal, but didn't make it to this list since it is very similar to Evolution Compact. Here is a comparison between the two.
2. InSinkErator Evolution Excel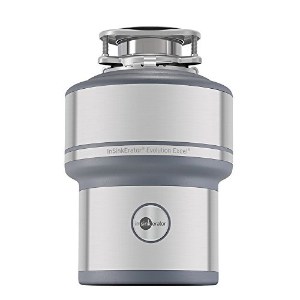 True to its name this garbage disposal excels all other disposals. This is the primary reason why I consider this as the best garbage disposal, and due to its compact size and excellent features, this is definitely the No.1 compact disposal.
This Evolution model is always a step ahead of Evolution Compact. It is much better looking owing to its Stainless Steel finished body. It has a 1HP motor that runs at 1725 RPM and uses a 3-stage grinding system to handle even the toughest of food wastes.
Its noise insulation is the best of all disposals, it is ultra-quiet (Sound Seal technology strikes again).
It has a large grinding chamber with a capacity of 40oz. Just like the Compact model above this is a continuous feed type disposal.
Evolution Excel comes with certain features you don't see in other disposals. The jam sensor circuit and auto-reverse grind system are good examples. These features prevent the disposal form jamming even when disposing of tough food items. It also comes with a 10-year warranty.
Its dimensions are 13"x9". Some websites list its height as 13.5" but it is actually 13" according to its spec sheet.
Evolution Excel is a top-end garbage disposal. It is also costly but the price is well justified. For further reading please check my detailed review here.
3. InSinkErator Badger 5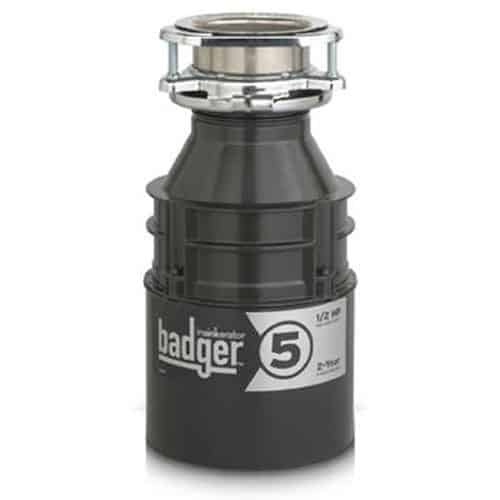 Unlike the above two disposals, Badger 5 doesn't come with any fancy features. It is the most popular disposal in the 'Badger' line due to its pocket-friendly pricing and reliable performance.
It is powered by a 1/2HP Dura-Drive induction motor which runs at 1725 RPM (most InSinkErator disposals run at this speed). It has a Galvanized Steel construction. It is small in size with a chamber capacity of 26 oz.
The overall dimension of this disposal is 11-1/2"x 6-5/16". Make sure you check the spec sheet for the correct dimensions. This is the second smallest disposal in our list and has an overall compact profile.
It comes with a warranty for 3-years. This disposal is the best for small households looking for an economical solution to dispose of food wastes.
Check my detailed review of Badger 5
4. Waste King L-1001
This is the only Waste King garbage disposal that made to my list of top compact disposals despite my long search. The L-1001 is a strong competitor to InSinkErator's Badger 5, and sports a 1/2 HP motor much like it. But it runs at 2600 RPM (Waste King favors high RPM disposers).
This is a continuous feed type disposal with some grinding components made of stainless steel and some with Galvanized steel. Its grinding chamber is made of glass-filled nylon, a kind of fiberglass that is resistant against corrosion.
Its overall size is 12-11/16" x 5-3/16" (as per its spec sheet).
The L-1001 garbage disposal is an economic model suitable for small households.
Here is my detailed review of Waste king 1001
5. Kitchen Aid KCDB250G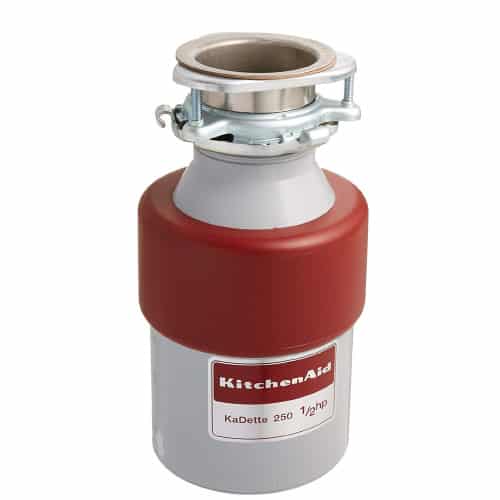 KCDB250G is the most popular garbage disposal from Kitchen Aid. Like Badger 5 and L-1001 it is powered by a ½ HP motor. The speed of the motor is 1725 RPM.
It has a medium quality build like all other economic disposals. But it does have a noise insulator cover to reduce noise which makes this disposal a step ahead of its competitors. Its grinding components and chamber are made of galvanized steel.
The overall size of this disposer is 11-3/8" x 6-5/8". This makes KitchenAid KCDB250G the smallest garbage disposal in the market.
You can check my complete review of Kitchen Aid KCDB250G here.
6. InSinkErator Supreme SS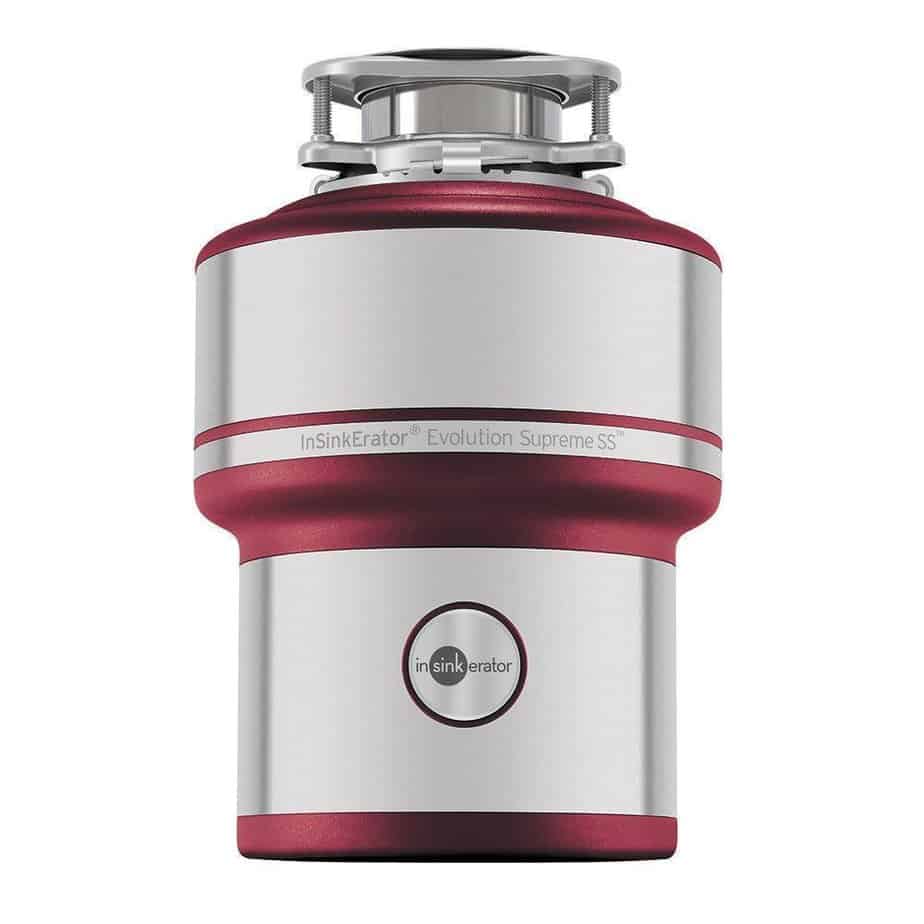 InSinkErator Supreme SS is a relatively new garbage disposal in the Evolution series. It is very identical to the Evolution Excel in its size and specifications.
It has a height of 13 inches so it is just the right height for any confined spaces.
With a power of 1 HP, and features like Multi-Grind technology and Auto-Reverse it is one of the powerful disposals by InSinkErator. It is a perfect fit for your kitchen if you are looking for a powerful and compact disposal.
In addition, it is very quiet in its operation just like the InSinkErator Excel model thanks to SoundSeal technology.
Just like the Excel model, this is also a premium disposer. And it is covered under a warranty of 10-years. It is too similar to the Evolution Excel so I wrote a comparison Evolution Excel vs Supreme SS to make it easy for readers to find their differences.
If you want more details here is my detailed review of InSinkErator Supreme SS.
7. InSinkErator Evolution Select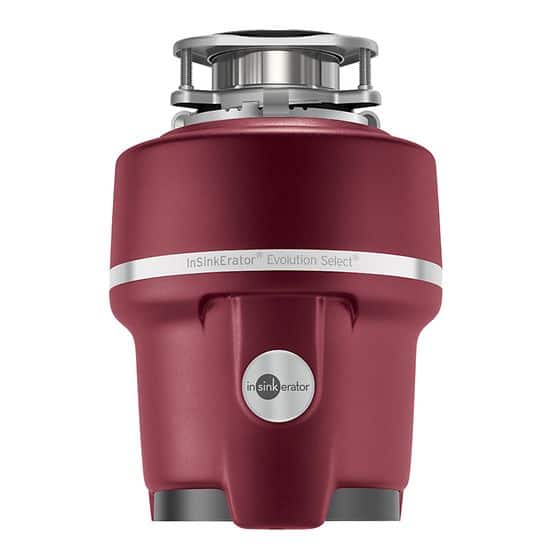 As you can see this is a modified model of the InSinkErator Evolution Compact model. Both of them share the exact size and build though they differ slightly in build quality.
The Evolution Select has a height of 12.25 inches which makes it one of the most compact disposals in the market. It can be easily fitted under almost any sink due to this short height.
It also looks better than the Evolution Compact due to the red color though I am sure opinions differ on that.
It is powered by a 5/8 HP motor running at 1750 RPM. It uses Multi-Grind technology but some premium features like Auto-Reverse and Jam-Sensor are not available even though this is a premium model.
It uses Sound Seal technology so it is quiet but not as much as the Excel or similar models. Here is a full list of quiet garbage disposals if you are interested.
It comes with a 4-year warranty and a premium price tag. This low profile disposal is a good option for a mid-size family.
8. InSinkErator Evolution Select Plus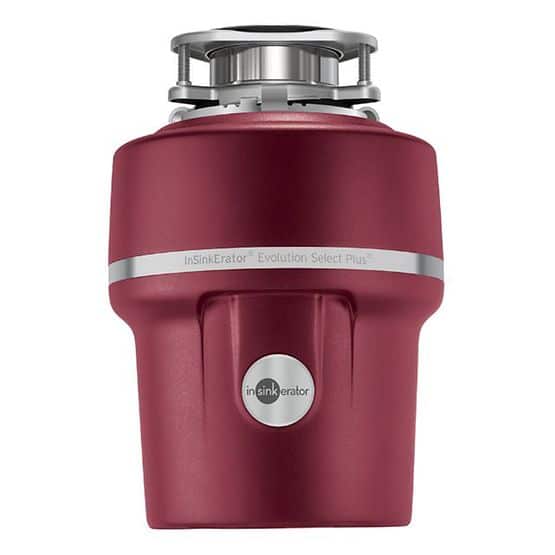 This is another low profile garbage disposal from InSinkErator. It is a more powerful and more feature-rich version of the Evolution Select.
But their sizes are the same, both have a height of 12.25 inches which will fit in any under-sink spaces.
It uses a 3/4 horsepower motor which runs at the same lazy 1725 RPM that all other InSinkErators run. It is equipped with technologies like Auto-Reverse, SoundSeal and Multi-Stage grinding (2-stage) which assures awesome performance for its power. But it lacks the Jam-Sensor technology which is seen on more powerful disposers. It is a little quieter than both Evolution Compact and Select models.
It comes with a 9-year warranty. I should say this is a better buy than the Compact, if you are unsure here is my comparison of Evolution Compact vs Evolution Select vs Select Plus.
9. InSinkErator Pro750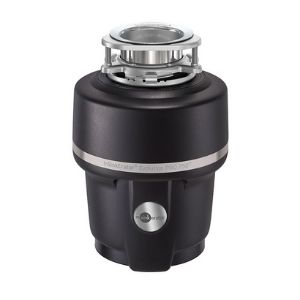 InSinkErator Pro750 is another facelifted Evolution Compact model with slightly different specs but the same size.
The Pro 750 has a height of 12.25 inches and a width of 8.75 inches which is exactly the size of at least 3 models mentioned above.
It is also powered by the same 3/4 HP motor, and it comes with SoundSeal technology, 2-stage grinding and has Auto-Reverse. This is a continuous feed type disposal, and it uses a 3-bolt assembly for installation.
It comes with a 9-year warranty.
Don't forget to check my review of InSinkErator Pro 750, and also Evolution Compact vs Pro750.
Can you use the above garbage disposals for undermount sinks?
Undermount sinks are installed just beneath the countertop level. That means they will sit about 1.25 inches lower, which in turn means the total space under the countertop is short by 1.25 inches. But that is not a big deal since all garbage disposals above are compact enough to be accommodated into such a space. So, yes you can use the above garbage disposals for undermount sinks as well.
Also refer: best garbage disposal for farmhouse sinks