InSinkErator's Evolution Excel is by far the best garbage disposal I have ever seen. Due to its immense success, InSinkErator created some very similar models to replicate this success.
InSinkErator Evolution Excel vs Prestige: Between these two garbage disposals, Excel is the slightly better garbage disposal. While the majority of the elements are the same, the Excel is quieter than the Prestige.
Here are those new models;
InSinkErator Evolution Prestige
InSinkErator Evolution Supreme SS
InSinkErator Evolution Pro 1100XL
Honestly, I think it is a bad move because it only confuses the customer. So in this blog post, I am highlighting how these three models are different from Excel.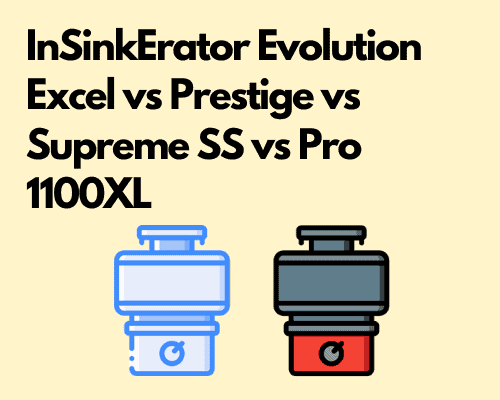 What is the difference between InSinkErator Prestige and Excel models?
The main difference between InSinkErator Evolution Prestige and Evolution Excel is that the Evolution Excel comes with a 'Jam Sensor' circuit that enables it to sense jams and increase its cutting torque accordingly. The jam sensor can increase the torque to up to 500%. The 'Prestige' model doesn't have this feature.
Another difference is that Prestige is not as quiet as Excel. According to InSinkErator Excel is ultra-quiet whereas Prestige is 'quiet'.
Another difference, an irrelevant one, is that Prestige has dark blue and chrome colors while Excel is grey and chrome!
What is the difference between InSinkErator Evolution Pro 1100XL and Excel?
There are two main differences between these models. One difference is; that InSinkErator Evolution Pro has a power of 1.1 HP whereas Evolution Excel has only 1 HP.
Another difference is, that Evolution Pro comes with a warranty of 12 years whereas Evolution Excel has only a 7-year warranty.
There are a few more differences between these models which are the results of a slightly more powerful motor in the Pro series. Since it has more power, the Pro model consumes slightly more current and is slightly heavier. But these differences do not matter at all to a customer, so they are irrelevant.
What is the difference between InSinkErator Evolution Supreme SS and Evolution Excel?
Supreme SS and Excel models are different when it comes to sound insulation and 'jam sensor' circuits.
Evolution Excel uses 'Sound Seal Plus' technology which makes the disposal ultra-quiet whereas Supreme SS uses 'Sound Seal' technology which is slightly inferior to the former.
Another difference is that the Evolution Excel has a 'Jam Sensor' circuit but the Supreme SS model lacks it.
Quick Comparison of Differences
PS: The difference between Multi-Grind Plus and Multi-Grind technologies is that the former has a Jam Circuit sensor.
PS 2: The difference between Sound Seal Plus and Sound Seal technologies is that the former is ultra-quiet while the latter is only quiet.
What are the similarities between these four models?
Every other specification of these models is the same. All of them have exactly the same dimension (13″ x 9″`), the exact same features (Sound Seal, 3-stage grinding system, Anti-vibration mount, tailpipe, Quiet collar sink, etc.) and they all look the same.
Their common features and specifications are;
Type of Feed – Continuous
Motor – Single Phase
Volts – 120
Reversing – Auto-Reverse Grind System™ feature
RPM – 1725
Lubrication – Permanently Lubricated Upper & Lower Bearings
Overall Height – 13″
SoundSeal Plus Technology – Anti-Vibration Mount™, Anti-Vibration Tailpipe Mount™, Quiet Collar™ Sink Baffle, Multi-Layer SoundLimiter™
MultiGrind Plus Technology – GrindShear Ring™, Tri-Action Lug System™ feature, Undercutter Disk™
Grind Chamber Capacity – 40 oz.
Motor Protection – Manual Reset Overload
Conclusion
All of these models are top-end and reliable. However, if the price is right go for Evolution Excel because it has an awesome track record.
Related Topics:
If you like the article above, here are some other similar articles you should check out!
Waste King 9930 Garbage Disposal Review
InSinkErator Pro 750 vs Evolution Compact – A Quick Comparison
Garbage Disposal Buying Guide – 9 Things to Look for When Buying