Buying a garbage disposal unit is not rocket science, most products on the market are good; we don't have to waste hours in front of the computer searching for reviews. But everyone including me wants the best garbage disposal, so naturally, we invest our time in it. This guide is an effort to reduce the time people are wasting on finding the best garbage disposal.
The very first step in buying a garbage disposal, or anything for that matter, is deciding what you actually want. How much horsepower do you need? Do you actually need a premium disposal unit or will a more rugged, cheaper one suffice?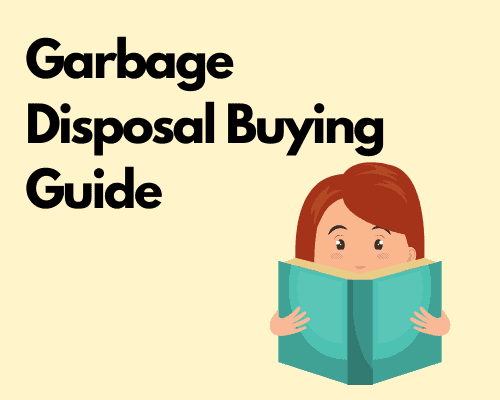 Below are the common questions you should answer before you start looking for a disposer.
What horsepower do I need?
What type of waste do I want to get rid of?
Do I want the disposal to look good?
Do I need continuous feed or batch type?
Do I prefer silent operation?
How much space do I have under the sink?
Do I need a dishwasher attachment?
What is my budget?
What features do I need?
1. What horsepower garbage disposal do I need?
The horsepower needed for a garbage disposal depends mainly on two things; the quantity of food waste and the type of waste you want to get rid of. Four standard power types are available in the market. They are;

– 1/3 HP Garbage Disposals

This is the cheapest and the least powerful garbage disposals of all. If you are looking for a short-term companion for 1 or 2 people, they are an ideal choice. Since these are low-powered, only soft foods like vegetables can be properly grounded. They also have a tendency to get stuck if you add too much load. Since they are the cheapest, most of the components used in them too are cheap and can rust easily on long-term usage.

– 1/2 HP Garbage Disposals

½ horsepower garbage disposals are the standard ones for a home with one or two people or perhaps more. It can grind mostly any kind of food waste. They are more compact and affordable. Their prices vary but you can find some good ones for under $90. The best ½ HP disposals use Stainless Steel components which are ideal for long-term usage. Many of the most popular garbage disposals fall into this power range.

– 3/4 HP Garbage Disposals

Suitable for a home with 2-4 people a 3/4 HP powered garbage disposal has enough power to dispose of fibrous food items like potato peels, lettuce, asparagus, and celery. These disposals are bigger than both the types above and are comparatively expensive. Top-end models also come with features like multi-stage grinding and noise insulation.

– 1 HP

This is the most powerful type suitable for home and commercial use. Most commercial uses require more powerful versions though. This is apt for a home with 3-6 people. They are big in size and also expensive compared to the above but you may be able to find some within the price range of 3/4 HP disposals. The top-end models are really quiet and use multi-stage grinding. These disposals seldom jam and can handle even hard food items like tiny bones and coffee grounds.
2. What type of waste do I want to get rid of?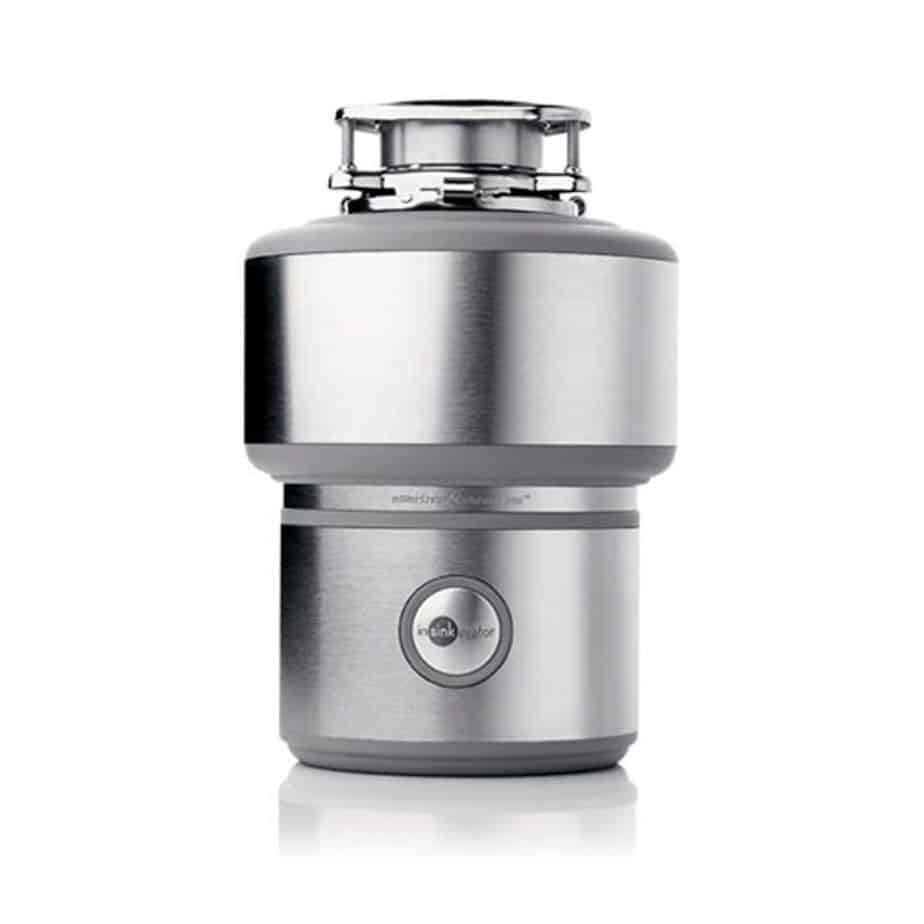 Not all garbage disposals have the power to grind fibrous and hard food wastes. If you have only soft wastes like fruits and vegetables look for a ½ HP disposal. If you cook often and want to dispose of hard food items like cereals or tiny bones opt for a 3/4 or 1 HP disposal.
3. Do I want the disposal to look good?
Some people may disagree, but looks matter. Steve Jobs knew it and so do garbage disposal manufacturers. Like phones, there are disposal units that look really, really beautiful (Take InSinkErator Evolution Excel for example.) Definitely, they fall in the premium range and are costly. But do you really need one? After all, it will be hidden under the kitchen sink. Time for you to decide.
4. What Type of Garbage Disposal Do I need?
There are two types of garbage disposals based on the way they process food wastes. Given below is a short comparison between both which, I believe, is helpful in choosing the tight disposer.
– Continuous Feed
As the name suggests they operate continually grinding any waste thrown into them. It is suitable for grinding large amounts of food waste within a short time. They are also cheaper than the other type and are more popular among the two. One major con of this kind of disposals is that since their entry remains open during operation other things like spoons may fall into it damaging the unit. They also consume more water than the batch feed type.

If you have a busy household with lots of food waste to dispose of, opt for this type.
– Batch Feed
Here the wastes are processed in batches, which involve filling up the disposal with waste, closing the entry, and then turning on the unit. This completely eliminates all safety issues. If you are likely to dispose of only small amounts of garbage each time this is a good choice.
If you like to know more, here is a detailed comparison of batch feed and continuous feed garbage disposals.
5. Do I prefer quiet operation?
A garbage disposal unit can make lots of noise. Most of these are caused by vibrations due to improper fittings. There are disposals that use noise reduction technologies, but they will cost more. The ¾ or 1 HP types are usually quieter than the 1/3 and ½ HP types because manufacturers use better insulations on the former while cutting corners on the latter to make them cheaper. If you are confused about which to choose, buy a ¾ HP one, that would be my choice.
6. How much space do I have under the sink?
Garbage disposals are not small gadgets; some require ample space below the sink. Check how much space is available to avoid the hassle of buying and returning oversized disposal. 1/3HP and 1/2HP types are the smallest but compact designs are available for higher horsepower disposals too. Check the product specifications to get an idea of how much room your new disposal will require.
And feel free to check this list of compact garbage disposals.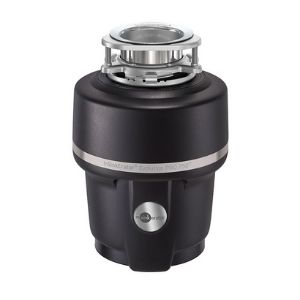 7. Do I need a dishwasher attachment?
Every garbage disposal is equipped with a knockout plug that can be removed to add a dishwasher attachment. But none of these attachments come with the package, so if you have a dishwasher make sure you buy this accessory as well.
Also please refer to this article – Why you shouldn't buy a dishwasher with built-in disposal?
8. What is my budget?
This is an important question you need to find an answer to. It is easy to be carried away by the nice design and features of top-end disposals but do you really need those pricey ones? Your choice.
9. What features do I need?
All garbage disposal units have certain features, it is important to understand them to make a learned buying decision. Given below is a brief explanation of some of the most common features seen in garbage disposal units;
Quick/EZ Mount
EZ mount is a rotate and lock feature that comes with new generation garbage disposals. This quick-lock mechanism makes it a little bit easier to install a disposal than the 3-bolt system used by older models. But 3-bolt systems are better since they are made of stainless steel whereas an EZ mount is made of Aluminium. A 3-bolt system also reduces vibrations. But the EZ mount system has a removable splash guard so they are easier for cleaning.
Read more – 3-bolt vs EZ mount
Auto-reverse/Anti-jamming function
Auto-reverse is a feature seen in high-end disposals implemented to avoid jams. If the blades get blocked during operation the disposal will automatically reverse its direction of rotation. This to and fro rotation can break even the toughest of blocks.
Multi-Grind technology
A multi-grind garbage disposal uses multiple stages of grinding to change food wastes into pulp. They are better than single-stage grinding and are expensive so you will find them only on high-end garbage disposals like InSinkErator Evolution Excel. Most high-end disposals by InSinkErator use this technology whereas Waste King has only a few models using it.
Sound seal technology
This is a patented name of InSinkErator's noise reduction technology
Read more about the top garbage disposal technologies
Permanent magnet type motor Vs induction motor
A permanent magnet type motor uses a permanent magnet whereas an induction motor uses electromagnets. Permanent magnet motors are high-speed and have higher efficiencies but are costlier. A popular brand InSinkErator uses Induction motors in their disposals while their main competitor uses permanent magnet-type motors. In general high-speed motors are better for garbage disposals as it helps to avoid jams and grind food wastes faster. But slow-speed disposals are equipped with more features like auto-reverse to compensate for this drawback so, in essence, both types of disposals are equally good. You can read more about this here.
Related Topics:
If you like the article above, here are some other similar articles you should check out!
BECBAS Garbage Disposal Reviews
Eco Logic Garbage Disposal Reviews