Best Waste Maid Garbage Disposals
Waste Maid 58 Economy 1/2 HP Food Waste Disposer
Waste Maid 158 Standard 1/2 HP Food Waste Disposer
Waste Maid 458 Deluxe 3/4 HP Food Waste Disposer
Waste Maid US-WM-658 Premium 1-1/4 HP Food Waste Disposer
 

 

 

 

 

 

 

 

 

Power
1/2 HP, 2600 RPM
1/2 HP, 2600 RPM
3/4 HP, 2700 RPM
1 1/4 HP, 2800 RPM
Feed Type
Continuous
Continuous
Continuous
Continuous
Grinding Wheel & Shredder Ring
Cold Rolled Steel
Stainless Steel
Stainless Steel
Stainless Steel
Silver Guard *
No
No
Yes
Yes
Noise Insulation
None
Partial
Full
Full
Splash Guard
Removable
Removable
Removable
Removable
Power cord included?
Yes
Yes
Yes
Yes
Warranty
2 Years
3 Years
10 Years
10 Years
*Silver guard is a magnetic collar that catches any metal objects before they enter the disposal's chamber. It avoids damage to the disposer from accidentally dropping metallic objects like spoons or forks.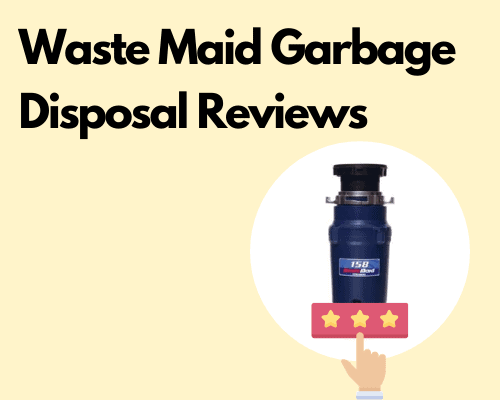 Waste Maid Disposer Reviews In Detail
1. Waste Maid 58 Economy 1/2 HP Food Waste Disposer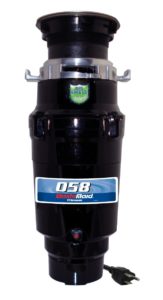 This is the cheapest garbage disposal by Waste Maid. It is powered by a 1/2HP permanent magnet motor that is capable of processing most kitchen food wastes. This is a continuous feed type disposal where you can continuously add food wastes without stopping. Its grinding components are made of cold-rolled steel which is not as good as Stainless steel which comes in more expensive models.
The noise insulation capability of this garbage disposal is poor but is totally expected for low-budget disposal. It is much cheaper than many of its main competitors like Badger 5. The Waste Maid 058 comes with a removable splash guard; which is handy while cleaning, and a power cord. This garbage disposal has a warranty period of 2 years.
Overall this is a good and powerful garbage disposal for those looking for a pocket-friendly solution for disposing of kitchen wastes.
2. Waste Maid 158 Standard 1/2 HP Food Waste Disposer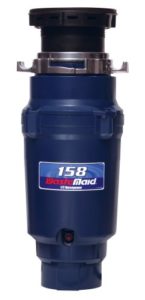 This 158 model by Waste Maid uses the same motor as the 058 one ie, 1/2 HP running at 2600 RPM. But the build quality of the former disposer is much better than the latter.
Waste Maid 158 has stainless steel grinding components which is far better than cold-rolled steel. It has better noise insulation and comes with a 3-year warranty.
Comparing the 058 & 158 models by Waste Maid the latter is better in every aspect, and they are priced similar so go for it.
3. Waste Maid 458 Deluxe 3/4 HP Food Waste Disposer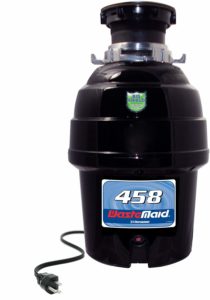 Like the others, this is high-speed garbage disposal powered by a 3/4HP motor that delivers enough power to pulverize food wastes from a regular household. It runs at 2700 RPM and this high speed enables it to reduce jams. It also comes with 'Silver Guard' technology which is basically a magnetic collar to prevent metal objects from entering the disposer.
The build quality of the Waste Maid 458 Deluxe disposer is good, its grinding components are made of Stainless steel, and the grinding chamber is corrosion resistant. It has a lifetime guarantee against corrosion in addition to the 10-year-long limited warranty.
4. Waste Maid US-WM-658 Premium 1-1/4 HP Food Waste Disposer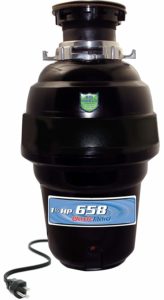 The maximum power of a household disposal is usually 1HP but Waste Maid is giving us disposal with even more power, 1-1/4HP! For a normal household, this is more power than needed. It runs at a speed of 2800 RPM; faster than any other model reviewed here.
This is a premium product and so the build quality is as good as expected. It comes with a corrosion-resistant grinding chamber, stainless steel components, and a lifetime corrosion guarantee. It uses Silver Guard technology like the previous model I reviewed and is noise insulated. This garbage disposal is covered under a 10-year limited warranty.
Though labeled as a premium product it is much cheaper than the high-end models from Waste King or InSinkErator. If you are looking for a budget but high-performing garbage disposal this is the one.
More Features Of Waste Maid Garbage Disposals
Other than those mentioned above there are a few common features among the top 4 Waste Maid disposals I selected. They are;
Bio shield – This prevents micro-organisms from growing inside the disposer and so prevents odor. Waste Maid claims that this technique is used by no other manufacturer.
Manual reset button
Torque master grinding system – Computer-designed and balanced grinding components give longer life to the disposal.
Speed Master Mounting System for quick installation
Dishwasher connection
Waste Maid Garbage Disposal Installation
Related Topics:
If you like the article above, here are some other similar articles you should check out!
InSinkErator Pro750 Garbage Disposal Review
InSinkErator Evolution Select Garbage Disposals Reviews