InSinkErator Pro750 is a premium food waste disposer, and it is relatively new in the market when compared to other models in the Evolution series.
Here is a quick overview of its specifications;
Power – 3/4 HP
Speed – 1725 RPM
Noise levels – Quieter
Grinding stages – 2-stage grinding
Size – 12.25″ x 8.75″
Warranty – 6-years
Features – Auto-reverse technology, jam sensor, multi-stage grinding
Feed type – Continuous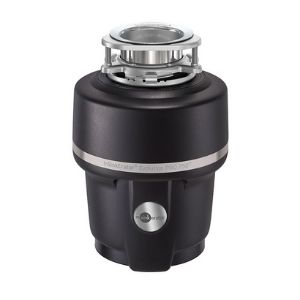 Let's see how good this food waste disposer really is;
Performance
InSinkErator Evolution Pro750 packs a 3/4 horsepower induction motor. It is a slow-speed motor that runs at a speed of 1725 RPM. In addition to the powerful motor it uses Multi-Grind technology ie, food wastes are ground in different stages, 2-stages in this case, to easily grind even the most difficult food wastes into fine particles.
It also comes with Auto-Reverse technology. You know food waste disposers are likely to jam and clog sometimes. Auto-Reverse is a technology to avoid/break through these jams. It uses sensors to detect jams and when a jam is detected the disposer reverses the direction of its running. For example, if the Pro750 is running in the clockwise direction and gets jammed it will automatically run in the anti-clockwise direction. If it jams again then the disposer will run in the clockwise direction again. This will continue until whatever obstacles causing the jam are broken.
Coupled with a 3/4 HP motor, 2-stage grinding, and Auto-Reverse feature this disposal is able to present a super performance. It is more than ample for a home with 2-5 people.
Noise Insulation
People love quiet garbage disposals. That's why manufacturers now try to reduce noise from these appliances by wrapping them in insulations. And I should say InSinkErator is really good at it.
Evolution Pro750 is no different either. It has a good level of noise insulation. In fact, it is one of the second-best quiet disposers. It uses Sound Seal technology to reduce vibrations and noise coming from the induction motor. Most of the sound produced by a disposer is because of unwanted vibrations. SounSeal technology involves an Anti-vibration mount, anti-vibration tailpipe mount, and anti-microbial Quiet Collar sink baffle to make sure that every joint is free of vibrations.
In addition, the disposer has a Sound Limiter insulation which muffles any noise from the disposer motor.
As a result, Evolution Pro750 becomes a really quiet disposer.
Check my 'list of quiet garbage disposals' if you are particularly concerned about noise.
Build Quality & Design
InSinkErator is one of the most reliable names in the garbage disposer industry. They didn't become such a company by providing low-quality products. All their disposals are made of corrosion-resistant materials.
Pro750 being a premium disposer is made of the highest quality materials. Its grinding components and grinding chamber are made of Stainless steel which is guaranteed to last many years. Its construction is pretty solid and rugged.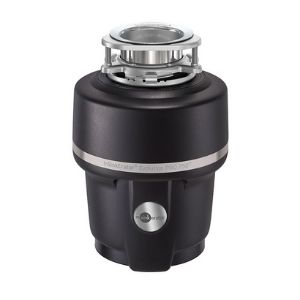 Pro750 being a premium disposer is made of the highest quality materials. Its grinding components and grinding chamber are made of Stainless steel which is guaranteed to last many years. Its construction is pretty solid and rugged.
Check my list of 'stainless steel garbage disposals' to find more strongly built disposals.
The design of this disposer is exactly like that of the Evolution Compact. Here you can check the differences between Pro750 and Evolution Compact.
Installation
As you can see from the picture the Evolution Pro750 uses a 3-bolt mount assembly. It is easy to install, and also is easy to replace with another disposal using the same mounting.
This is very compact disposal. Its height is only 12.25 inches which makes it suitable for tight under-sink spaces.
One thing I hate about InSinkErator models is they do not come with a pre-installed power cord. According to the company, this is to save customers money from being spent on a power cord in case they already have one. However, you have the option to buy one separately. You can also use a disposer installation tool to easily install it by yourself.
Price & Warranty
Pro750 is a premium garbage disposal, so do not expect this to be cheap. It is covered under a 6-year warranty which is good but not the best.
My Verdict
If you are looking for a premium, quiet garbage disposal with high-end features and a powerful motor this is a really good option. However, I also recommend checking the following disposers as well before you make a buying decision;
Related Topics:
If you like the article above, here are some other similar articles you should check out!
5 Best Bathroom Trash Cans with Lid & a Brief Buying Guide
Garbage Disposal Cost (Disposal+Accessories+Installation)
InSinkErator Badger 1 vs Badger 100 – What's the Difference?