If I didn't know what it was capable of, I would've warned you not to let its good looks fool you.
In fact:
I was surprised to see a beauty from the Waste King line which also happens to be a little bit more expensive compared to the previous models.
This made us curious.
I wanted to know the real reasons behind the price and the looks.
And here is what I was able to find.
Have a look.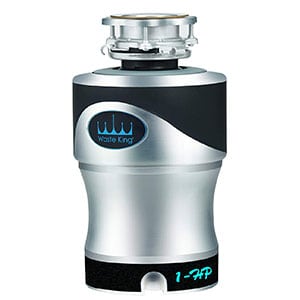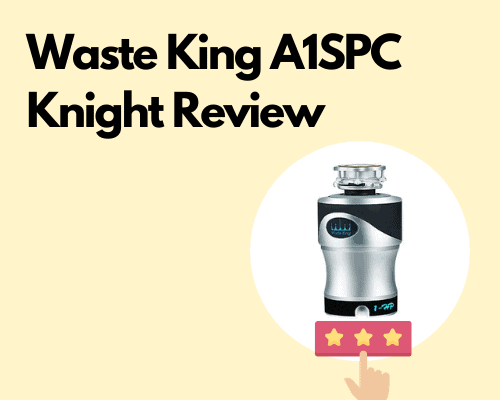 Waste King A1SPC Knight Review
The Powerful Knight In Armour
Let's talk about the Knight's armour later. Right now, its power seems more interesting.
With a 1 HP permanent magnet motor that rotates at 2700 RPM, the disposer grinds wastes at a blinding speed.
By 'blinding speed', I did not mean it in a literal sense. It may take some long seconds if you send down tough scraps like chicken bones. But when compared to the other disposers, it is super fast. So you get the idea.
In the meantime, contrary to the MultiGrind Technology found in InSinkErator disposers, this particular disposer adapts a One-Pass Technology.
Meaning:
To powder your food waste and send it down your drain, the motor doesn't need multiple processes.
All it needs would be a few quick swings using the stainless swivel impellers.
And since it is a 1 HP motor, you don't have to be selective on what to feed your disposer with either.
Simply put, Waste King A1SPC Knight is worth every penny.
50% Less Noisier
Now, this is something really special. If you've owned a Waste King Disposer before, then you would know the difference far more clearly than mere words.
By adapting Exclusive Silencer technology, which is not available in other Waste King disposers, manufacturers have been able to hit a landmark.
For this purpose, they've insulated the grinding components and the insulation is very much similar to the ones used to sound-proof music studios.
As a result, the level of noise has decreased by 50%, which is quite remarkable.
But if you want the quietest 1 HP disposer, then you ought to check out our review on InSinkErator Evolution Excel 1.0 HP Household Garbage Disposer
Installation Is A Breeze
Once again, if you've dealt with a Waste King Disposer before, you might already know how easy installation is.
But:
The good news is that mounting Waste King A1SPC Knight is even easier as it comes with a patented Snap and Lock mounting system.
You can easily replace your old disposer with this one.
However, to avoid trouble that might come your way, have your eyes open wide as you go through the crystal-clear instructions manual.
One Of The Longest To Live
Most Waste King products survive a decade or so. But this one is special and I knew it from the beginning.
Just a thought:
It's a pity to think that once purchased, all the Knight's armor would be hidden under your sink.
Anyways, back to the point.
With stainless steel grinding components and a glass-filled nylon chamber, I am confident to say that the disposer would run for years to come without encountering any rusting issues.
Don't Let Its Size Surprise You
If there's one thing I don't want you to be, that is to be neglectful. Especially when it comes to the size.
So before you buy, make sure you have enough room underneath your sink to fit 8.8 x 8.8 x 15 inches. While this may not be the largest disposer on the market, it's quite larger than how it looks in the picture.
Warranty
It is a well-known fact that Waste King has the best warranty a buyer could ever have.
Proving it further, they offer a lifetime of warranty for this A1SPC Knight Disposer.
As if that isn't enough, it is an In-Home warranty. This means that you don't have to rush your disposer to the nearest company's store.
So if you meet the conditions of the warranty, claiming on it is pretty simple. Or in other words, it is just a phone call away.
Waste King A1SPC Knight Review Summary
Waste King A1SPC Knight could end up being the Knight to save your drains from clogging up and your kitchen from wastes that pile up every time you try to surprise your spouse with that extra special home-made food. This is truly a disposal worth every dime you spend on it.
Related Topics:
If you like the article above, here are some other similar articles you should check out!
InSinkErator Evolution Pro 750 vs 880 LT – A Comparison
InSinkErator Badger 5XP vs Badger 900 – A Comparison