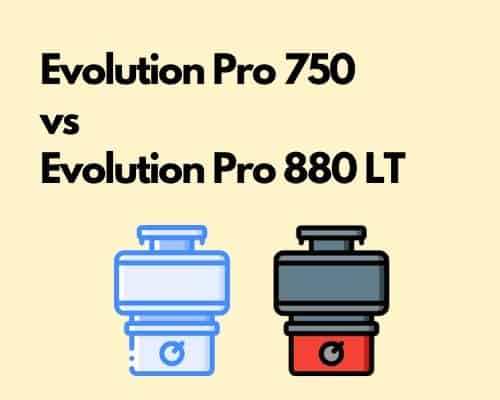 Both Pro 750 and Pro 880 LT belong to the Evolution Series of garbage disposals by InSinkErator. These are premium models that come with top notch features and a high price tag. Both these models are very similar in construction and features. However, there are a few differences between them.
Differences between InSinkErator Evolution Pro 750 and 880 LT
The main difference between Evolution Pro 750 and 880 is their motors. The 750 Pro model is powered by a 3/4 HP motor while the 880 is powered by a 7/8 HP motor. Another difference between them is the warranty. The Pro 750 garbage disposal comes with a 9-year warranty whereas the 880 LT comes with a 10-year warranty.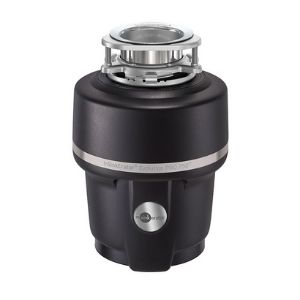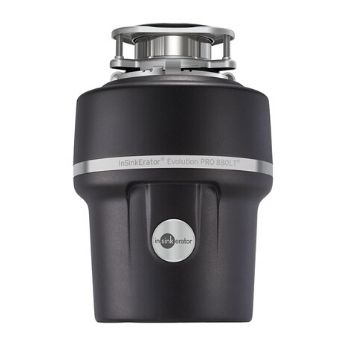 | | Evolution Pro 750 | Evolution Pro 880 LT |
| --- | --- | --- |
| Power | 3/4 HP | 7/8 HP |
| Warranty | 9-years | 10-years |
| Weight | 19.2 lbs | 20.1 lbs |
| Price | Check Price | Check Price |
Here are these differences in detail;
Evolution Pro 880 LT is more powerful than Pro 750 garbage disposal
Since both garbage disposal models are made by the same manufacturer, both units come with a DuraDrive induction motor. However, their power ratings are different. The Evolution Pro 750 comes with a 3/4 HP motor just like the one in Evolution Compact, but the Pro 880 LT comes with a 7/8 HP motor. The power differences between these two models is very small. I am not sure why InSinkErator bothered to use a 7/8 HP motor. None of their other models have this motor so it would seem they did some R & D and made a motor specifically for this garbage disposal model. And I frankly don't see any benefit of that investment's magnitude in this garbage disposal model.
Anyway, they already have the Pro 880, and I am sure they have very good reasons for that.
Pro 880 comes with a longer warranty than 750
Both these Evolution garbage disposal models come with a long warranty. Evolution Pro 750 is covered under a 9-year warranty whereas 880 is covered under a 10-year warranty.
Actually, these warranties were introduced recently. The previous warranty periods for these models were 6 and 8 years respectively. Probably due to higher competition from Waste King models, InSinkErator finally extended the warranties of their garbage disposals.
The good thing about these warranties is that they are 'come to home' warranties which means that the warranty covers not only the cost of parts but also labor. And what's more, the service person will come to your house to repair or replace it, all free of cost. So with this warranty, you don't have the hassle of couriering your disposal to the manufacturer.
Pro 750 is a bit lighter than 880
Evolution Pro 750 weighs 19.2 lbs while Pro 880 weighs 20.1 lbs (both values are approximate shipping weights taken from the manufacturer's website.). This slight weight difference is because of the heavier motor in the Pro 880 garbage disposal model. Since its motor is more powerful it will also weigh slightly more.
However, the weight of a garbage disposal has no practical implications for its working or installation. It is not at all a significant thing even to discuss but I am just listing it for the sake of listing some differences between two very similar garbage disposal units.
Similarities between Evolution Pro 750 and 880
These two garbage disposals have more similarities than differences. Here are they;
Both garbage disposals use DuraDrive induction motors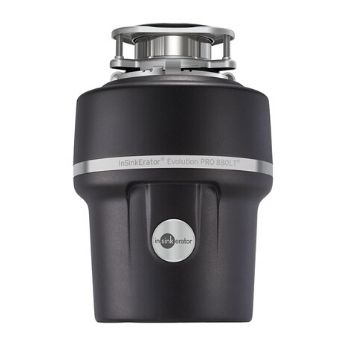 Even though the power ratings of the motors are different, both garbage disposal units use the same type of induction motor called DuraDrive. These are motors with 1725 RPM which is slower when compared with some other garbage disposals in the industry. And yes, both Pro 750 and 880 models run at the same speed.
Both models use the same premium technologies and features
Both 750 and 880 garbage disposals are premium models, and they come with the same features and technologies. Both are very quiet models that use SoundSeal Plus technology which is a technology that reduces noise by 40% of that of normal disposers.
They also come with AutoReverese technology which reverses the direction of the rotation of motors when jams are detected. This technology helps to reduce jams.
Both Pro 750 and 880 garbage disposals have a 2-stage grinding system where food wastes undergo two stages of grinding. This helps to grind the food wastes into finer particles which in turn reduces clogs in the pipes.
If you want to know more about these garbage disposal technologies feel free to check this post of mine.
Pro 750 and 880 have the same dimensions and the same grinding chamber capacity
Evolution Pro 750 and 880 has the same exact dimensions. They have an overall height of 12/25 inches, and a maximum width of 8.75 inches. Both are compact in size, so they can be easily installed under deep sinks or in under sink areas where space is an issue.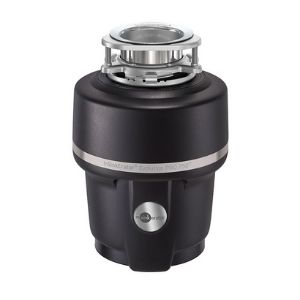 You can also replace a Pro 750 with an 880 LT very easily. Since the dimensions of both garbage disposals are the same you don't have to alter any plumbings.
Both garbage disposals can accommodate 34.5oz of food waste. Both are continuous feed disposals so the capacity of the grinding chamber is not of that importance.
Pro 750 and 880 have the same build quality
Both Pro 750 and 880 have the same build quality. Both have stainless steel grinding components, and their grinding chambers are also made of stainless steel. As you know stainless steel is more durable than most other materials so these models are built with the intention of a long life.
Both garbage disposal models use 3-bolt mounts
When it comes to installation, both Pro 750 and 880 LT uses 3-bolt mounting assemblies. As you may know, all garbage disposals use either 3-bolt or EZ mounts. 3-bolt mounts are more sturdy, and they have a much better build quality than the others. They are made of stainless steel, and they can be fixed more firmly to the sink which reduces vibrations and hence the noise.
Final words – Evolution Pro 750 vs 880 LT – Which is Better?
Both Pro 750 and 880 LT are premium garbage disposals with very similar specifications and features. Their pricings too are very similar. In my opinion Evolution, Pro 880 LT is the better option since it comes with more power and a longer warranty even though it is slightly more costly than the Pro 750 garbage disposal.
Related Topics:
If you like the article above, here are some other similar articles you should check out!
InSinkErator Evolution Pro 1100XL Review
InSinkErator Evoultion Pro 880LT Review
InSinkErator Badger 500 vs Badger 900 – What are the Differences?