Here is a quick view of the differences between Badger 500 and 900;
Both Badger models are made by InSinkErator, and they have been in the market for a long time. Both models belong to different categories, so there are not many similarities between them. However, I came across some people who are confused between the two models, that's why I am writing this article.
So without further ado, let's jump into the differences between the two models.
InSinkErator Badger 500 vs 900 – Differences
Performance
The main difference between Badger 500 and Badger 900 is that they are powered by different motors. Badger 500 comes with a 1/2 HP motor but the one in Badger 900 is more powerful; 3/4 HP. This gives Badger 900 more grinding power than Badger 500.
Other than the power rating, both motors are very similar. Both are DuraDrive induction motors similar to the ones used in other InSinkErator disposals are well. Both these disposal units run at 1725 RPM.
Dimensions
Badger 900 is noticeably bigger than Badger 500. As mentioned above Badger 500 has dimensions 11.5″ x 6-5/16″ whereas those of Badger 900 are 12.63″ x 6.75″. However, both disposals are compact enough to fit under deep sinks.
Even though their dimensions are different boh Badger 500 and 900 have the same grinding chamber size; 26 oz. I guess the additional size of the Badger 900 is due to the bigger motor it has.
Build quality
The build quality of Badger 900 is slightly better than that of Badger 500. This is because while Badger 900 has Stainless Steel grinding components, badger 500 they are made of Galvanized Steel. As you know Stainless steel lasts longer than Galvanized steel so Badger 900 has a slight advantage here. However, the rest of both disposal units are made of the same materials.
Warranty
The Badger 900 comes with a much longer warranty than Badger 500. Badger 900 is covered under a 6-year limited warranty whereas for Badger 500 it is only 3 years.
Price
With its bigger motor, slightly better build quality, and a longer warranty Badger 900 is definitely priced higher than the Badger 500. The last time I checked, the difference in pricing was not small either.
Badger 5 vs Badger 900 – Differences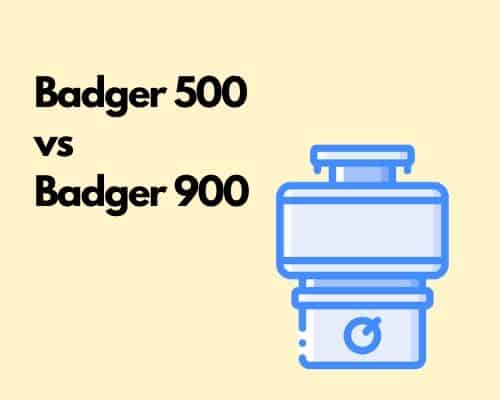 As compared in one of my previous articles Badger 5 and Badger 500 are the same disposals except for the name. Here is that article for your reference – Badger 5 vs 500.
Therefore, the main difference between Badger 5 and Badger 900 is the motor. Also, whatever other differences are listed between the models 500 and 900 the same holds true for Badger 5 and Badger 900. So hopefully, there is no need for another article comparing these two.
If you are here looking for the difference between Badger 5XP and Badger 900 here is my comparison.
Related Topics:
If you like the article above, here are some other similar articles you should check out!
InSinkErator Evolution Compact vs Essential XTR
InSinkErator Badger 5 vs Badger 1 – What is the Difference?
Waste King L-8000 vs InSinkErator Evolution Excel vs A1SPC Knight – Which is Best?