This article compares the garbage disposal models Waste King L-8000, A1SPC Knight, and InSinkErator Evolution Excel. All are 1 HP garbage disposals from popular brands. Let's see how they are different.
The main difference between Waste King L-8000 and Evolution Excel is the price. Evolution Excel is a premium product that is priced much higher than L-8000. And being premium the Excel model comes with features like noise insulation, a 3-stage grinding system, and a Stainless Steel grinding chamber and components. L-8000, on the other hand, is a budget model that doesn't have any of these features.
The main difference between Evolution Excel and A1SPC Knight is the grinding system. Evolution Excel uses a 3-stage grinding system whereas A1SPC Knight has a single-stage grinding system. Other differences include motor speed, warranty period, and anti-jam features.
The most notable difference between Waste King L 8000 and A1SPC Knight is the mounting assembly. L-8000 uses an EZ mounting assembly while A1SPC Knight uses a 3-bolt assembly. Other differences include noise insulation and price.
InSinkErator Evolution Excel Vs Waste King Legend 8000 Vs Waste King A1SPC Knight – A detailed comparison
Here is my detailed comparison of Evolution Excel, L-8000, and A1SPC Knight;

Waste King L-8000

InSinkErator
Evolution Excel

Waste King
Knight
Power
1 HP
1 HP
1 HP
Speed
2800
1725
2700
Noise Insulation
Standard
Ultra-Quiet
Quiet
Installation
EZ Mount
3-bolt mount
3-bolt mount
Splash guard
Removable
Fixed
Removable
Power cord
Yes
No
Yes
Warranty*
Limited lifetime warranty
7-years
Limited lifetime warranty
Grinding components
Stainless Steel
Stainless Steel
Stainless Steel
Grinding chamber material
Corrosion-resistant plastic
Stainless Steel
Corrosion-resistant plastic
Size
16″ x 8.5″
13″ x 6″
15" x 8.8"
Grinding Stages
1
3
1
Anti-jam technologies
None
Auto-Reverse technology, Jam Sensor
None
Price
$
$$$
$$
Check Price & Details
Check Price & Details
Check Price & Details
Power
All three garbage disposals have the same power 1 HP. That's definitely because this is a comparison of the best 1HP disposals. 1 hp disposals are ample for a family of 3-5, and they can even grind hard food wastes like small bones which most other low-powered disposers can't. This is the most powerful a household disposer need to be.
Speed
Waste King garbage disposals are known for their higher running speeds. Both Legend 8000 and A1SPC Knight run at high RPMs of 2800 and 2700 respectively. On the other hand, the InSinkErator Evolution Excel runs at 1725 RPM. Higher speeds are favored since they help to cut through any possible jams.
Motor
InSinkErator brand uses induction type dura-drive motors. Waste King, on the other hand, uses permanent magnet-type high-speed motors. Both motors have their own advantages and disadvantages. Permanent magnet motors are lighter and simple. Induction motors are more durable and usually have more torque. I am afraid I am not expert enough to say which type of motor is best.
Mounting
Most InSinkErator garbage disposals use 3-bolt mounting systems. The same is the case here with Evolution Excel. Similarly, most Waste King models use the EZ Mount system, and the L-8000 model has that. But the A1SPC model, though by Wate King, uses a 3-bolt system. Both these mounting system has their pros and cons as you can read more details here. Since I cannot exactly say which is better I am giving all the same points.
Sound Insulation
Sound Insulation is an area where InSinkErator excels in Waste King. They make the quietest garbage disposals. And InSinkErator Excel is the quietest disposal of all. A1SPC Knight also comes with decent sound insulation though not at par with Evolution Excel. The legend 8000, on the other hand, is the least insulated of all the three.
Looks
Even though garbage disposals are placed hidden from view, looks matter. And looks are subjective too, so beware that my choice may not sound best to you.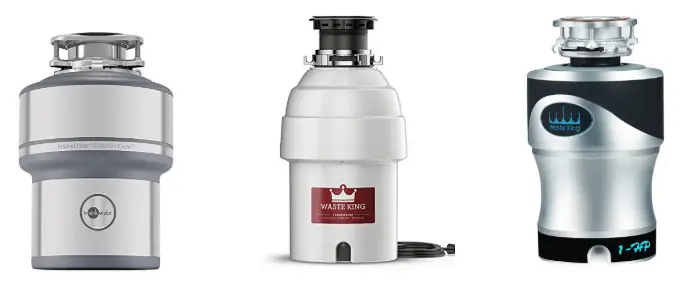 To me Evolution Excel looks the best, it looks elegant in its all Stainless Steel body. The L-8000 comes second with its simple design. The A1SPC on the other hand, with which I bet Waste King tried to excel in design, comes 3rd. I am pretty sure the manufacturer put a lot of their efforts into making a model different from their simple and traditional design but I don't find it attractive nonetheless.
Warranty
The warranty period of a product is an indicator of its quality. A good quality product has a longer warranty than one without. Evolution Excel comes with a 7-year warranty. But on the other hand, both Waste King products; L-8000 and Knight comes with lifetime warranties. Please note that these warranties are limited warranties that cover only corrosion and manufacturing defects.
Removable Splash Guard
Often times the splash guard of a disposal accumulates food wastes on its bottom side. These food particles will rot making the disposal smelly and unhygienic. Removing the splash guard and cleaning its underside is the only solution for this. Unfortunately, not all disposals come with removable splash guards. The splash guards of both Evolution Excel and Knight are not removable owing to the 3-bolt mounting system. But you can easily remove the splash guard of L-8000.
Build Quality
All three machines listed here are top-end products. Naturally, they have better build quality than the rest of the products. InSinkErator models are always a step ahead of Waste King in terms of build quality. Evolution Excel is an excellent example. It is made of Stainless Steel which is the most durable material used in garbage disposal against corrosion. For the other two models, only their grinding components are made of stainless steel.
Compact Size
InSinkErator Evolution Excel – 13" x 6"
Waste King L-8000 – 16" x 8 ½"
Waste King A1SPC Knight – 15" x 8.8"
Please note that the size mentioned above is not an indication of the disposal's chamber capacity. In fact, the Evolution Excel can accommodate 40oz of food wastes but that parameter is of not much importance since all these disposals are continuous feed types. But this makes Evolution Excel the most compact disposal among the three. This allows you to fix that disposal for deep sinks with constrained under the sink spacing.
Power Cord
Evolution Excel doesn't come with a power cord but the other two Waste King models do. I prefer a disposal that comes with a power cord.
Price
Evolution Excel is priced much higher than the other two disposals. Comparing the prices of L-8000 and Knight both are priced similarly.
Features
Every time I compare an Evolution Excel with another disposal I feel biased towards the former. Here are a few reasons why;
MULTI-GRINDING TECHNOLOGY
Evolution Excel uses a 3-stage grinding system whereas the other two disposals have only 1 stage. A multi-grinding system definitely grinds food wastes finer and easier to wash away through the drain.
AUTO-REVERSE JAM SENSOR
Evolution excel has an auto-reverse system when any jam inside the disposal is detected. This works like a charm in avoiding any jams. Irrespective of whatever manufacturers claim there will always be jams in a disposal, and this auto-reversing feature helps to minimize them. As you guessed the other two disposals on my list don't have this feature.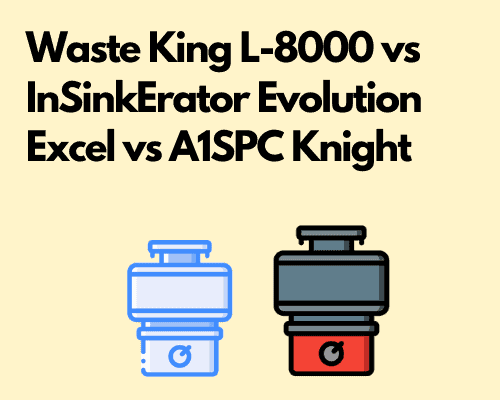 SOUND INSULATION
I know I mentioned this before but Evolution Excel is ultra-quiet. I believe I don't do justice without mentioning that again.
The above features are definitely my justifications for the high price of the Excel model.
Which Is The Best; Excel, L-8000, Or Knight?
If you have the money to spare go for Evolution Excel. But I would suggest you go through the above comparison and make a decision yourself because I am always biased towards Evolution Excel. One thing I can assure you is that you won't regret buying any of the above 3 disposals.
Oh, and before you buy check my list of the best garbage disposals as well.
Related Topics:
If you like the article above, here are some other similar articles you should check out!
InSinkErator Badger 1 vs Badger 100 – What's the Difference?
InSinkErator Evolution Compact vs Essential XTR