Comparison of Waste King Legend Series L-9940 & L-3200
It is interesting that two models with a vast difference in their model numbers (9940 & 3200) share almost the same specifications. Conventionally a product with model number 9940 must be better than that with a lower number; but is that really so in practice? Let's find out.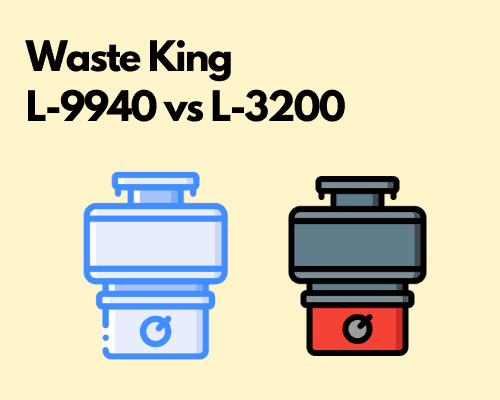 Similarities
Both L-9940 and L3200 garbage disposals have a lot of them in common. All Waste King garbage disposals have a lot of things in common but these two have more things in common which is why I am comparing them here.
Let's start with power. Both garbage disposers are powered by the same permanent magnet type 3/4 HP motor that runs at a speed of 2700 RPM. Both of them look the same, and both of them have the same build; corrosion-resistant reinforced polymer for the grinding chamber and stainless steel grinding components. Like all Waste King models, they come with power cords pre-installed; one less headache with the installation. They also have a noise insulation layer build-out of nylon glass mixture. Both are continuous feed type disposals and come with 8 years of limited warranty
Differences – L-9940 vs L-3200
The main difference between these two disposals is that one uses a 3-bolt mounting system while the other uses an EZ mount. The 3-bolt mounting system for L-9940 is made of Stainless steel which ensures better strength and durability. It is a bit difficult to install though. On the other hand, the EZ mounting system of L-3200 makes it easy to install but it is made of Reinforced polymer which is less durable than Stainless steel. Another difference is about the splash guard. The splash guard of L-3200 is easily removable from the top for cleaning but for L9940 you will have to dismount the disposal for this.
Waste King Legend L-9940 & L-3320 also vary slightly in size and weight. The former disposal is 13 ½ x 8 inches in size and weighs 9.4lbs while the latter has dimensions of 13 ¾ x 7 ¾ inches and weighs 8.6lbs.
Comparison Table
| | | |
| --- | --- | --- |
| | | |
| Power | 3/4 HP | 3/4 HP |
| Speed | 2700 RPM | 2700 RPM |
| Mount | 3-bolt | EZ mount |
| Sink flange material | Stainless steel | Reinforced polymer |
| Grinding chamber material | Reinforced polymer | Reinforced polymer |
| Grinding components | Stainless steel | Stainless steel |
| Feed type | Continuous | Continuous |
| Splash guard | Non-removable | Removable |
| Size | Slightly larger | Slightly smaller |
| Warranty | 8 years | 8 years |
| | View Price & Details | View Price & Details |
Which garbage disposal is better- L-9940 or L-3200?
Both disposals have the same performance and features. The only difference that matter is the mounting method and price. L-9940 disposal costs more than the other but with no notable plus points so I will go for L-3200 garbage disposal.
Also, check;
Related Topics:
If you like the article above, here are some other similar articles you should check out!
InSinkErator Badger 1 vs Badger 100 – What's the Difference?
General Electric GFC520V 1/2 HP Garbage Disposer Review