The main difference between Waste King and InSinkErator garbage disposals is the motor. Waste King uses high-speed permanent magnet type motors while InSinkErator uses slow-speed` induction motors.
There are also many other differences between these two garbage disposal brands. Click here to jump to the detailed comparison.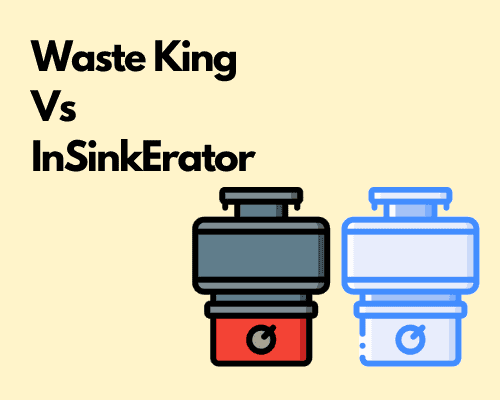 InSinkErator Garbage Disposals
Established in 1927, InSinkErator is one of the oldest garbage disposer manufacturing companies. It was founded by John W. Hammes, who is credited for the invention of in-sink disposal, in which the machine shreds and grinds food wastes that would have otherwise blocked the drainpipes. He took over ten years to enhance the design and finally went into the commercial business of selling the disposers.
Later in 1958, the company was acquired by Emerson Appliance Solutions, and ever since then, InSinkErator became a household name.
At present, the company provides two lines of disposers namely the Evolution & Badger series. Out of the two, the badger is the classic range that has been in the market for a long period of time, while Evolution is a modern and reinvented range of the same.
Check our list of the best InSinkErator disposals
Waste King Garbage Disposals
Part of the renowned Anaheim Manufacturing Group ( a division of Moen Inc.), Waste King Garbage Disposers have known to be one of the finest appliances for managing food wastes. From the patent Vortex technology to the permanent magnet motor, this brand has brought some of the noticeable developments to the disposer units.
Like InSinkErator, there are models with different price and power ranges, ensuring that you are able to discover the best one without any complications.
Check our list of the best Waste King disposals
Waste King vs InSinkErator – A detailed comparison
Both Waste King and InSinkErator are the leaders of the disposal unit industry, offering magnificent models at a phenomenal value. But, when you have to choose one of the two, which one is the best? It is really hard to know which makes better disposal units. So I decided to compare both brands based on 11 criteria that people look for when buying a garbage disposal.
Here is my comparison between Waste King and InSinkErator garbage disposals;
| | Waste King | InSinkErator |
| --- | --- | --- |
| Performance & Power | Comparable performance with the competitor. High-speed permanent magnet-type motors. | Comparable performance with the competitor, slow speed, induction motors. |
| Noise | A few models with a significant noise insulation | Has many models with the best noise insulation |
| Multiple grinding stages | No | Yes |
| Compact size | Fewer models available | More models with compact sizes are available |
| Build Quality | All models use corrossion-proof plastic grinding chambers. | Top models use stainless or galvanized steel grinding chambers. |
| Comes with a power cord? | Yes | Optional |
| Installation | Easy installation with EZ mounting | Easy installation with 3-bolt mounting |
| Warranty | Up to life time warranty for top models | Up to 10 years for top-end models |
| Removable splash guards | Yes | No |
| Price | More number of economic models | Fewer economic models are available |
| Hex hole for Allen wrench | No | Yes |
A quick comparison of Waste King and InSinkErator garbage disposals
1. Performance and Power
Both brands make their disposers with powerful, reliable, and time-tested motors.
The motors of Waste King are high-speed ones that usually run in the 2600-2800 RPM range while InSinkErator uses slower ones that run below 2000 RPM.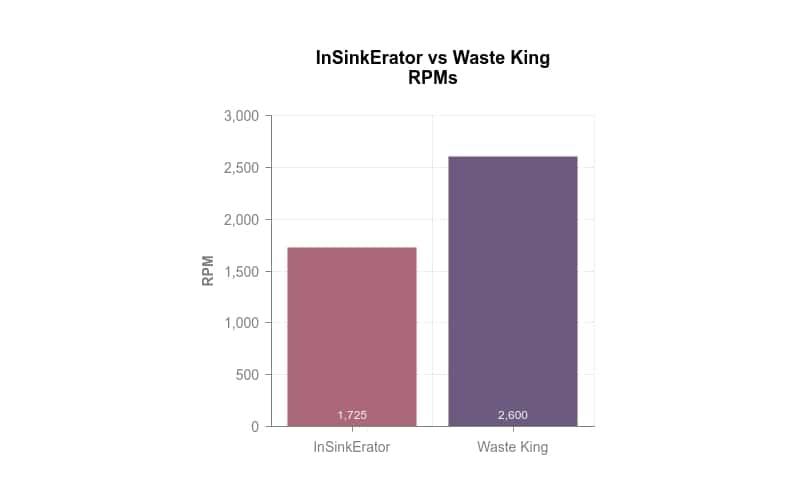 Also, the motors of Waste King are permanent magnet type while those of InSinkErator are induction type.
Both have their own advantages and disadvantages. In any case, the performance of both disposals are comparable and they do their jobs.
+1 for InSinkErator and Waste King
2. Multiple Grinding Stages
The Evolution series launched by InSinkErator brings one-of-a-kind technology, where the garbage is shredded within the disposal unit through multiple grinding stages. Known as 'Multi-Grind' technology this allows the food wastes to be ground into really small sizes with the least effort.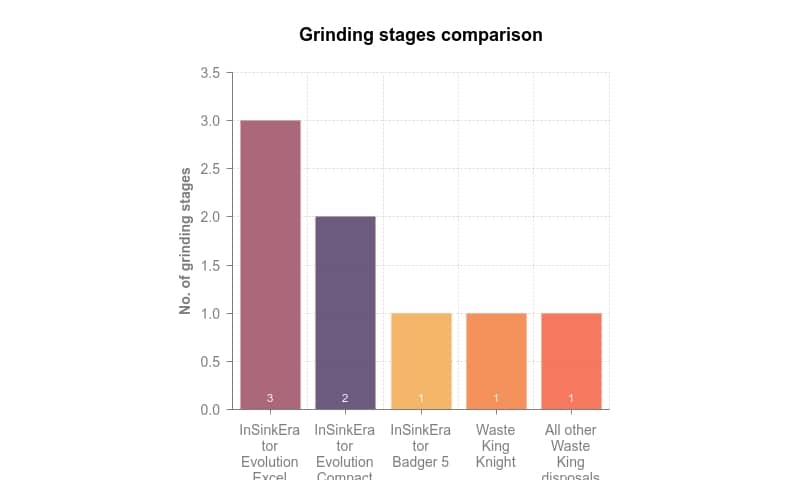 Different stages of grinding are without a doubt a smart and innovative addition to the series. While Waste King has not incorporated any such technology yet, their garbage disposals are high-speed which, according to them, makes this technology unnecessary in practice.
+1 for InSinkErator
3. Compact Size options
Sometimes there isn't large enough space under the sink to accommodate a disposal unit. In such cases, people look for compact garbage disposals. There is no exact 'compact size' definition but all disposals with a height of less than 13 inches are considered compact.
InSinkErator has more numbers of compact disposal models than Waste King. In fact, only one Waste King model falls into this category. So if you are looking for a compact disposal unit I recommend InSinkErator.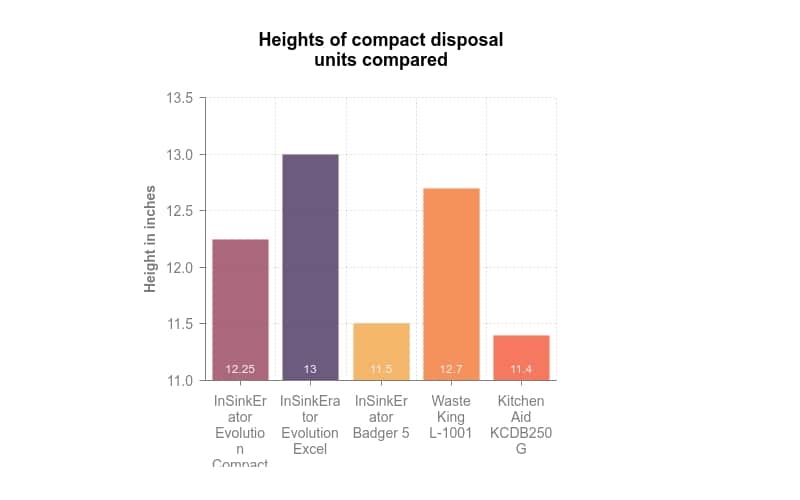 Also, check my list of the top compact garbage disposal units.
+1 for InSinkErator
4. Build Quality
As a matter of fact, the build quality of a disposal unit changes with its price. Cheaper ones are expected to have the least build quality. So it is hard to compare both brands in terms of build quality since both of them have a lot of models within lots of price ranges.
I cannot say one model is better than the other because while the top-end models of InSinkErator have better build quality than Waste King, it is not true for medium-ranged ones.
But generally speaking,
The grinding chambers in all Waste King units are made of corrosion-proof plastic while the top-end InSinkErator products are made of stainless steel. However, the non-top-end models of InSinkErator too are made of corrosion-resistant plastic.
Also, the grinding components of the top and medium ranges of both brands are made of stainless steel while those of the cheaper models are made of galvanized steel.
Both brands have proved their worth in the test of time so you can go with whichever options you want without any worry.
+1 for Waste King and InSinkErator
5. Power Cord
A common complaint by users of InSinkErator models is: it doesn't come with a power cord. So, after purchasing the unit you still have to buy a cord in order to operate the appliance. Though it's not that difficult to set up, still the added expenses of a power cord can be an issue.
This is why people tend to prefer those that have pre-installed power chords and this is where Waste King makes its way. Each and every model manufactured by Waste King is equipped with pre-installed power chords!
+1 for Waste King
6. Installation
Both InSinkErator and Waste King disposals are easy to install, even though InSinkErators take longer
Most Waste King disposal units use EZ Mount technology for disposal installation while most InSinkErator models use 3-bolt mounting.
Of course, there are some models by Waste King that uses 3-bolt mounts but I never came across any InSinkErator using an EZ mount.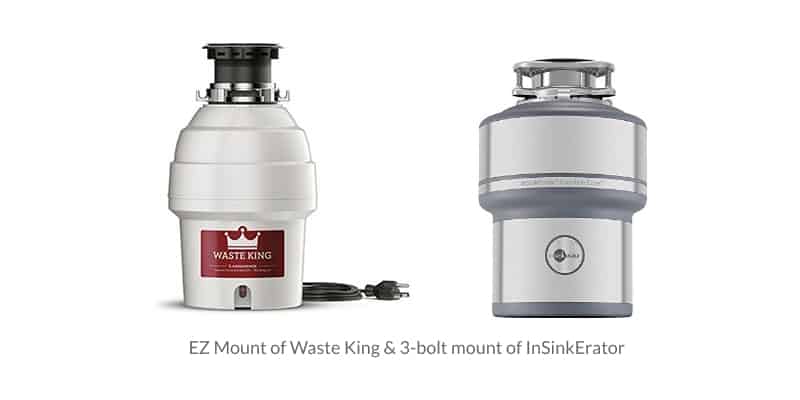 Both technologies involve a twist and lock system, and both have their own pros and cons. You can read more about them here.
In this case, 3-bolt mounts take longer to install, and you may need an extra hand but I don't think that will justify a lower rating. So…
+1 for both Waste King and InSinkErator
7. Noise Level
Both InSinkErator and Waste King have models that are equipped with noise insulation.
However, InSinkErator is a better option if you are looking for a quiet disposal unit because they have some proven models, and have more models to choose from.
Waste King, on the other hand, has fewer models but they are cheaper.
You can check my comparison of different quiet garbage disposal units to know more.
+1 for InSinkErator
8. Warranty
The warranty period of both Waste King and InSinkErator units differ with the models. The low-end models usually have a 2-year warranty.
But in general Waste King disposals come with a longer warranty than InSinkErator ones.
Waste King features a maximum of a lifetime warranty for its selected disposers, while for InSinkErator this does not exceed more than 8 years.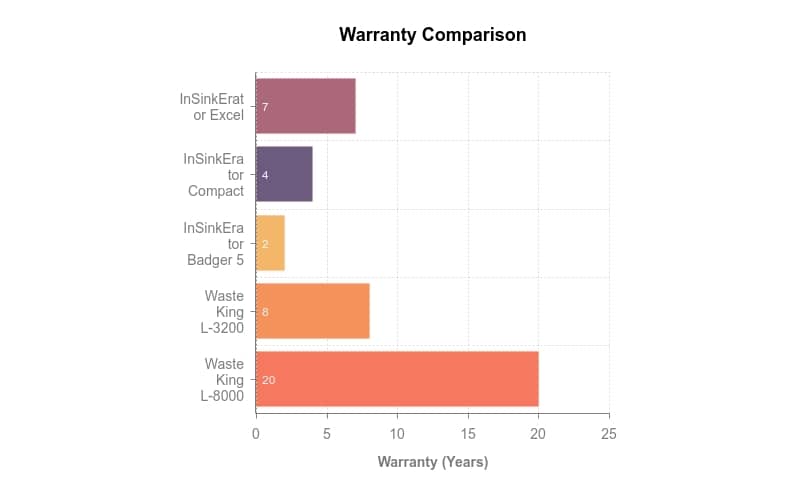 +1 for Waste King here.
9. Splash guard
The splash guards of Waste King disposals are removable making it easier to clean the insides of the garbage disposer while those of the InSinkErator products are not.
+1 for Waste King
10. Price
When happy with all the features of the disposer, the last and the most important deciding factor is the cost of the unit. Waste Kings are priced less compared to InSinkErator, yet the extra bucks that you pay are for the strong making and durable design of the product. Operations of both the brands and just the same, work wonders with food waste. These units are going to sit under the sink like silent monsters and engulf each and every form of kitchen waste.
Waste King's price is certainly competitive, but InSinkErators while premium are good deals too. When you have a good budget and are looking for a premium deal then choose InSinkErator, otherwise, Waste King is the best choice.
+1 for both Waste King & InSinkErator
11. Hex hole for allen wrench
Some garbage disposals come with a hex hole at their bottom. This hex hole helps to unjam the disposal with the help of an Allen wrench. This hex hole is connected to the axis of the garbage disposal's motor. So when the disposal is jammed, its blades can be loosened by using an Allen wrench in this hex hole.
All InSinkErator garbage disposals come with such a hex hole whereas this is absent in Waste King models. Having a hex hole makes it very easy to unjam disposal so InSinkErator deserves a plus point here.
+1 for InSinkErator
Final Score: Waste King = 7, InSinkErator = 8
Which is a better garbage disposal brand: Waste King or InSinkErator?
There is no definite answer to the above question. It depends entirely on what you want. if you are looking for an entry-level model that gets the job done go for Waste King. If you are looking for top-notch disposal with all features and looks you will find one among InSinkErator models.
Both InSinkErator and Waste King have a number of models with prices ranging from economic to premium. Both of them have their pros and cons which you read in detail above. Both brands are very reliable so whichever you choose this is a win-win situation.
Can you replace an InSinkErator with a Waste King disposal and vice versa?
No, you cannot replace an InSinkErator with Waste King without entirely disconnecting the garbage disposal from the sink. This is because the Waste King uses EZ mounts and InSinkErator uses 3-bolt mounts, these are not compatible with each other. Even for those Waste King models that come with a 3-bolt mount, this switching is not possible since the 3-bolt mounts of both brands are different.
In order to solve this problem to some extent, Waste King offers an EZ to 3-bolt mount adaptor which you can buy from here. Here is how to replace InSinkErator disposal with Waste King.
Use our comparison tool if you have something specific in mind.
Related Topics:
If you like the article above, here are some other similar articles you should check out!
How to Replace an InSinkErator with Waste King?
Waste King 9920 vs InSinkErator Badger 5 Garbage Disposal – Which is the Best?