Though made by two different manufacturers the Waste King 9920 and InSinkErator Badger 5 garbage disposals are more similar than different. They both look entirely different but performance-wise both score equally. Let's see more about them in detail.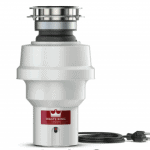 Waste King 9920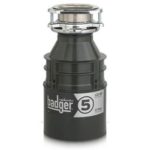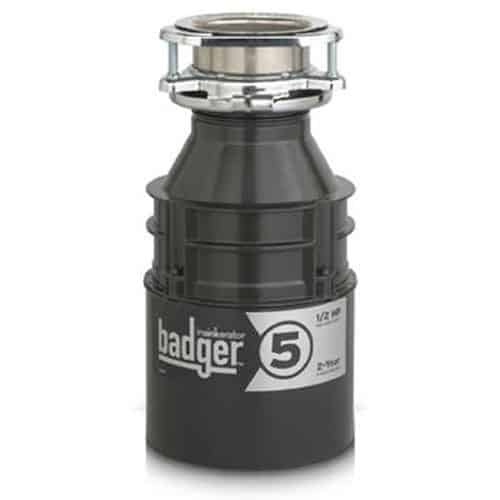 InSinkErator Badger 5
Waste King 9920 vs Badger 5 – Differences
Speed and performance
The main difference between 9920 and Badger 5 is their motors. The 9920 uses a high-speed permanent magnet motor that runs at 2600 RPM whereas Badger 5 uses a slow-speed induction motor that runs at 1725 RPM. Though both motors have a power of 1/2 HP, the Waste King model is slightly ahead of the Badger 5 in terms of performance due to its high speed.
Even though permanent magnet type motor has many advantages induction motors run smoother and provide a consistent torque. Therefore even though the cutting speed of the Waste King 9920 is almost double that of the Badger 5 I won't say it performs better by that much.
Energy consumption
Since permanent magnet-type motors are more efficient the Waste King needs only 4.5 amps whereas the Badger 5 requires 6.3A. So that's a plus for the Waste King 9920 disposer unit.
So in a year the Badger 5 will consume around 1.3 units of electricity more than the Waste King model (assuming you run it for 1 minute a day) which is practically nothing.
Noise
Induction motors are less noisy than permanent magnet-type motors. Therefore Badger 5 is slightly quieter than Waste King 9920.
But other than that both models do not come with any noise insulations or anti-vibration mounts.
Dimensions and design
Another main difference between the Badger 5 and Waste King 9920 is its dimensions. Badger 5 is a compact disposal with a height of 11.5 inches and a width of 6-5/16 inches. It can be fitted in tight spaces. But Waste King 9920 is much bigger with 13.5 inches in height and 7.75-inch width.
Since both disposals are made by different brands their design is nothing alike. The Waste King model is much more smooth looking and appealing to my eyes than the InSinkErator. However, both disposals are going to be sitting hidden from view so I don't know how much looks matter in making a buying decision.
Build Quality
While the overall build quality of both disposal units is the same the grinding chamber in Badger 5 is made of galvanized steel whereas that of the Waste King model is made of Corrosion resistant plastic. I can't say this difference in materials reflects on the durability of the units as both models are very popular and stood the test of time.
Reset button and hex hole
Both 9920 and Badger 5 come with manual reset buttons. However, the position of the reset button on the 9920 is on the front-facing side whereas that on the Badger 5 is on its bottom. Badger 5 also comes with a hex hole and a hex wrench which can be used to unclog the disposal in case it gets clogged.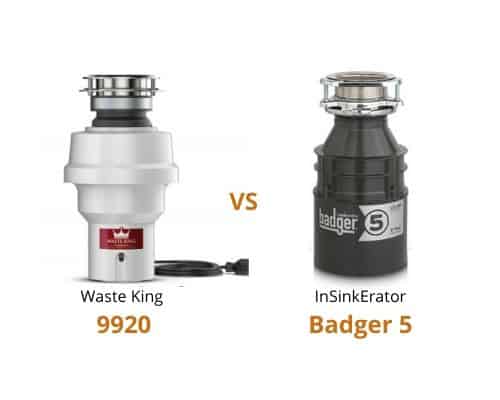 Waste King 9920 vs InSinkErator Badger 5 – Similarities
Though they look entirely different both Waste King 9920 and Badger 5 have a lot in common. Both disposal units are powered by a 1/2 horsepower motor even though the motors are entirely different as described above.
Both garbage disposals are covered under a warranty of 2 years.
They both use a 3-bolt mounting assembly (even though the mounts are not compatible with each other so you cannot easily replace a 9920 with a Badger 5). Both models have stainless steel sink flanges, and their splash guards are non-removable.
They both use galvanized steel grinding components.
Both 9920 and Badger 5 are continuous feed garbage disposals. Both are rated for 120V. They both come with a reset button to manually reset the disposals if they stop.
Badger 5 or Waste King 9920; Which is the best?
While the performance and durability of both garbage disposals are at par with each other I will go for the Badger 5 since it has a much bigger customer base than the 9920. Also, Badger 5 is slightly quieter. Since both disposals are priced almost the same I think Badger 5 may be the better choice here.
Another disposal you can consider is the Waste King 1001.
Related Topics:
If you like the article above, here are some other similar articles you should check out!