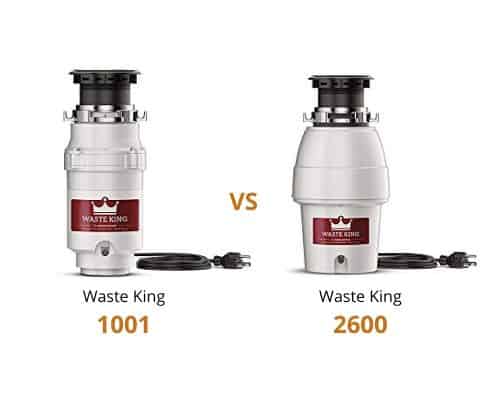 The L-1001 and L-2600 are two popular garbage disposals by Waste King. Both of them have many similar features but there are differences as well.
Let's first see what common features they both have;
Similarities between L-1001 and L-2600 garbage disposal units
Both L-1001 and L-2600 are powered by 1/2HP high-speed motors running at speed of 2600 RPM. Being high speed, these permanent magnet motors easily cut through food scraps, reducing jamming. Both are continuous feed type disposals which make it possible to continuously feed food scraps. Both models use EZ Mount for quick and easy installation, and each comes with a 36inch long pre-installed power cord.
The Waste King L-1001 and L-2600 both have grinding chambers made of glass-filled nylon which is resistant to rust and corrosion.
Differences between Waste King L-1001 & L-2600 garbage disposals
The major difference between Waste King L-1001 & L-2600 is their size. The L-2600 model is much bigger with a width of 6.75 inches and a height of 13.5 inches whereas the L-1001 model is only 5.25×12.75inches (wxh). The larger size of L-2600 makes it possible to grind more amount of food scraps at a time while L-1001 is suitable for those looking for a compact solution for kitchen waste disposal.
Another notable difference is in their build quality. The L-2600 has a better build quality and it has Stainless steel grinding components whereas those of the L-1001 is made of galvanized steel which is not as durable as the former material.
The L-1001 has a warranty period of only 2 years whereas the Waste King L-2600 is covered for 5 years. I am sure this also is a reflection of the better build quality the L-2600 model has over its sibling.
Waste King
L-1001
Waste King
L-2600
Smaller in size – 5.25×5.25×12.75 inches
Larger in size – 6.75×6.75×13.5 inches
2-year warranty
5-year warranty
Lower build quality
Slightly better build quality
Galvanized steel grinding components
Stainless steel grinding components
View Price & Details
View Price & Details
So which one is the best?
Both the disposals are priced almost the same.
If you are looking for a compact garbage disposal with good grinding power and decent features go for Waste King L-1001.
If there are no space constraints go for Waste King L-2600.
Related Topics:
If you like the article above, here are some other similar articles you should check out!
Waste King 9980TC Garbage Disposal Review