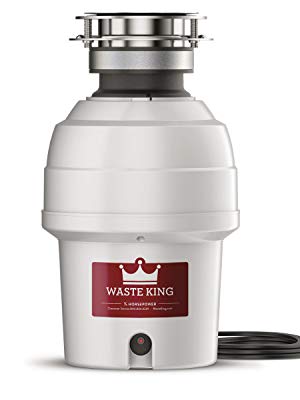 L-9940 is a very popular garbage disposal model by Waste King. It has been in the market for a long time. It is a unit that proved its reliability and performance against time.
Waste King 9940 is powered by a 3/4 horsepower motor that runs at 2700 RPM. The speed of the older version of this model was 2600 RPM but some time ago Waste King did a facelift for all their disposals. During that time they fitted the 9940 model with a new 2700 RPM motor. Being a little bit faster it now offers better performance.
3/4 HP is ample for a household of 2-4 people. It can also grind tougher food items including cooked meat and fish, small bones and fruit pits which are not advised for smaller garbage disposals.
The 3/4 horsepower motor is a permanent magnet type one. So it is more efficient than the induction motors which are used in InSinkErator garbage disposals, not to mention faster.
Specifications
Power – 3/4 HP
Speed – 2700 RPM
Mount – 3-bolt
Feed type – continuous feed
Grinding component material – Stainless steel
Grind chamber material – Corrosion resistant polymer
Reset button – Yes
Dimensions – 13.5″x8″
Power cord – Yes
Warranty – 8-year limited warranty
The main difference of the 99xx disposer units from other Waste King models is that they all use 3-bolt assemblies instead of EZ mounts. If you are wondering what they are here is an article detailing the difference between EZ and 3-bolt mounts.
Installation
The installation of the 9940 disposal unit is pretty straight forward, and it comes with a detailed instruction manual. Since this is a 3-bolt assembly you will need some extra hand during the installation process to hold everything in position (Or you can use a garbage disposal installation tool). Please note that these 3-bolt mounts are not compatible with those of InSinkErator disposers.
Waste King 9940 has a height of 13.5 inches and a maximum width of 8 inches. This is not exactly under the category of compact garbage disposals because its height exceeds by 0.5 inches from the benchmark I set (it was a personal choice) but still, it is a good choice for low under sink spaces.
I got interested in the height of the 9940 model because it is the same as that of the lower-powered models like 9920 and 9930. If 9940 with its bigger motor has the same height that means Waste King tried to make this a compact model but sadly they couldn't do it within my size criterion.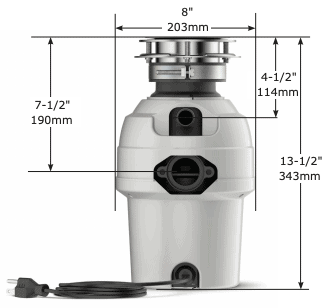 The unit also comes with a front-facing reset button which is easy to find. This comes in handy if the disposal gets overloaded or jammed. Here are some common garbage disposal problems you may run into, and their detailed solutions.
Also, the 9940 disposer comes with a pre-installed power cord. You just have to plug in this to an electrical socket.
You can also replace this model with any other 99xx models like 9930, 9920, 9950 and 9980 without modifications.
Noise Insulation
Waste King 9940 comes with some basic noise insulation that helps to reduce noise to some extent. If you are a fan of quiet operation here are some good quiet garbage disposals to choose from.
Build Quality & Warranty
The build quality of disposal is often related to its longevity, the better the build quality is, the longer its life will be. Waste King 9940 has been in the market for years, and with lots of positive reviews and ratings. Had it not been for its build quality this unit wouldn't last long.
Its grinding components are made of Stainless steel which is a durable material against corrosion. Its grinding chamber is made of corrosion-resistant polymer, a tried and tested material that is used in all Waste King models.
Waste King 9940 is covered under a limited warranty of 8-years which is more than that for any competing models by rival brands. This is a clear indication of the trust placed by the company in this model, they wouldn't have given such long warranties had the build quality of the disposal is not good. Please note that this warranty is only for household installations. If you are using this for a commercial purpose the warranty coverage is only for 1-year. If you want a disposer for commercial spaces, feel free to refer my list of best commercial garbage disposals.
My thoughts
Waste King 9940 garbage disposal is definitely worth the money. But also make sure to refer the following articles before you buy;
Related Topics:
If you like the article above, here are some other similar articles you should check out!
Waste King 9910 vs L-111 vs Badger 1 – Which is a Better Garbage Disposal?
Best Emerson Evergrind Garbage Disposals