Waste King L-9950 had been a constant companion of mine until I replaced it with an InSinkErator Evolution Compact. I had an older model back then which didn't look as good as the new one, and it didn't have any noise insulation. If this new model was available then I would definitely buy it.
L-9950 is a decent disposal for the money. Here is a quick overview of its specifications;
Power – 3/4 HP
Speed – 2700 RPM
Preinstalled power cord – Yes, 32 inches long
Warranty – 10 years
Mount – 3-bolt
Feed type – Continuous
Size – 14.5″ x 8.5″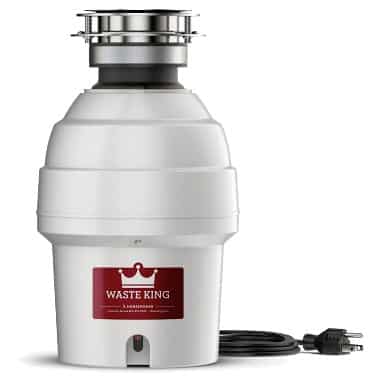 Detailed Review
Power and performance
More power doesn't always mean better performance. That's why I used those two words in the heading.
As mentioned before L-9950 is powered by a 3/4 HP permanent magnet motor that runs at a speed of 2700 RPM. The high speed of the motor gives it more power per pound than some of the competing models with the same horsepower. As you can see in this size guide, a 3/4 HP disposer is more than enough for a household with up to 5 people. It can handle almost all food wastes except bones and fibrous items. To be frank I had disposed of eggshells and banana peels with my old L-9950 but generally, that's not recommended.
This is a continuous feed type disposal, so you can just keep adding food wastes while running it. The other type of feed is a batch feed where you have to process the wastes in batches. Continuous feed disposals are much more convenient to use than batch feed type ones. (You can check the differences between these feed types here.)
Noise levels
I think noise reduction for disposers is much a hyped term these days. You are running it probably for 20 seconds, and normally they are not louder than a washing machine, I don't see why its noise is a big deal. However, some people like to run their disposal really quiet.
L-9950 comes with decent noise insulation. It is definitely not at par with some of the top InSinkErator models or that of Waste King's own Knight but it's fairly quiet. The older model I had didn't come with any but I think the secret to making a disposer quieter is a proper installation with minimum vibrations.
If a silent operation is very important to you I recommend checking these disposers as well.
Build Quality & Design
Waste Kings are built to last long, and most Waste Kings are built the same way. The grinding components of L-9950 are made of Stainless Steel. Stainless steel is more corrosion resistant than galvanized steel which you can see in many low-end disposers. Its grinding chamber is made of reinforced polymer, this material is corrosion-resistant so you won't have to worry about your disposal leaking any time in the many years to come. In addition, the sink flange is also made of stainless steel.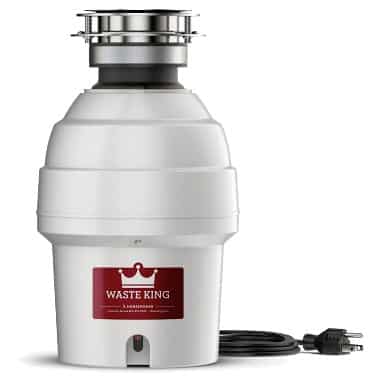 The old model had a rather boring design, probably it has something to do with how the logo was presented. The new design more or less remains the same but it definitely looks better. It follows the standard Waste King design so nothing praiseworthy here.
Space & ease of installation
Waste King L-9950 weighs around 13 lbs and has a height of 14.5 inches. Its maximum diameter is 8.5 inches. This is not exactly a compact size but I think it will fit in most under-sink areas.
This one uses a 3-bolt mounting which is different from the EZ mounts commonly used in Waste King models. The 3-bolt mounting is much more sturdy and is made of stainless steel but is a bit more difficult to install. However this is a one-time installation, so it doesn't really matter much.
What I like about Waste Kings is that they all come with pre-installed power cords. L-9950 comes with a 32-inch long power cord so you don't have to worry about hardwiring or spending time on it, instead just plug it into a wall socket. It can be operated via an air switch as well.
Here is how to install a Waste King L-9950;
Price & warranty
L-9950 is a mid-range disposer, it is not as costly as some premium models, anybody can afford this, and it will be a worthy investment.
It comes with a warranty of 10 years if you are installing this in your home. If it is a commercial installation the warranty is limited to 1 year.
A 10-year warranty is something you won't get with any other brands. I never saw a single disposer in this price range that offers such a long warranty coverage, so you can trust that this disposal is built to last forever.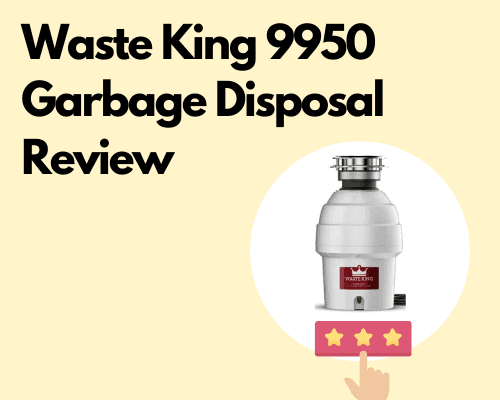 My verdict
Sure, I am going to recommend buying this disposal, I don't see why you shouldn't buy this. But there are lots of other good continuous feed disposals as well, some worthy contenders are;
Related Topics:
If you like the article above, here are some other similar articles you should check out!
Waste King L-8000TC Garbage Disposal Review
WasteMaster (Westbrass) Garbage Disposals – Best Picks & Reviews