Highlights
Power – 1 HP, 2800 RPM
Feed Type – Batch Feed
Chamber capacity – 32 oz
Warranty – 10 years
Mounting – EZ
Dimensions – 18.25″ x 8.5″
Waste King L-8000TC is a mid-range batch feed type disposal.
I recently did a review of Waste King L-5000TC, this one is a more powerful version of it.
Let's see in detail what features it packs;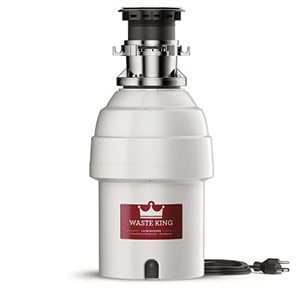 As mentioned above L-8000TC has a power of 1 HP. This is the highest for a household disposer. It uses a permanent magnet motor that runs at 2800 RPM. The advantage of a permanent magnet motor is that it uses less electricity, and is able to reach high speeds instantly. This 1 HP power combined with the high speed makes this a formidable machine in the kitchen. It can handle all food wastes that are allowed to be thrown down a disposer. (Here is a list of what you shouldn't put down a disposer, just in case.)
Also, this is a batch feed disposal. This means you can process food waste only in batches. Its chamber capacity is 32oz, which means you can dispose of only 32 oz of food waste at a time.
The benefit of having a batch feed disposal is added safety. It is activated with a drain cover which means there is zero chance of your kids putting their hands into the disposer or any metallic objects falling into it.
L-8000TC comes with decent noise insulation. Surely it is not top of the class but it is noticeably quieter than many low-end models. Keep in mind that the key to reducing disposer noise is reducing vibrations.
Its sink flange and grind chamber are made of reinforced polymer which is corrosion resistant. The sink flange may look like it is made out of stainless steel but it is just the finish. However, its grinding components are all made of stainless steel which is known to withstand stains and corrosions for years.
When it comes to installation, the height of this disposer is 18.25 inches. This is very tall compared to most other garbage disposal models. So before you buy this make sure that you have enough space under the sink.
L-8000TC has an EZ mount. This is a twist and lock mechanism which makes it pretty easy to attach this to the sink. Also, it comes with a 32-inch long pre-installed power cord which makes the installation easier.
When it comes to looks and design, L-8000TC follows the exact traditional design of all Waste King models, except this has a longer neck. The long neck is to house the activation mechanism of this batch feed disposal.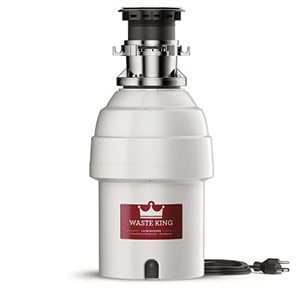 This kitchen disposal is wallet-friendly and is among the cheapest batch feed disposals. But that doesn't mean you will have to compromise on quality. No manufacturer will provide a 10-year warranty if their product is not reliable. That is right, this disposal comes with a 10-year limited warranty.
My verdict
L-8000TC is a powerful and reliable batch feed type disposal that is available at a mid-range price. No other product can beat this at the price or warranty so this is definitely a good choice.
In case you are not sure, check out these other batch feed disposals.
Related Topics:
If you like the article above, here are some other similar articles you should check out!
Waste King L-5000TC Garbage Disposal Review
7 Quietest Garbage Disposal Units For A Silent Kitchen