Quick Overview
Power – 3/4 HP
Speed – 2700 RPM
Feed Type – Batch Feed
Warranty – 10 years
Mounting – EZ
Dimensions – 16.75″ x 8.5″
Chamber capacity – 32 oz
Waste King L-5000TC is a batch feed type disposal. As you know it is not easy to find a batch feed type disposal but luckily Waste King is coming up with new models in that category.
If you don't know what a batch feed disposal is I recommend reading this article of mine;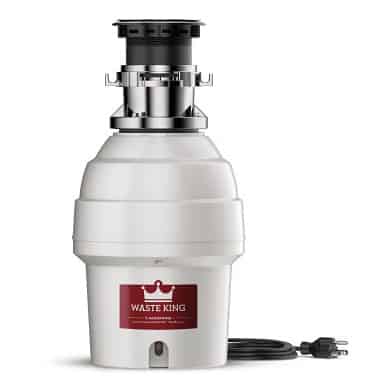 Power, size, performance
L-5000TC is powered by a permanent magnet motor which delivers a power of 3/4 HP. This is a high-speed motor that runs at 2700 RPM. It is able to effortlessly dispose of most kitchen food wastes in a matter of seconds. This is suitable for small and medium families with 1-5 people.
Since this is a batch feed disposal and the food wastes are to be ground in batches the size of the grinding chamber matters. Its grinding chamber can accommodate up to 32oz of food waste at a time. That's plenty for a family of 5.
Sound Insulation
L-5000TC comes with decent noise insulation. Noise insulations are usually seen only in premium models it is something Waste King was not into until recently but now they provide such a feature even for a mid-range model like this.
I won't say this is among the quietest garbage disposals, but definitely, there is a noticeable reduction in noise when compared to older Waste King disposer models.
Build Quality
This lightweight disposal is made of Stainless Steel grinding components and a corrosion-proof grinding chamber. Its build quality is awesome. Of course, it cannot be compared with some of the top stainless steel garbage disposals but for this price, you won't get a better deal.
Space & Installation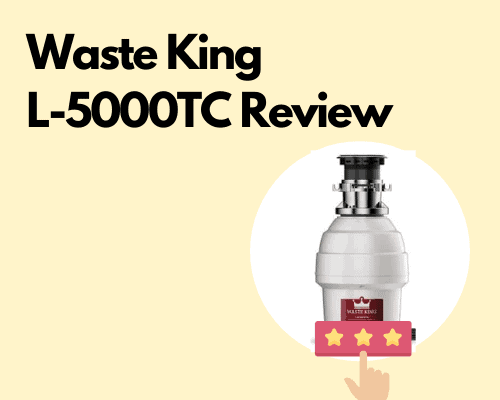 Waste King Legend 5000TC has a height of 16.75 inches and a maximum width of 8.5 inches. This is not compact in size so make sure you have enough space under the sink to install this.
This machine comes with EZ Mount. It is pretty easy to install. In addition, it comes with a pre-installed power cord so all you have to do is plug and play.
Looks & Design
There is nothing particularly commendable about its design. It simply follows the standard design of all Waste King Models.
Price & Warranty
Waste King L-5000TC is a mid-range batch feed disposal. Since batch feed disposals are not so common I doubt if there disposal that can beat this on pricing.
In addition to the pocket-friendly price, this model is covered under a limited warranty of 10 years. If you have gone through my other reviews you know such long warranties are not so common.
Verdict
If you are looking for a pocket-friendly and reliable batch feed type disposal this is a great choice.
Related Topics:
If you like the article above, here are some other similar articles you should check out!
Garbage Disposal Size Guide – What Horsepower Garbage Disposal Do I Need?
Best Stainless Steel Garbage Disposals