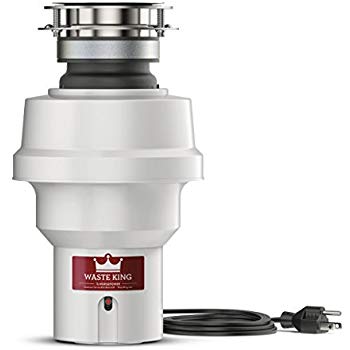 Waste King is a very popular brand in the garbage disposal industry. InSinkErator and Waste King are the leaders in this industry. A few years ago both brands had only a handful of disposer models. But now that there is high competition both companies are coming up with new and new models.
The 9910 by Waste King is such a new model. A friend of mine bought this for his studio apartment and that is when I had a chance to see it.
The first thing I noticed is its design. It is different from the traditional streamlined design of Waste King disposals. This one has more clear lines and edges, I actually like it better than their traditional design.
The reason why Waste King introduced this model, I think, is to have a range of disposals with 3-bolt mounting. If you are familiar with garbage disposals you may know that most Waste King disposals use EZ mount while their main competition uses 3-bolt mounting assemblies. So in order to fill this gap Waste King is bringing in new models.
However, the 3-bolt models by Waste King is not compatible with the 3-bolt mounts by InSinkErator so if you are replacing the 3-bolt InSinkErator disposal with this one you will have to do the whole installation again.
Before I bore you to death with my dull writing, let me give you a quick list of its specifications;
Power – 1/3 HP
Speed – 1900 RPM
Mount – 3-bolt
Feed type – continuous feed
Grinding component material – galvanized steel
Grind chamber material – Corrosion-resistant polymer
Reset button – Yes
Dimensions – 13.5″x7.75″
Power cord – Yes
Warranty – 2 years
Waste King 9910 garbage disposal is powered by a 1/3 horsepower permanent magnet motor. As you know 1/3 HP is not much power, this is one of the least powered garbage disposals. So it is definitely not suitable for regular households but it is a good choice for studio flats which is why my friend bought this. You should also not put any hard or fibrous food items into this one. If you are not sure what can and cannot be put down a disposal unit here is a printable guide that you can print and paste to your kitchen wall or refrigerator.
Unlike most other models by Waste King, this is not a high-speed machine either. It runs at 1900RPM instead of the standard 2700 RPM on most of their models. It closely resembles the L-111 model in terms of power, speed, and build quality. In fact, the 9910 model is a 3-bolt version of the Waste King L-111 model, which is why I did a detailed comparison between them. Here it is –
Speaking of 3-bolt assembly this disposer comes with a Stainless Steel sink flange and a splash guard. Unfortunately, the splash guard is not removable so this will make your cleaning process a tad difficult. Also, this is a continuous feed type disposer.
1/3 horsepower garbage disposals are generally very cheap, so do not expect them to have the highest build quality. It has galvanized steel grinding components and a corrosion-resistant high-quality plastic chamber. Though these don't look great on paper (stainless steel is better than galvanized steel) this is a combination that stood the test of time and proved to be quite reliable.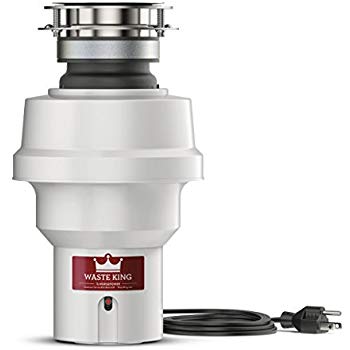 Another con of this unit is that it doesn't have any sound insulation. The disposal makes considerable noise but I won't say it is unbearable, after all, you are running it only for a few minutes.
The installation of Waste King 9910 is just like any other 3-bolt disposal, you will need some extra hands to hold everything in position. I won't say this is a compact disposal because it exceeds the 13″ height(a criterion set by me) by half an inch but it is still suitable for not-so-tall under sink spaces.
It also comes with a long, preinstalled power cord, no worries on the electrical side of things. All you have to do is plug and play.
This model features a reset button at the bottom portion of its front-facing side. It works as an overload protector, the disposer stops if it gets clogged or if anything obstructs its normal working, and this reset button pops out. Simply push this button in to get the disposer working again after solving whatever overload problem it had.
Waste King 9910 is covered under a warranty of 2 years. When compared with Waste King's own and other models in this range by competitors this warranty is pretty standard.
My thoughts
There is nothing mind-breaking about the Waste King 9910 model. It is just a 3-bolt version of the Waste King L-111 model. I don't recommend a 1/3 HP disposal unless it is for temporary use but the decision if yours. Here are some other models I recommend;
Related Topics:
If you like the article above, here are some other similar articles you should check out!
InSinkErator Evolution Essential vs Essential XTR Garbage Disposals