InSinkErator Badger 5, 1/2 HP Food Waste Disposer is one of the most selling garbage disposals of all time. It is one of the members of the Badger series, a garbage disposer unit line that offers a wallet-friendly solution for waste disposal.
UPDATE: This product was recently updated. So this article has been modified to include the features and changes to the old model.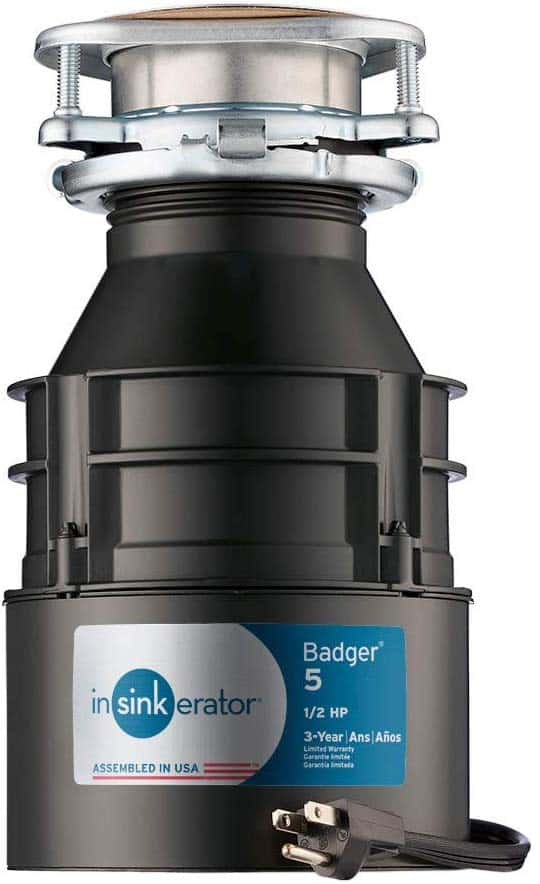 Specifications
Type of Feed – Continuous
On/Off Control – Wall Switch
Motor – Single Phase
HP – 1/2
Volts – 120
HZ – 60
RPM – 1725
Amp. (Avg. Load) – 6.3
Shipping Weight (Approx.) – 14 lbs.
Overall Height – 11.5"
Grind Chamber Capacity – 26 oz.
Motor Protection – Manual Reset Overload
Average Water Usage – 1 Gallon Per Person Per Day
Average Electrical Usage – 3-4 KWh Per Year
Drain – 1-1/2"
Anti-Vibration Connection – Hose Clamp
Dishwasher Drain Connection – Yes
A detailed look into the features, pros, and cons of Badger 5 garbage disposal
When buying a garbage disposal, there are a few things people really care about. Here is what Badger 5 packs in terms of those;
Performance
Garbage disposal should be able to properly dispose of food wastes. That is its job, but how well does Badger 5 score in this aspect?
As mentioned before Badger 5 is one of the most sold garbage disposals. Has this been not good at disposing of food wastes this would be out from the market a long time ago? In short; the performance of Badger 5 garbage disposal is time-tested and proven.
Here is how;
Badger 5 comes with a 1/2 HP DuraDrive induction motor. A 0.5-horsepower motor is not the best you can see in a garbage disposal. However, Badger 5 is focusing on a different market; it is for small households that are looking for an affordable and reliable garbage disposal unit. Considering this, a 0.5 HP disposal is ample for a small family of 2-3 people. The grinder runs at 1725 RPM, which is not the fastest of all but still it is fast enough to turn food scraps into pulp.
How does Badger 5 disposal work?
Just like all other garbage disposals the Badger 5 has a grinding chamber with a rotating disk under it. The walls of the grinding chamber are lined with a perforated net called a grind ring. When the unit is switched ON, the rotating disk, with the help of impellers on it, throws the food scraps against the grinding ring which breaks them down and sends them out through the drain pipe.
So what about hard food items like chicken bones?
Unfortunately no. Badger 5 is not powerful enough to dispose of chicken bones or fibrous food items like celery and corn husks. Here is a printable list of items you shouldn't put down a Badger 5 for your reference.
How much food waste can it process?
Badger 5 is a continuous feed type disposal; you can keep on adding food wastes while the unit is running. So it can process any amount of food waste. However, it can accommodate only 26 oz of scrapes in its chamber at a time so if you try to cram in a lot the unit may get stuck.
Noise levels
Sorry to disappoint you, but Badger 5 doesn't come with noise insulation. In fact, it is pretty noisy when compared to garbage disposals in InSinkErator's Evolution series.
But the lack of noise insulation is justified if you ask me. This is budget garbage disposal so there is no room for adding insulation layers or implementing noise-reducing sink mounts.
On the bright side, Badger 5 uses an induction motor which is less noisy when compared to the permanent magnet-type motors in some competing disposal units.
Is there any way to reduce the noise of Badger 5?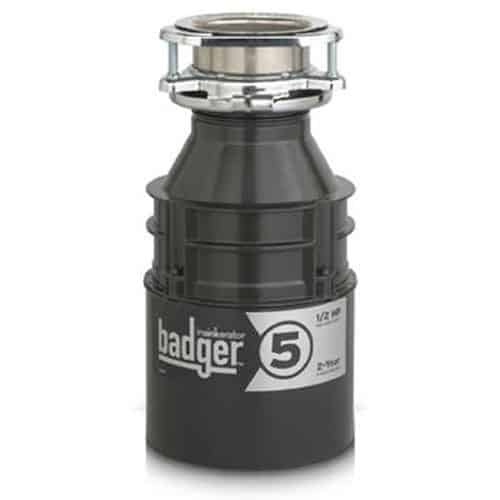 Most of the noise from a garbage disposal unit is from the vibrations due to loose-fitting. So to reduce vibrations make sure that all the connections to the disposal unit, including the mounting to the sink, are properly fitted. Using a flexible hose for the outlet drain also reduces noise to a good extent.
Compact in size
As you know garbage disposals are mounted under the sink. If you are using a deep sink there may not be enough height under the sink to install a garbage disposal. This problem occurs more often than we think. So in such cases, a compact garbage disposal is recommended.
Badger 5 is such a compact disposal. Its height is barely 1 foot (11.5″ to be exact), it is one of the smallest disposal units you can find.
Built to last
When I say that the Badger 5 garbage disposal is built to last long it doesn't mean it has the best build quality among 100s of other units. But simply, for a disposal unit within this price range, its build quality is commendable.
The grinding chamber of Badger 5 is made of Galvanized Steel. Its other grinding components also are made of this same material except for the two swivel lugs on the rotating plate which are made of Stainless Steel. Galvanized Steel is not as good as Stainless Steel but for a disposer in its category, this is pretty good. There are Stainless Steel garbage disposals but they all belong to the premium category and are very pricey.
How long does Badger 5 last?
Usually, a Badger 5 garbage disposal will last up to 12 years, some have lasted longer, and some didn't.
Warranty
When compared to the competition, especially those garbage disposals from Waste King, InSinkErator disposals are far behind in terms of the warranty. But on the bright side their warranties are "We Come To You In-Home" ie, the company sends people to your home to repair or replace the units free of cost.
Badger 5 garbage disposal is covered under a 3-year "We Come To You In-Home" warranty. It was just 2 years for the old model but they recently facelifted the Badger series and added an extra year of warranty to the Badger 5 series.
How to install a Badger 5 garbage disposal?
Here is a detailed video showing the installation of a Badger 500. Badger 500 and Badger 5 are the same models but with different names. The dude is replacing a Badger 5 with the Badger 500. The reason I share this video is that he is showing everything in detail; including doing the electrical connections.
As you can see from the video Badger 5 uses a 3-bolt mount. It is a bit more difficult to install than an EZ mount (refer this article for more.) but it is tighter and has fewer vibrations. InSinkErator features a 'QuickLock' technology with which you can tighten the disposer to the 3-bolt assembly with just a press & twist.
Final Words – Is Badger 5 worth buying?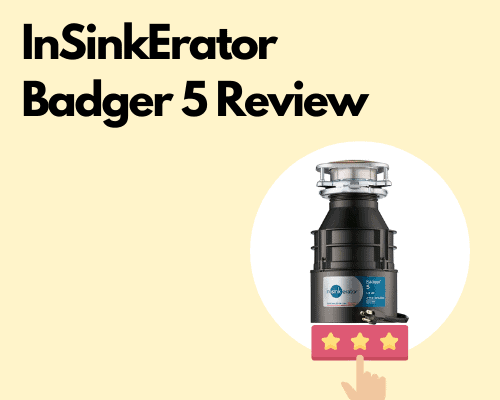 Badger 5 garbage disposal is not without cons. But in terms of reliability and performance, this model has already proven its worth. It is also wallet-friendly. So if you are looking for a budget garbage disposal Badger 5 is a really good choice.
In case you are looking for alternatives, here are some;
Related Topics:
If you like the article above, here are some other similar articles you should check out!
InSinkErator Badger 5XP Garbage Disposal Review
InSinkErator Badger 5 vs Badger 1 – What is the Difference?