Some products have it all, and some just have the basic necessities. Somewhere in the middle is the product you need, with just enough exciting new features to make pulling out your wallet easier, but a low enough price that you don't wish you went with the basic product instead.
In that case, the InSinkErator Badger 5XP is the right product for you.
With InSinkErator's Badger 5XP, you can feel confident about the disposer you're buying, and even better about the price you're spending on it. InSinkErator has been providing its customers with quality products at reasonable prices for over 75 years, and its standard Badger line is straightforward, dependable, and efficient.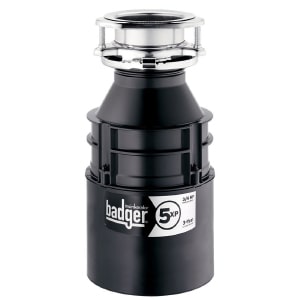 At ¾ HP, the Badger 5XP grinds more food waste more quickly than many other disposers, and its 26oz grind chamber allows you to grind a lot of food waste in a short period of time through its continuous feed. Its GrindShear Ring makes tough food waste like chicken bones or watermelon rinds easy to grind, and virtually liquefies the food in its chamber.
Let's look at some of the other features of the Badger 5XP that have helped the InSinkErator brand become the first choice of 9 out of 10 plumbing professionals.
Specifications
Type of Feed – Continuous
On/Off Control – Wall Switch
Motor – Single Phase
HP – 3/4
Volts – 120
HZ – 60
RPM – 1725
Amp. (Avg. Load) – 9.5
Time Rating – Intermittent
Lubrication – Permanently Lubricated Upper & Lower Bearings
Shipping Weight (Approx.) – 15 lbs.
Unit Finish – Waterborne Grey Enamel
Overall Height – 12-5/8"
Grind Chamber Capacity – 26 oz.
Motor Protection – Manual Reset Overload
Average Water Usage – 1 Gallon Per Person Per Day
Average Electrical Usage – 3-4 KWh Per Year
Drain – 1-1/2"
Anti-Vibration Connection – Hose Clamp
Dishwasher Drain Connection – Yes
Warranty
The Badger 5XP is backed with InSinkErator's exclusive We Come to You 3-year In-Home Limited Warranty. Yes, you read that right. If something is wrong, InSinkErator will send one of its 1500 professional service agents to you as a complimentary (read, free) house call, including parts and labor, for the entire warranty period.
As with any warranty service, you should make sure to save your receipt and register your Badger 5XP with InSinkErator in case any issues arise, but many customers I know say their Badger 5XP disposer lasted long beyond the time the warranty expired.
Easy Installation
Like all InSinkErator brand disposers, the Badger 5XP comes with the Quick Lock sink mount feature, allowing you to "twist-off" your previous InSinkErator disposer and "twist on" the new one. If you didn't have an InSinkErator before, the initial installation may be a few more steps than a simple "twist off, twist on," but it is a definite plus if you plan to stick with the brand.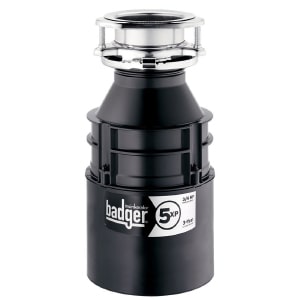 Worth Every Penny You Spend
The Badger series is generally less expensive than other ¾ HP InSinkErator products and other brands, and the Badger 5XP is no different. Its low price can be maintained for a couple of reasons.
InSinkErator keeps the Badger 5XP compact. At just over 15 pounds and a 7 x 7 x 16-inch frame, this disposer uses less material than comparable products, meaning that the manufacturer can pass those savings off to you. And it doesn't hurt that it takes up less space under your sink, giving you more room to store all those plastic grocery bags and cleaning supplies.
It does not come with a power cord, but you can easily attach the cord from your old model, or purchase a new one.
What it does come with are various reports concerning the amount of noise this disposer produces. While some reviews mention higher than average noise levels, others say the unit has normal sound levels or is even quiet. If you're looking for a disposer that is made to be quiet but is still inexpensive, you're probably not going to find it. You'll either need to spend a little more money on InSinkErator's Evolution series or consider purchasing an inexpensive quiet collar sink baffle to help muffle the noise.
Wear And Tear
Despite an awesome warranty, the Badger 5XP is just like any other disposer; it isn't built to last forever.
The galvanized steel grind system makes it an extremely durable machine, and, paired with the speed of the single-phase motor, generates an impressive grind, able to cut through some pretty tough food waste. But while this is designed to last, the housing that holds the unit together is not.
The disposer's plastic housing has been known to crack. This can happen over time as the high temperatures the unit produces can cause the housing to warp and eventually crack. The good news is that in the few reports when the housing has cracked, the product has been under warranty, meaning that you could easily arrange for one of those free house calls and parts replacements.
Badger 5XP – Bottom Line
"Very easy to install and works great. The Badger 5XP with ¾ HP has a longer guarantee. Very satisfied with this product." – Amazon Customer
If you're looking for a disposer that does its job consistently and does it well for a few years, then this is the product for you. With its price tag, high horsepower, and hard-to-beat warranty, you can't really go wrong.
Related Topics:
If you like the article above, here are some other similar articles you should check out!
InSinkErator Badger 1 Garbage Disposal Review
Badger 5 vs Waste King L1001 vs KitchenAid KCDB250G
What's the Difference Between Badger 5, Badger 500, & Badger 5XP