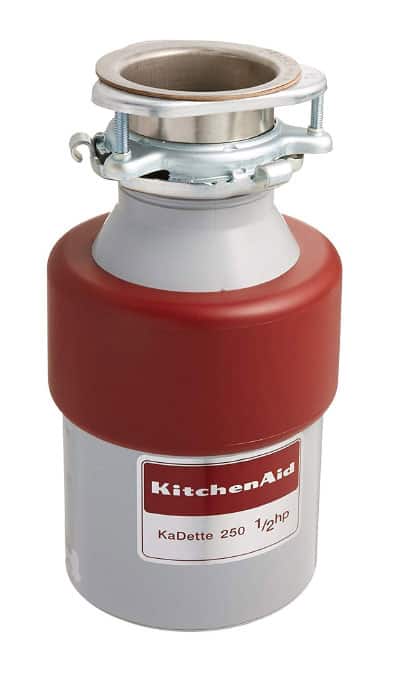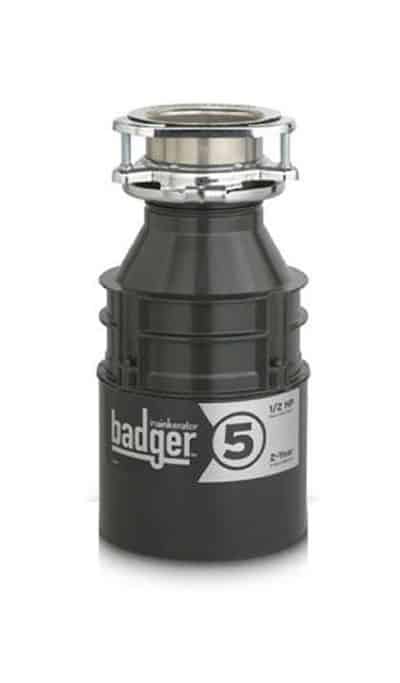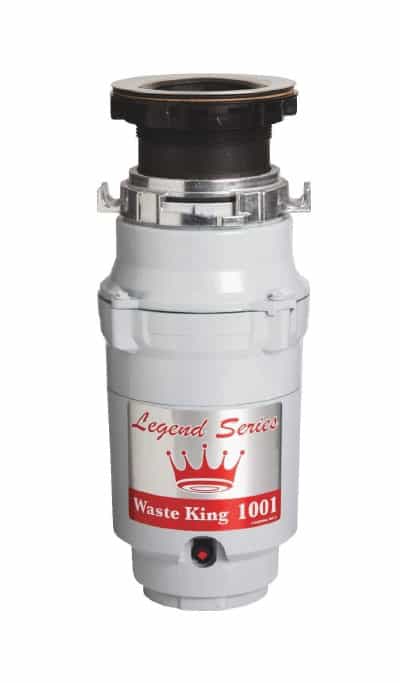 Here is my comparison of Badger 5 by InSinkErator, Legend 1001 by Waste King, and KCDB250G by KitchenAid. All the above three garbage disposals have proven track records, they are affordable, durable, and get the job done. In fact, these 3 are the 'best' cheap garbage disposals I know. Certainly, there are other disposals cheaper than these three but they do not qualify to be 'best'.
And since these three are the best in class, people find it difficult to choose among the three, which is why I am here to tell you exactly which is which. Like my other comparison reviews, I like to keep this short and informative. So here we go!
Power
These 3 disposals are powered by a ½ HP motor. All three of them are continuous feed type disposals, and ½ HP is ample to keep the disposal running continuously even with a steady input of food wastes. A ½ HP motor is enough for a household with 2-4 people, just make sure you don't throw hard items into the disposal.
Speed
Both Badger 5 and KCDB250G (Henceforth 250G; I hate the long name.) have a slower speed motor of 1725 RPM while L1001 runs at 2600 RPM. According to Waste King, the extra speed helps to cut through any jams which are common in disposals.
Motor
The main difference is the motor. L1001 disposal has a permanent magnet-type motor. These motors are lightweight, more efficient, and faster. The motors in 250G and Badger 5 are induction-type motors that are technically more durable.
Mounting
Both 250G and Badger 5 use a 3-bolt mounting system while L1001 uses an EZ mount. This makes the installation of L1001 a little more easily. But a 3-bolt mount is better at avoiding vibrations and hence they tend to create less noise while running.
Manufacturer
Ok, this is a no-brainer. Badger 5 is by InSinkErator, and L1001 is by Waste King. Both these manufacturers together contribute around 90% of the sales in the USA. The 250G, on the other hand, is made by Kitchen Aid, a lesser brand in comparison.
Sound Insulation
All three disposals are economic models. Sound insulation in garbage disposals is usually reserved for high-end models, so these 3 models aren't equipped with any particular sound insulation technologies. These 3 disposals make almost the same level of noise while running.
Warranty
Both Badger 5 & Legend 1001 are covered under a 2-year in-home warranty where the company will come to you to repair/replace the product. On the other hand, the 250G is covered only for 1 year.
Splash Guard
Waste King L-1001 comes with a removable splash guard. This makes it easy to detach the splash guard and clean it keeping the disposal germ free. But for Badger 5 and 250G, their splash guards are fixed. This is owing to the 3-bolt mounting system. You can read more about it here.
Build
L-1001 is constructed using corrosion-resistant polymer. It has stainless steel impellers, galvanized steel turntable, and a grinding ring. Badger 5 has galvanized steel construction. 250G disposal also has the same build as Badger 5. Both these disposals weigh a few more pounds than L1001 owing to their construction.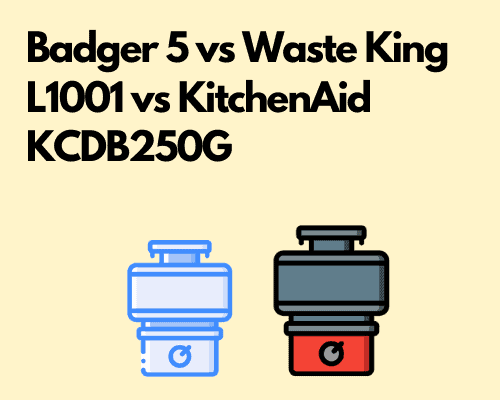 Size
Badger 5 has dimensions of 12 5/8" x 6 5/16"
L-1001 has dimensions of 12 11/18" x 5 3/16"
250G has dimensions of 11 3/8" x 6 5/16"
Kitchen Aid 250 G is the most compact one among the 3.
Multi-stage grinding
Being economic models none of the 3 models have multi-grinding features. Multi-grinding is a feature where food wastes undergo more than 1 stage of grinding. It is seen commonly in top InSinkErator disposal models.
Power cord
Both 250G and Badger 5 models do not come with a power cord, but it can be bought separately. A power cord is wasted if you are replacing an existing disposal, you can always connect the new one from the old connection. However, L-1001 comes with a power cord.
Price
All three garbage disposal models are priced competitively. However, at the time of writing this the L-1001 by Waste King is cheaper than the other two.
Reviews and rating
These metrics are subject to change. But at the time of writing this Badger 5 has far more reviews than the other two models in different marketplaces. The L-1001 is in second place, and 250G has the least number of reviews. All three models are rated above 4 stars in all marketplaces.
Related Topics:
If you like the article above, here are some other similar articles you should check out!
Badger 900 Garbage Disposal Review
Waste King 9910 Garbage Disposal Review