Badger 900 garbage disposal is sold exclusively at Home Depot. It is one of the relatively new members of the InSinkErator's Badger family.
Badger is a reliable and popular series of garbage disposals by InSinkErator. However, does Badger 900 live up to the name? Let's find out.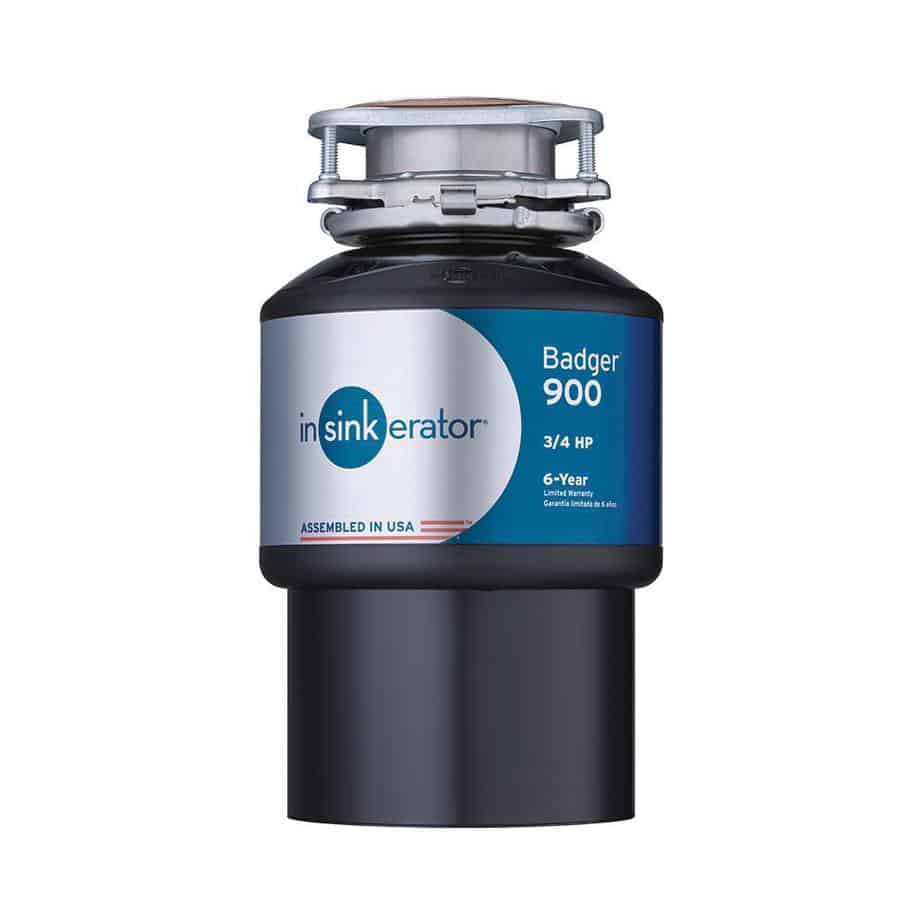 Notable Features
Badger 900 comes with 3/4 HP power
Badger 900 garbage disposal is run by a 3/4 HP DuraDrive induction motor. Induction motors are known for their consistent performance. The 3/4 horsepower is ample to dispose of all food waste by a family of 4 people. Just like all other InSinkErator models Badger 900 runs at a speed of 1725 RPM. This is slow compared to many of its competitors, especially when compared to garbage disposals by Waste King. However, its motor is powerful enough to cut through any jams so you don't have to worry about the grinding chamber being blocked by food waste.
Is it noisy?
Hmm, yes. Badger 900 doesn't come with any noise insulation, so the unit is pretty noisy. Most of the customer reviews indicate this. Badger Series garbage disposals are meant to be pocket-friendly so they don't have any premium features to keep the costs down. So it turns out this cost-cutting hasn't benefited many customers.
Add food waste in one go
You can add food waste to Badger 900 even while it is running. So just turn the disposer on, run cold water, and keep disposing of food scraps.
Don't all other disposals do this? Actually no. There are two types of garbage disposals based on feed type; continuous feed and batch feed. As the name indicates you can dispose of scraps continuously with a continuous feed type disposal while you have to process them in batches with the other type. Badger 900 is a continuous feed-type disposal unit.
There are more differences between these two types of disposal units, If you want more information on this topic, feel free to refer to my article – Batch feed vs continuous feed disposal units.
Easy installation with QuickLock system
InSinkErator Badger 900 has a 3-bolt mounting system. It uses InSinkErator's own patented technology 'QuickLock'; a simple twist and lock system that makes installation a much easier task.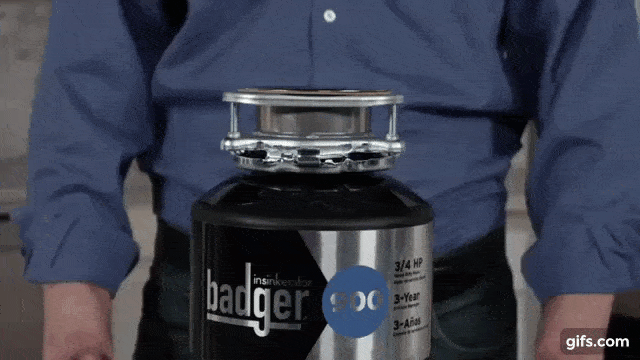 InSinkErator's 3-bolt system is much better than other mounting systems in some aspects. It fits firmer and so this reduces vibrations through the sink, a big contributor to the noise from a garbage disposal. Though the installation is easy it will take around an hour to get it done especially if you are not handy with the work. You may also need some help from another person to hold the mount in position, or you can use one of these garbage disposal installation tools.
One downside of the Badger 900 is that it doesn't come with a pre-installed power cord. This makes the installation a little harder since you will have to work on the electrical connections as well.
Built with durable materials
Durability is important for any product that is meant to last a long time. Though many garbage disposals are covered by only a few years' warranties they often last for 15 years or more. So people expect these disposals to work without any issues for over a decade.
In this aspect, Badger 900 does well. It comes with Stainless Steel grinding components which are rust and corrosion-resistant. Its flange is also made up of this same material.
6-year warranty
The older model of Badger 900 had only a 3-year warranty. But the new model sold through Home Depot is covered under a longer, 6-year warranty. For some reason the specification sheet on the InSinkErator's website shows the old warranty, they are yet to update it. But don't worry, the product is actually covered for 6 years, and that is written clearly on the body of this disposal unit.
Compact in size
Badger 900 is compact in size. It has a height of 12.63 inches and a width of 6.75 inches. This is a great choice if you want a garbage disposal for a farmhouse-style deep sink. It also has a grind chamber capacity of 26 oz, which means you can add 26 oz of food waste at a time. But since this is a continuous feed type disposal the chamber capacity doesn't have much importance.
It has a reset button and a hexhole
InSinkErator Badger 900 has a reset button on its bottom side. This button drops out when the garbage disposal is overloaded. This prevents any electrical damage to the unit.
It also has a hex hole on its bottom face. This is helpful if the disposal gets jammed. When it gets jammed you can use a hex wrench to move its blades to and fro, and thus unclog the block. If you want to know how it is done please refer to my article; garbage disposal problems and their solutions.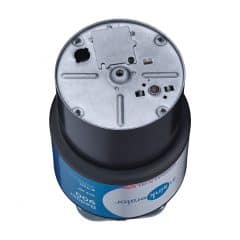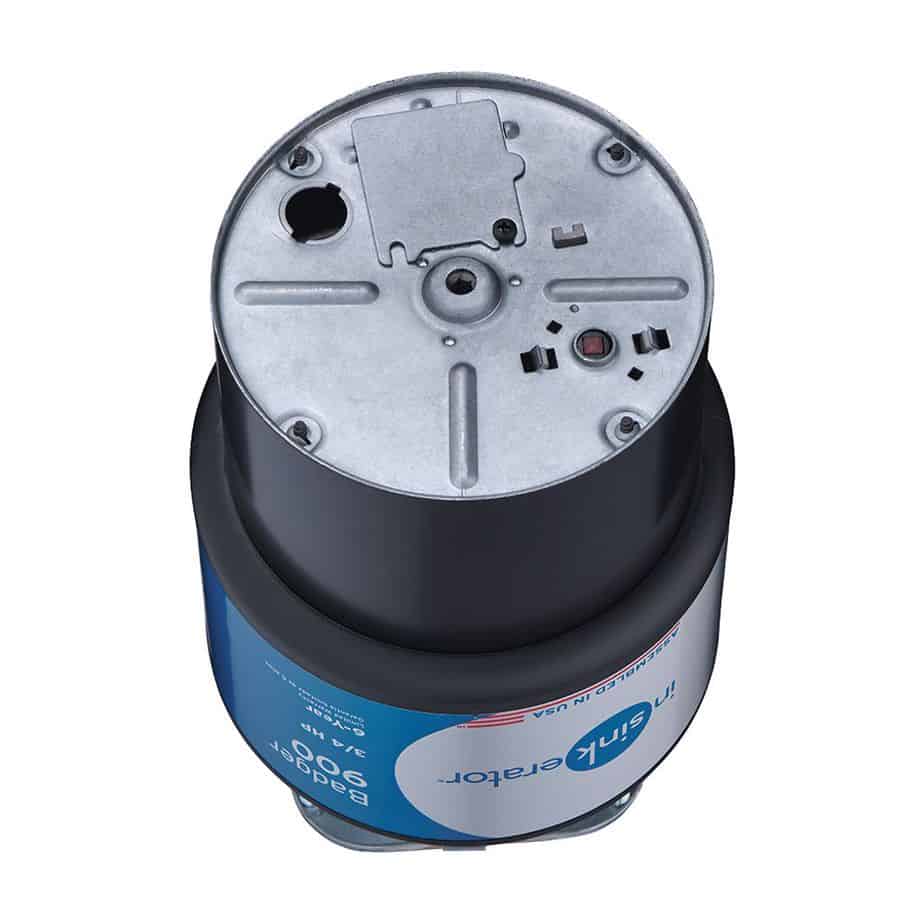 Other things to note;
Badger Series garbage disposals do not come with premium features. So features like SoundSeal (noise insulation technology), Auto-Reverse, etc. are available in this product. This unit is just like other Badger disposal units; good performance at a pocket-friendly price.
Pros
Powerful and proven 3/4 HP motor
A longer warranty compared to competing models
Decent build quality
Compact size
Cons
The unit is a bit loud
The lack of a pre-installed power cord makes installation harder
Here is what I think about Badger 900
Badger 900 is a decent garbage disposal unit for a normal household. It has enough grinding power, a good warranty, and a reliable brand name. It is a good buy but it won't hurt to check some of the competing models like;
Related Topics:
If you like the article above, here are some other similar articles you should check out!
Badger 5 vs Waste King L1001 vs KitchenAid KCDB250G
What's the Difference Between Badger 5, Badger 500 & Badger 5XP