InSinkErator is a leader in the market of garbage disposals and it earned buyers' trust for many years. Also, InSinkErator is the largest manufacturer of garbage disposals worldwide after patenting them in 1927.
The InSinkErator Badger 500 1/2 HP Continuous Feed Garbage Disposal is one of the company's most appreciated models. This garbage disposal is made to last a long time thanks to its rugged galvanized steel construction. It comes with a 2-year warranty that includes getting professional repairs made by an authorized dealer. Also, the warranty covers any replacements that might be needed. The Quick-Lock sink mount system makes this garbage disposal very easy to install and replace as needed. If you need to add a power cord, this can be purchased separately but most situations don't require the usage of such a cord.
All these features make the Badger series line, in general, a very high-quality range, and this particular model is definitely one of the best options for it.
Specifications
Dimensions: 6.31 x 6.31 x 12.63 in
Type of feed: continuous
On/Off Control: Wall Switch
HP: ½
Voltage: 120
Amp: 10.2
Item Weight: 13.9 pounds
Product Height: 11-1/2″
Insulation
HZ – 60
RPM – 1725
Grind Chamber Capacity – 26 ounces
Motor Protection – Manual Reset Overload
Average Water Usage – 1 gallon per day
Average Electrical Usage – 3-4 KWh per year
Overall Functioning Performance
The Badger 500 is highly recommended thanks to its great features and affordable power consumption. The price is on the affordable side and it is easy to install which is also why buyers prefer this product. InSinkErator Badger 500 is running perfectly and for a long time once it is installed so you won't have to worry too much about maintenance. It is quiet and will not bother anyone while it is working which makes it even more convenient.
Capacity to dispose materials
This product is great for grinding most types of food thanks to its advanced technology. Plus, the disposer will adapt to the type of food and materials that you want to grind. Also, if the garbage disposal finds a material that is difficult to dispose of, it will reverse the grinding direction that way it won't get stuck. This will avoid additional repairs and maintenance.
Particular specifications
As far as warranty goes, the InSinkErator Badger 500 comes with a friendly 2 years warranty in which a representative of the manufacturer will come and take care of the problem at your place. You can also get professional installation but even if you don't do that, installing it is fairly easy. All you have to do is follow the instructions that come in the manual.
Price versus quality
The price of InSinkErator Badger 500 is not as high as other prices for similar products but it offers good quality. If you are trying to find good garbage disposal but you are also on a budget, this is definitely a great option for you.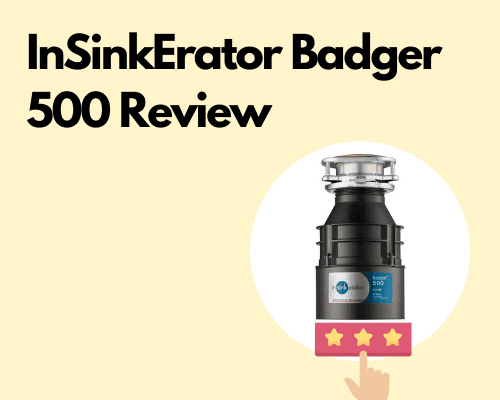 Pros:
Easy to install
It comes with 2 years of warranty
It's fairly quiet
Good size grinder chamber
Budget-friendly price
Cons:
It doesn't come with a power code included
This product is a great mix of high quality and affordable prices. You can definitely enjoy it for several years and take advantage of the good warranty offer. And another good news is that you will not spend a lot of power while using this garbage disposal. If you are looking to get your first garbage disposal, you should definitely consider the InSinkErator Badger 500.
Related Topics:
If you like the article above, here are some other similar articles you should check out!
Waste King 9940 vs 9950 – Which is a Better Garbage Disposal?
InSinkErator Evolution 100 vs 200 vs 250 – A Detailed Comparison