Both 9940 and 9950 garbage disposal models by Waste King are so similar with only a handful of differences. I often wonder why manufacturers make so similar models, I frankly don't see it helping any customer, it only makes them confused and worried about their choices.
So I hope this short article of mine detailing the key differences and similarities between the 9940 and 9950 garbage disposals helps someone to reduce their worries even a little bit.
So let's jump into the differences (obviously that's why you are here)
Waste King 9940 vs 9950 – Differences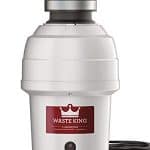 3/4 HP, 2700 RPM motor
Dimensions – 13.5″x8″
Warranty – 8-years
Price – Slightly lower
Performance – Slightly better due to a smaller grinding chamber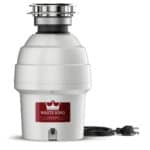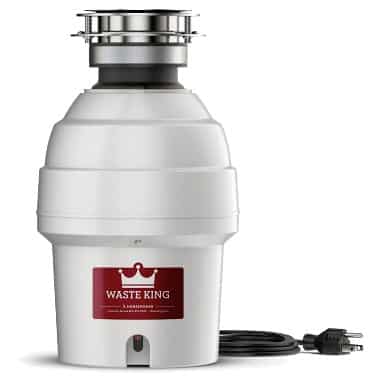 3/4 HP, 2700 RPM motor
Dimensions – 14.5″x8.5″
Warranty – 10-years
Price – Slightly higher
Performance – Slightly inferior due to a larger grinding chamber
Dimensions
The main difference between Waste King 9940 vs the 9950 is the dimensions. The 9940 has a height of 13.5 inches and a maximum width of 8 inches whereas the 9950 disposer is a bit bigger with a height of 14.5 inches and a width of 8.5 inches.
The Waste King 9950 model seems to have more grinding chamber capacity since it is bigger in size even though the motor used in both models is the same.
The 9940 disposer is also lighter; it weighs 9.4lbs whereas the 9950 weighs 12.83lbs.
Performance
Both garbage disposals share the same motor. However, the grind chamber capacity of the 9940 is less than that of the 9950 disposal unit. This means that Waste King 9940 has more power per pound of food waste. This makes its performance marginally better than that of 9950. But since both disposals are continuous feed types, I don't know how relevant this comparison is, it is probably nothing. So for the sake of comparison let's say the performance of 9940 is slightly better than that of 9950.
Warranty
Another difference between the Waste King 9940 and 9950 is the warranty. The 9940 garbage disposal is covered under a limited warranty of 8 years whereas the 9950 is under a 10-year warranty. But if you are using them for commercial purposes the warranty coverage for both models is only 1 year.
If you ask me why there is this difference in warranty even though both disposals use the same motor and have the same material quality, I don't know the answer.
Price
Waste King 9950 is usually priced slightly higher than the 9940 garbage disposal justly so since it is slightly bigger. The prices fluctuate on special occasions and for discount sales but usually, the difference in the pricing is no more than 20 bucks.
Waste King 9940 vs 9950 – Similarities
There are plenty of similarities between the 9940 and the 9950 garbage disposals.
Both 9940 and 9950 garbage disposals are run by the same 3/4 HP, 2700 RPM permanent magnet type motor.
Both models come with some basic noise insulation.
Both have preinstalled power cords, and both models use 3-bolt mounting assemblies.
Both 9940 and 9950 disposal units have the same build quality; their grinding components are made of Stainless steel and their grinding chambers are made of corrosion-resistant polymer.
Their sink flanges are made of Stainless steel with Stainless steel finish.
They come with front-facing, manual reset buttons. Both have a similar design and paint job as well.
Which is a better garbage disposal-9940 or 9950?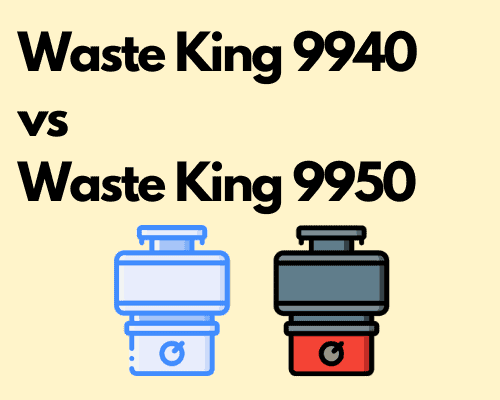 Both are so similar, however, Waste King 9950 comes with a 10-year warranty; 2 more years than the 9940 model. I always consider a 2-year more warranty at the expense of 20 bucks a good deal, so I will definitely go for 9950 over 9940.
But if the space under your kitchen sink is low maybe you will have to go for the 9940 disposal unit since it is 1 inch shorter in height. If you have ample space there, then, by all means, go for the Waste King 9950 garbage disposal.
Related Topics:
If you like the article above, here are some other similar articles you should check out!
InSinkErator Badger 5XP Garbage Disposal Review
Waste King 9900TC Garbage Disposal Review