Waste King 9930 is a decent disposal suitable for a small household.
Here's a quick overview;
Power – 1/2 HP
Speed – 2600 RPM
Noise insulation – None
Warranty – 5-years
Installation – 3-bolt assembly
Feed Type – Continuous
As you know 1/2 horsepower garbage disposals are a dozen a dime, so is there anything that makes 9930 stand out?
Let's find out.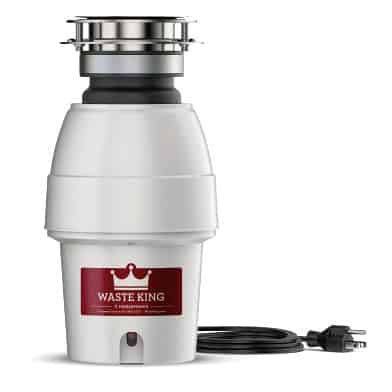 Power & Performance
This is a 1/2 HP disposer, so it works like all other 1/2 HP disposals. And since this is not exactly 'powerful' disposal you have to completely avoid dropping any items on this list into the disposal.
That being said a 1/2 HP disposal is enough for a small household with 2-3 people.
Just like all other Waste King models, this one uses a high-speed permanent magnet motor that runs at 2600 RPM. The high speed increases the number of cuts per minute thereby reducing the chances of jamming.
Since this is a continuous feed disposal the size of the grinding chamber doesn't matter but it has ample space to accommodate large chunks of food. In case you are not familiar with disposal feed types check this article.
Noise Levels
It is unlikely to see noise insulations in low-budget disposals, and that's true in this case as well. Yes, this one doesn't have any noise insulation. Again, just like I say in many other articles I don't think it really matters as people operate this only for a few minutes a day.
If you are new to my blog be assured that this disposer is not very loud, it may be a few decibels louder than a normal conversation but that's it.
If you are looking for a super-duper quiet disposal check this post listing all the quietest garbage disposals.
Build Quality & Design
The design of a garbage disposal is the last thing to worry about, it is going to be hidden under your sink anyway so it doesn't really matter. But people do love shiny things (proved by research) so I think that could be one reason Waste King recently facelifted all its disposal units.
Waste King 9930 follows the standard dual-color design of all Waste king models. It looks way more attractive now than its previous model.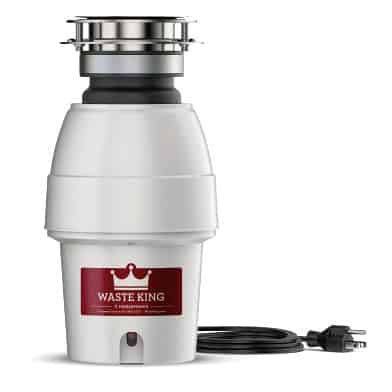 Build quality is one important thing you should worry about while buying a new garbage disposal. The constant contact with water and soap is likely to corrode any material. A disposer is expected to last 10-12 years so to last that long its build quality should be really good.
Waste King is a company that has been selling disposals for a long time. So the materials used for the construction of this disposal are time-tested and reliable. The grinding components of this unit are made of stainless steel which doesn't rust. The grinding chamber where the food wastes are ground is made of a special type of corrosion-resistant polymer. These materials are used in all Waste King models which are sold in thousands over the years, so there is nothing you have to worry about the build quality of the disposal unit.
Space & Ease of Installation
Waste King 9930 measures 13.5 inches in height and 6.75 inches in diameter. It is compact and fits in most under-sink spaces.
As you can see this disposal unit uses a 3-bolt assembly for installation. (Check 3-bolt vs EZ mount for more info). The installation is pretty straightforward, and as detailed in the installation manual.
It comes with a pre-installed power cord so you don't have to spend on electrical works (provided you have a socket to plug it in). Since this is a continuous feed type disposal it is switched on and off using a wall switch. You can also operate this via an air switch which is safer since it avoids any electrical contacts.
The reset button of Waste King 9930 is on its front-facing side, towards the bottom. Its location is more convenient than those hidden at the bottom of the disposal.
Price & Warranty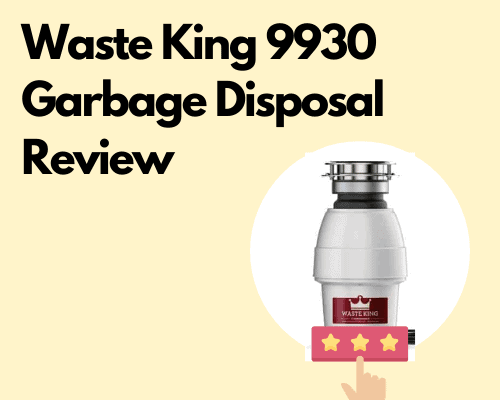 All Waste King disposals are priced reasonably, and so is this one. It also comes with a 5-year warranty, not the longest ever but the longest of any disposals within this power and price range.
My Verdict
I always recommend going for more powerful disposal. But if you need only a low-powered one, maybe for your tiny house (which is a growing trend now) or a camper this disposal is more the enough. It also has the best warranty in its class, and it's pocket-friendly.
Related Topics:
If you like the article above, here are some other similar articles you should check out!
Waste King 9930 vs 9920 – Which is the Best?
What's the Difference? – Waste King L9980 vs L-8000