Waste King 9930 and 9920 are similar as well as different in many aspects. Lets' see this in detail;
| | | |
| --- | --- | --- |
| | | |
| Power & Speed | 1/2 HP, 2600 RPM | 1/2 HP, 2600 RPM |
| Mounting | 3-bolt | 3-bolt |
| Preinstalled power cord | Yes | Yes |
| Size | 7.75 x 13.5 inches | 6.75 x 13.5 inches |
| Warranty | 2-years | 5-years |
| Grinding components | Galvanized steel | Stainless steel |
| Grind chamber | Corrosion-resistant plastic | Corrosion-resistant plastic |
| Feed type | Continuous | Continuous |
| | Check Price & Details | Check Price & Details |
Waste King 9930 vs 9920 – Similarities
Both 9920 and 9930 models are manufactured by Waste King. They are powered by the same 1/2 horsepower motor. It is a permanent magnet type, high-speed motor. It runs at 2600 RPM.
When it comes to noise insulation both 9920 and 9930 do not have any. I am not saying they are very loud but they do not have anything specific to reduce noise.
9920 and 9930 use the same 3-bolt mounting. You can easily replace one model with the other. Both of them have stainless steel sink flanges. Their slash guards aren't removable.
Both of them are continuous feed-type disposals. Their grinding chamber is made of the same corrosion-resistant reinforced polymer material. Plus, both disposal units come with a 32-inch long, preinstalled power cord. Both are compact models having the same height 13.5 inches.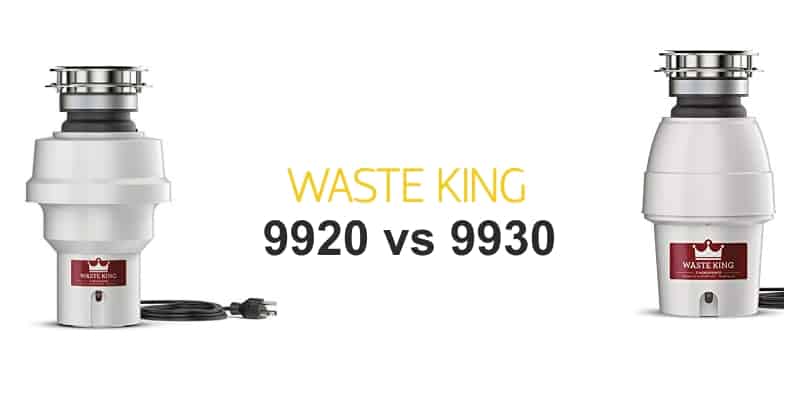 Waste King 9920 vs 9930 – Differences
Waste King 9930 and 9920 models have some major differences.
The main difference you will notice at first glance is that their design is very different. The 9930 model follows Waste King's traditional streamlined design whereas the 9920 has a more distinguishable look.
But that's not all.
The 9930 model is superior to the 9920 in many ways. The grinding components (lugs, shear rings, etc) of 9930 are made of Stainless steel whereas that of 9920 is galvanized steel. As you know stainless steel lasts more than galvanized steel so the build quality of the 9930 can be considered better than that of the other.
Perhaps this is why Waste King 9930 is covered under a 5-year warranty whereas 9920 has only 2 years.
Also, Waste King 9920 is a bit wider than the 9930 model.
Conclusion
I recommend going for the Waste King 9930 model since it has more durable grinding components and a longer warranty.
Related Topics:
If you like the article above, here are some other similar articles you should check out!
What's the Difference? – Waste King L9980 vs L-8000
Best LessCare Eliminator Garbage Disposals