| | | |
| --- | --- | --- |
|   |   |   |
| Power | 1 HP | 3/4 HP |
| Size | 17 in. H x 8 in. W x 8 in. L | 15 x 9 x 9 inches |
| Feed type | Continuous | Continuous |
| Noise insulation | Ultra quiet technology | Ultra quiet technology |
| Power cord | Yes | Yes |
| Grinding system | glass-filled nylon | glass-filled nylon |
| Turntable material | Stainless Steel | Stainless Steel |
| Warranty | 5 years | 1 Year |
|   | Check Price | Check Price |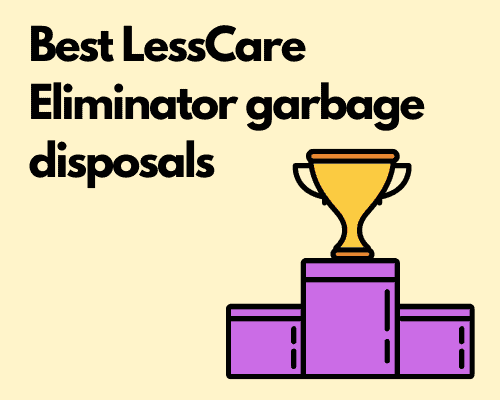 LessCare Eliminator Garbage disposal review
1. Eliminator LGD3 Food Waste Disposer
LessCare is one of the best brands on the market when it comes to food waste disposers, they offer a great mix of high quality and affordable prices. Their Eliminator LGD3 food waste disposer is one of the most appreciated models in the range. It is powered by a 1 HP heavy-duty motor. This disposer uses ultra-quiet technology to reduce operating noise.  The grinding chamber is made of glass-filled nylon and polyester which makes it corrosion resistant and lightweight at the same time.
As for the aesthetic aspect of this disposer, it is available in all colors of your choice as long as it is black.  The dimensions of this product are 17 in. H x 8 in. W x 8 in. L. To make this disposer even more reliable, LessCare offers up to 5 years of warranty just in case you have any problems with it.
2. Eliminator LGD2 Food Waste Disposer
Another highly appreciated model from LessCare is the Eliminator LGD2 Food Waste Disposer. Price-wise this one is cheaper than the rest of the disposers in the range but its quality is in the same league. It also has an ultraquiet technology that ensures silent operation. The power cord needed is included in the package This disposer is lightweight, and is easy to install and replace in case you need to do all that by yourself.
The LGD2 disposer has ¾ horsepower and it is a medium to heavy-duty product. The grinding chamber is made of corrosion-free glass-filled nylon and polyester for increased durability.
It comes with a permanent magnetic motor made to support increased torque and a faster grind. This helps the disposer be more efficient and easy to use. It also has an easy removal system when it comes to the motor jam just in case you get to the point where you need to remove it.
The mounting sink flange and the discharge tube are included in the package as well.
As far as dimensions go, this product is 15 x 9 x 9 inches and has a weight of 10.4 pounds.
Related Topics:
If you like the article above, here are some other similar articles you should check out!
Goplus Garbage Disposal Review