Garbage disposals play a vital role in the kitchen and other premises. They effectively break down the large food items to dispose easily into the sink and prevent build up and clogs. However, it's necessary to pick the right garbage disposal product to ensure the best performance and functionality.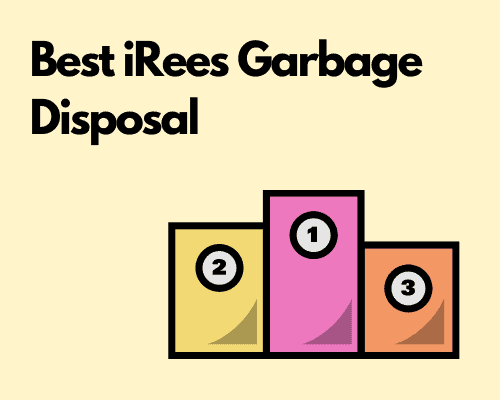 IRees MX200 Garbage Disposal Review
So, here we are with one of the best garbage disposal called IRees MX200 5/4 Horsepower. Today we will review this garbage disposal product for you so that you can make a healthy investment in a quality product.
IRees MX200 has almost every feature and functionality that garbage disposal should ideally have. If you prefer quality whiling picking a garbage disposal product, IRees MX200 truly deserves your attention. iRees is considered a top model product with great appearance and design. In short, it has everything, including the best performance, feature & functionalities and an eye-catching design. Have a look below on its specification:
Specifications
Feed Type – Continuous
On/Off Control – Wall Switch
Motor – permanent magnet motor
HP – 5/4 HP
RPM – 2600 RPM
Grinding Technology: Smart iRees technology
Time Rating – Intermittent
Shipping Weight (Approx.) – 12.95 pounds
Noise Insulation technology crafted within the corded garbage disposal
Motor Protection – Manual Reset Overload
Dishwasher Drain Connection – Yes
What About Its Performance?
With 1.25 Horsepower motor rated with  2600 RPM, the IRees MX200 performs very efficiently. Also, the product is based on  Smart iRees technology that ensures every food particles will get grinded in tiny pieces to prevent the buildup and sewer and sink jamming issues. Also, the product is equipped with noise insulator, and thus you will not encounter annoying noise while it will be performing. Overall when it comes to performance, the product performs really satisfactorily and will not disappoint you at any stage.
A Powerful Garbage Disposal With Capabilities Of Disposing Almost Anything
Yes, it's one of the powerful garbage disposal that can quietly dispose almost every garbage. It is made to break almost everything into pieces, like potatoes, chicken bones, difficult food scraps, etc., and dispose them quickly in the sink. If you want to experience such dominant performance, it's highly recommended to invest. You will not regret this investment at any stage for sure…
Isn't It Worth The Price?
It's not labeled with high price value. Also, if you will look at its specification, build quality and features, i dont think its price will allow you to think twice to invest. It deserves the price value it is labeled with. It's a quality garbage disposal product by a reputed manufacturer iRees at an extremely fair price.
PROs
Its compact, lightweight and super easy to install.
There is no need of putting every item one by one in the disposal; activated wall switch is there to help you with continuous feed capabilities.
Equipped with a powerful motor rated with 1.25 HP and 2600 RPM.
1-year warranty to ensure the healthy investment.
CONs
iRees MX200 has no displeasing factor associated with it. It has everything to make you wow with its performance and features. It's honestly a quality product.