Comparison of Waste King Legend Series L-9980 & L-8000
L-9980 and L-8000 are two similar garbage disposals made by Waste King. When I say 'similar' these disposals are actually too similar. But when you hear the model numbers L-8000 & L-9980 they hardly sound similar, right? The L-9980 model may seem to be a superior one but that need not be so, it's just a trick of our mind in making us believe that a thing with a bigger number is always better.
Without beating around the bush, let me jump into the comparison. First, let's see what they have in common.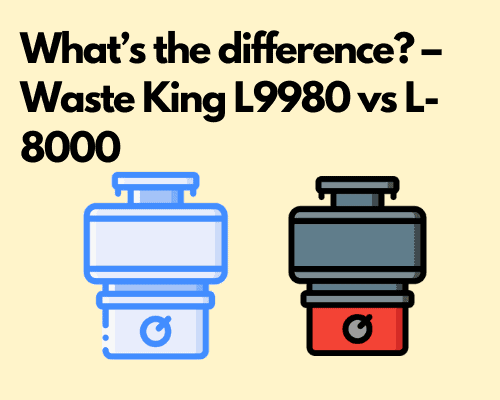 Similarities
I can give you a long list here, as said before L-8000 & L-9980 are almost the same. Both of them come with the same permanent magnet motor with 1HP power running at 2800 RPM. Both disposals have the exact same dimensions; 16 x 8 ½". Both of them come with a power cord which avoids any hassle of messing with wirings.  These garbage disposers come with decent noise insulation, their body is lined with insulating material to reduce noise.
The make of both these disposers is the same. Their grinding chamber is made of reinforced polymer and their grinding components are Stainless steel, both materials are resistant to corrosion and make these disposals durable. Their feed type is continuous (read more about Batch feed vs continuous feed disposals). Both of them come with a warranty of 20 years (lifetime warranty as per Amazon description)
Differences – L-9980 vs L-8000
The main difference between L-8000 and L-9980 is the mounting system. The L-8000 uses an EZ mount system which makes installation easier and faster while the L-9980 uses a 3-bolt mounting system. Both of these systems have their own pros and cons. The other differences between these two disposals are derivatives of this difference in mounting systems; L-8000 has a reinforced polymer sink flange whereas that of the L-9980 is made of stainless steel. Also, the splash guard on the L-8000 is easily removable for cleaning while that of the L-9980 is not.
And of course, their prices are different.
Comparison Table
| | | |
| --- | --- | --- |
|   |   |   |
| Power | 1 HP | 1 HP |
| RPM | 2800 | 2800 |
| Mount | 3-Bolt | EZ |
| Sound insulation | Yes | Yes |
| Sink Flange Material | Stainless Steel | Reinforced polymer |
| Splash Guard | Non-removable | Removable |
| Feed Type | Continuous | Continuous |
| Warranty | Twenty Year Limited | Twenty Year Limited |
|   | View Price & Details | View Price & Details |
Which is better; L-9980 or L-8000?
Hmm, I would go for the L-8000 considering the price factor. The 3-bolt system does have some advantages but the price difference between them is much.
Also, check the following articles;
Related Topics:
If you like the article above, here are some other similar articles you should check out!
Waste King 2600 vs Badger 5 – Which is a Better Choice?
Waste King L-3300 vs L-8000 – A Comparison to find the Best Choice