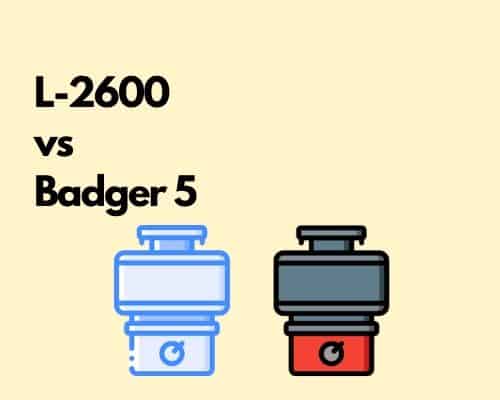 L-2600 by Waste King and Badger 5 by InSinkerator are two popular garbage disposal units. Both are powered by a 1/2 HP motor, and both of these models provide strong competition to the other. Which one is the best choice for you? Let's find out.
L2600 vs Badger 5 – What are the differences?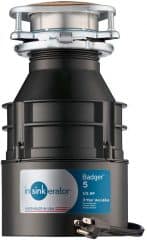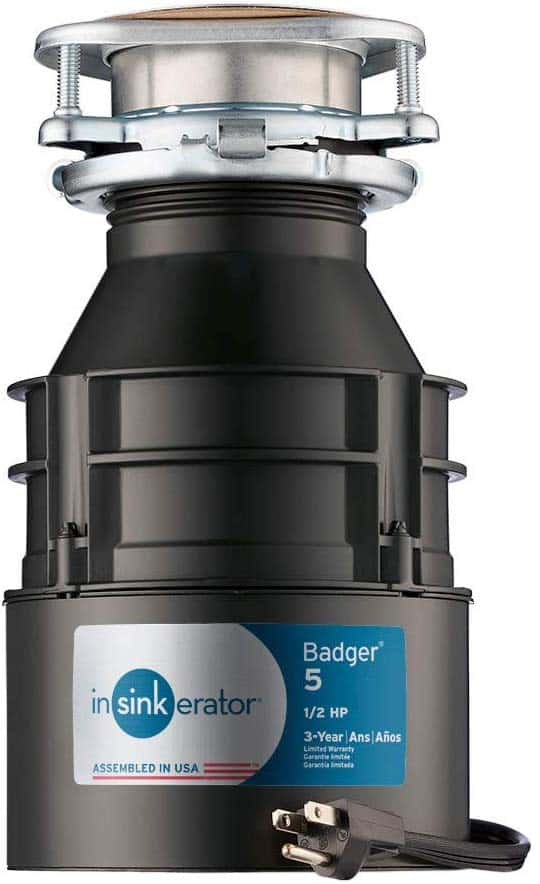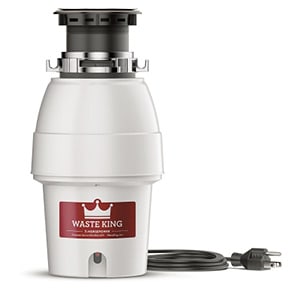 The main difference between Badger 5 and L2600 is the mounting assembly. Badger 5 uses a 3 bolt mounting assembly whereas the L-2600 model uses an EZ assembly. Another major difference between them is the motor. Badger 5 uses a slow-speed induction motor that runs at 1725 RPM whereas L2600 uses a high-speed permanent magnet type motor that runs at 2600 RPM.
Here are more differences between them in detail;
| | Badger 5 | L2600 |
| --- | --- | --- |
| Motor | Slow speed, induction motor | High-speed, permanent magnet motor |
| Speed | 1725 RPM | 2600 RPM |
| Mounting assembly | 3-bolt | EZ |
| Warranty | 3-years | 5-years |
| Height | 11.5 inches | 13.5 inches |
| Splash guard | fixed | Removable |
| Pre-installed power cord | Optional for an additional cost | Standard |
| Sink flange material | Stainless steel | Reinforced plastic |
| Reset button location | Bottom side | Front-facing side |
| Hex hole at the bottom | Yes | No |
| Grinding components | Galvanized grinding elements with two stainless steel swivel lugs | Stainless steel grinding components |
| Grinding chamber material | Galvanized steel | Corrosion-resistant polymer |
| Price | View current price | View current price |
List of differences between L-2600 and Badger 5 garbage disposals
Badger 5 uses 3-bolt assembly while L-2600 uses EZ assembly

A mounting assembly is what connects the garbage disposal with the sink, and keeps it fixed. There are two types of mounting assemblies; 3-bolt and EZ. A 3-bolt assembly is made of stainless steel, and it is more durable and stable. EZ mount is made of high-quality plastic. Between these two garbage disposals, L2600 uses an EZ mount whereas Badger 5 uses 3-bolt technology.
To know more about the differences between 3-bolt and EZ mounting types refer this article.
Badger 5 runs slower than L-2600
Badger 5, just like all other InSinkErator garbage disposals, uses a DuraDrive induction motor that runs at 1725 RPM. On the other hand, Waste King L-2600 uses a permanent magnet motor that runs at 2600 RPM. It is normal to assume that a high-speed motor provides better grinding as it does more cuts per minute, and that is true. The L2600 garbage disposal clearly has an upper hand when it comes to performance.
L-2600 comes with a 5-year warranty while Badger 5 has a 3-year warranty
Waste King disposals are often covered by longer warranties than InSinkErator ones. L2600 unit comes with a 5-year warranty, which is two years more than that for Badger 5. However, there is a catch. The warranty by Waste King is applicable only to the original 'Residential Consumer'. So if you buy a Waste King product and sell the home to another person, he won't be able to claim the warranty even if the disposer fails within the warranty period. But for Badger 5 this warranty is transferable to the new owners.
Also, keep in mind that these warranty periods are applicable only if you are using the disposals for home use. If used in commercial facilities the warranties are limited to just one year.
The warranties of both units cover labor and part costs.
Badger 5 is more compact than L-2600
The height of Badger 5 is only 11.5 inches whereas the height of L2600 is 13.5 inches. Even though the height difference is just 2 inches this will make a lot of difference during installation if the under sink height is very small. For example, if you are looking for a garbage disposal for your farmhouse sink the Badger 5 may be a better fit than the L-2600 because the former will get ample space to be installed due to its more compact size.
L2600 comes with a removable splash guard while Badger 5 doesn't
The splash guard in L2600 is removable while that on Badger 5 is not. This is due to the difference in the type of mounting assembly used in these two disposal units. Since L2600 disposal uses EZ mounting the splash guard is installed through the top of the sink hole. So it is easy to remove it when needed. But in the case of Badger 5, the splash guard is installed through the bottom side of the sink hole, and so it cannot be removed without disconnecting the disposal unit.
The advantage of having a removable splash guard is the ease of cleaning. The bottom sides of these splash guards easily become dirty with the food particles sticking to them. And these food particles will start rotting producing bacteria and smell. If your garbage disposal is L-2600 all you have to do is just pluck out the splash guard from the top and clean its underside. This is not possible with Badger 5.
L2600 gets a preinstalled power cord
Doing electrical connections to a garbage disposal is a tedious job, at least for me. All Waste King garbage disposals come with a pre-installed power cord. As far as electrical connection is concerned all you have to do is plug this unit into the socket, yes, you should have a power socket under the kitchen sink.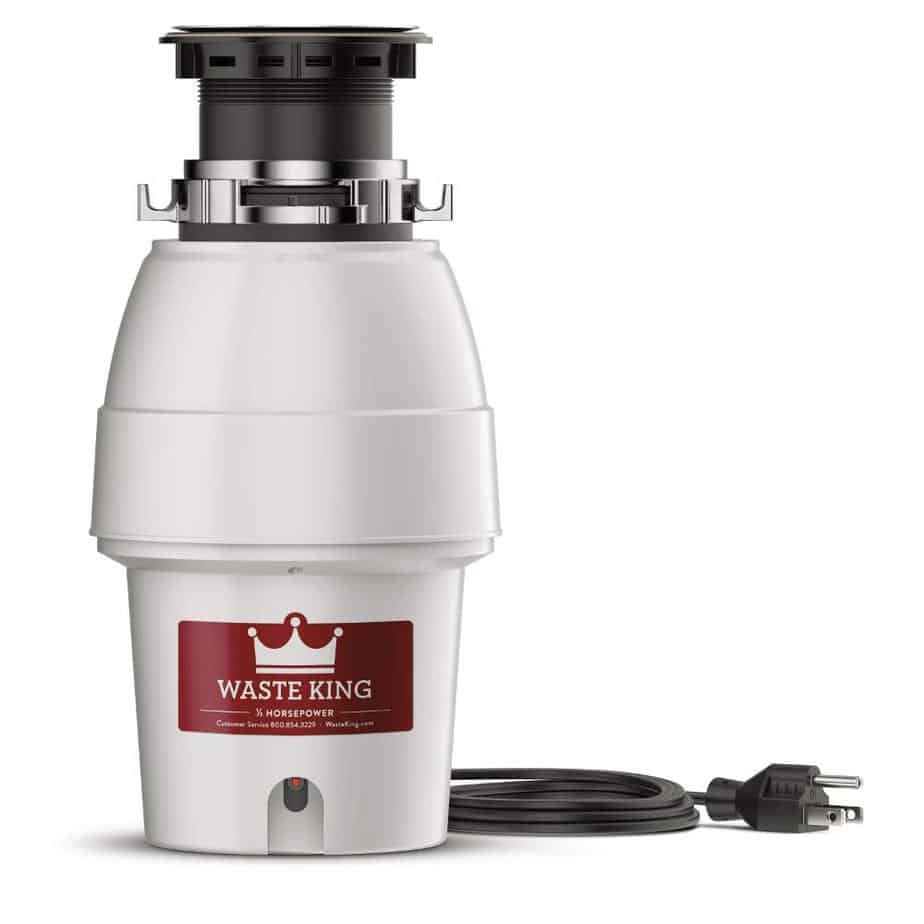 InSinkErator garbage disposals didn't come with power cords until recently. You would have to open a lock on the bottom side and do some wiring there. The reason for not providing power cords was the cost. InSinkErator says it helps to reduce the overall cost of the disposer. And they are not wrong, in most cases, people buy a garbage disposal to replace an old unit, and they can use the power cord of the old one.
Anyway, now you can buy InSinkErator disposals with preinstalled power cords for an additional price.
Badger 5 has a Stainless steel sink flange whereas L2600 has a plastic one
The sink flange of Badger 5 is made of stainless steel, a material that is known to withstand corrosion. But the sink flange of Waste King L-2600 is made of high-quality plastic, which is also proven to last a long time. This difference in sink flange material is due to the difference in the mounting assemblies they use. Stainless steel sink flange comes with 3-bolt assemblies while plastic ones come with EZ mounts. However, in terms of look both of them look the same since the plastic one also comes with a stainless steel finish.
The reset button of L-2600 is on the front-facing side while that of Badger 5 is at the bottom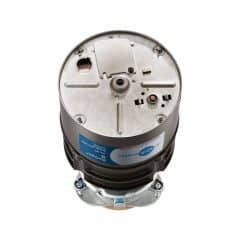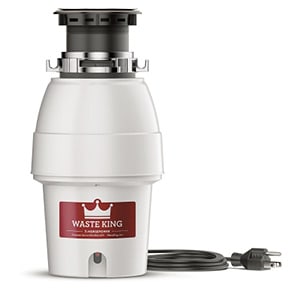 Both Badger 5 and L2600 come with reset buttons. However, the locations of these buttons are different. For some reason, the reset button of Badger 5, just like all other InSinkErator units, is on the bottom side. This makes it difficult to see the button from the front, and it is difficult to reach it too.
Waste King units have their reset buttons on the bottom portion of their front-facing sides. This makes it very easy to find the button and reach it from the front.
L-2600 doesn't have a hex hole
Badger 5 garbage disposal comes with a hex hole at its bottom side. This hexhole is directly connected to the motor of the unit. As you may know, garbage disposals get stuck sometimes. One way to break these jams is to move the disposal blades manually. The hex hole at the bottom makes this possible. If the Badger 5 is jammed all you have to do is insert an Allen key into this hex hole and rotate the blades with it. This is one easy solution to break any jams.
The L-2600 model on the other hand doesn't have this feature. if it is stuck you will have to insert a garbage disposal wrench through the sinkhole to move the blades. This is one of the cones of all Waste King garbage disposals.
L2600 has Stainless steel grinding components but Badger 5 uses galvanized steel
The durability of a garbage disposal unit very much depends on the durability of its components. A unit with low-quality grinding components will fail faster than one with good-quality grinding components. Stainless steel is more durable than galvanized steel, so garbage disposals with stainless steel components last longer.
In the case of Badger 5, its grinding components are made of Galvanized steel whereas for L2600 they are made of Stainless Steel. So I have to say L2600 has a better chance of lasting longer than Badger 5.
Also when it comes to the build quality of the grinding chamber, I think the L2600 is a winner. This is because it uses a corrosion-resistant plastic grinding chamber which is common among all Waste King models, and all of them have stood the test of time. Since plastic, these grinding chambers won't rust. However, they may get holes in them if you accidentally drop any sharp objects like nails into the disposal.
The galvanized steel chamber of Badger 5 has more chances of rusting. So if you compare both models in terms of durability I have to say L2600 is better. And possibly that is why it comes with a longer warranty.
What are similar between Badger 5 and L2600?
Even though Badger 5 and L-2600 are different from each other in many aspects they have some common grounds are well. Let's see what they are;
| | | |
| --- | --- | --- |
| | Badger 5 | L-2600 |
| Power | 1/2 HP | 1/2 HP |
| Sound insulation | None | None |
| Feed type | Continuous feed | Continuous feed |
| Single-stage grinding | Yes | Yes |
List of similarities between L2600 and Badger 5
As you can see from the above table, Badger 5 and L2600 have some things in common. Both are powered by a 1/2 HP motor. The motors are of different types, however, they both fall into the same power category.
Both these models do not have any sound insulation. This is to cut costs. Both are wallet-friendly models so the companies try to reduce costs as much as possible.
Both disposal units are of continuous feed type. This means that food wastes can be added to them continuously. There is another type of garbage disposal called a batch feed. If you are interested here is an article to know more about the differences between continuous and batch feed disposals.
Another similarity between Badger and L-2600 is that both use single-stage grinding. Some premium garbage disposals come with multi-stage grinding systems where the food wastes undergo more than one stage of grinding. However, both Badger 5 and L2600 have only one grinding stage.
Which is a better garbage disposal- Badger 5 or L-2600
Both garbage disposal models have good customer use, and they have been in the market for years. Both are good choices. However, I am slightly inclined to L2600 due to its long warranty, faster running, and ease of installation.
Related Topics:
If you like the article above, here are some other similar articles you should check out!
Waste King L-3300 vs L -8000 – A Comparison to Find the Best Choice
Waste King 9940 Garbage Disposal Review