Today I read in a popular blog that InSinkErator makes only EZ mount type garbage disposals and that they are called 'Quick-Lock Sink Mount'. This is absolutely wrong. Insinkerator makes only 3-bolt type garbage disposals, at least most of theirs are so.
This is what a 3-bolt system looks like;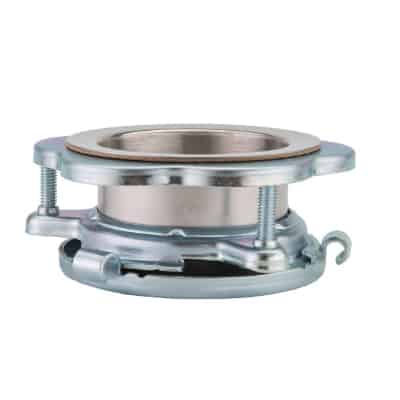 See the 3-bolts? (one is on the other side, you can't see). If you look at pictures of InSinkErator disposals you can see all of them have these 3 bolts.
The EZ mount system is mostly used by Waste King. This is a side-by-side comparison;

EZ Mount System
Seen mostly on Waste King garbage disposals, an EZ mount disposal is very simple to install. Check this video and see how a Waste King garbage disposal with an EZ mount is installed.
3-Bolt System
A video is worth 1000 words, check this installation of 3-bolt garbage disposal;
So why are there two different mounting systems? Isn't it better if all disposals followed a standard system?
I don't know the story behind these mounting systems but both have their pros and cons. Let us see what they are;
EZ vs 3 Bolt – What are the differences?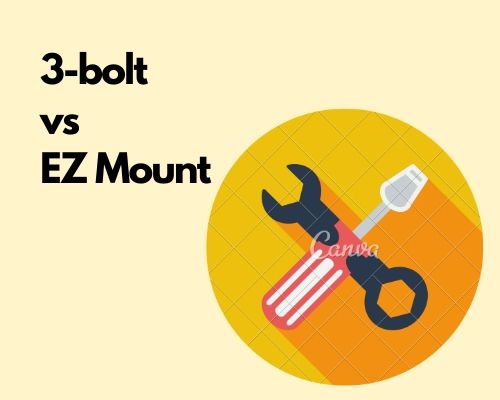 The key difference between EZ mount and 3-bolt mounting is that the 3-bolt system has three bolts whereas the EZ system has none. Also, an EZ mount disposal is easy to install, as you can see from the video it only takes a few minutes of your time. On the other hand, 3-bolt disposal takes an additional 10-15 minutes.
One great advantage of a 3-bolt system over an EZ mount is it is more sturdy. The mount is usually made of stainless steel which is much durable. It can also be tightened more which reduces vibrations and noise.
On the other hand, the EZ system excels in convenience. Not only that the installation easier, but the splash guard of such disposal can also be easily removed for cleaning. The bottom side of splash guards gets dirty very fast so regular cleaning is much recommended. But in the case of a 3-bolt system, the splash guard cannot be accessed from the top. For this, the disposal will have to be dismounted. This is a real inconvenience and is a major drawback of the 3-bolt system.
| | 3-bolt | EZ |
| --- | --- | --- |
| Material | Stainless Steel | High-quality plastic |
| Installation | Takes longer | Quick installation |
| Splash guard | Fixed | Removable |
| Sink flange material | Stainless steel | High-quality plastic with stainless steel finish |
| Vibrations | Less | More |
A brief comparison of 3-bolt and EZ mounting assemblies
Which is a better choice; 3-bolt or EZ?
The performance of garbage disposal has nothing to do with either of these installation assemblies. Also, these have a very less practical impact because you are not expected to remove garbage disposal for years. So whether you choose EZ or 3-bolt is irrelevant. Also if you are buying an InSinkErator disposal they use only 3-bolt assemblies whereas Waste King now has both 3-bolt and EZ models. Please note that the 3-bolt assemblies of Waste King are not compatible with InSinkErator models.
Related Topics:
If you like the article above, here are some other similar articles you should check out!
How Do You Clean Garbage Disposals? | A Care Guide
Best Tow-Behind Aerators for Home Garden