BOHARERS is a relatively new player in the US market. Their faucets are made in China but that doesn't mean they are any worse. They have a good track record of providing quality products and reliable customer support.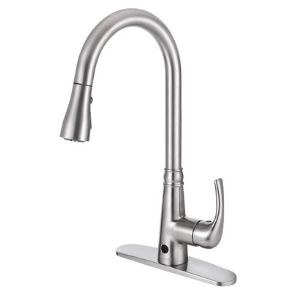 Highlights
Spout height: 15-1/8″
Spout reach: 8-7/16″
Installation: single hole deck mounted
No. of sensors: 1 no
Flow rate: 1.8 GPM
Power source – 4 AA batteries
The size of this faucet is comparable to most of its competition. Generally, kitchen faucets have a spout 15-16 inches high, this one is no exception. It has a spout height of 15-1/8″ and a reach of 8-7/16 inches.
It requires only one hole in the sink for installation. However, if yours have more than that you can use the deck plate which comes with this faucet to cover those extra holes.
Sensors
The Boharers touchless faucet has only one motion sensor and it is located on its base facing frontwards. It can be turned ON with a wave of the hand and turned OFF with another.
It uses an automatic shut-off program where the faucet turns OFF automatically if it has been running for 3 minutes. This avoids wastage of water in case anyone in the household forgot to turn it off.
The sensor can be overridden by turning a knob on the control unit. This comes in handy when you are cleaning the faucet.
Spout, handle and spray modes
Boharers motion sensor has a flow rate of 1.8 gallons per minute. The spout can be rotated in 360 degrees so it can reach anywhere within its spout reach.
The metallic handle on the right side of the faucet serves as a controller of flow rate as well as temperature. It can also be used to operate the faucet when the sensor bypass is activated.
Like all its competitors the Boharers motion sensor faucet has a pull-down spray head. It also has two spray modes; a normal stream mode and a string spray for rinsing. When pulled down the faucet turns on without any other input. The spray modes can be switched using a toggle button on the spray head. It automatically turns off when it is docked back into the spout. A counterweight attached to the hose under the sink causes the spray head to smoothly retract into position once released. It doesn't have a magnetic mechanism for docking like many of its competitors but it sits pretty well.
Power source
The Boharers touchless faucet is powered by 4 AA batteries. It doesn't have a direct power option.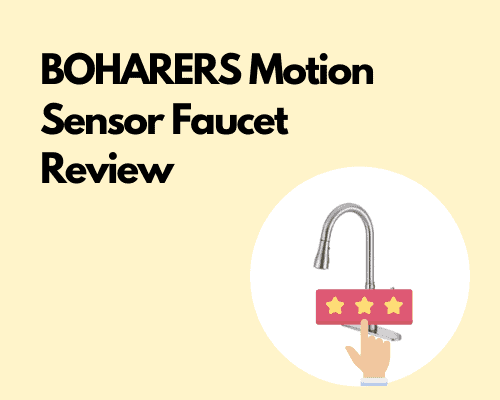 Looks, finish, and warranty
The Boharers faucet looks good just like any other faucet, there aren't any design features that need special mention. It is available only in Brushed Nickel finish.
The company offers a lifetime warranty for this product. This is pretty good considering that many other popular brands offer a maximum warranty of only 5 years.
Other notable features
If you want more options, here is a list of the best touchless kitchen faucets.
Related Topics:
If you like the article above, here are some other similar articles you should check out!
Kohler Barossa Touchless Faucet Review
Best Touchless Faucets for the Kitchen ( After Analyzing 32 Models)