This article lists the 5 best touchless kitchen faucets I found after analyzing 32 popular models. Here are they;
| Touchless faucet model | No. of sensors & power source | Spray head | Flow rate | Warranty |
| --- | --- | --- | --- | --- |
| Moen Arbor | 2 sensors, 6 AA batteries, and an optional power adapter | Auto-retracting pull-down type with 2 spray modes | 1.5 GPM | Lifetime warranty against drips, leaks, and defects to finish and a 5-year warranty for electronics-related defects for household use |
| BioBidet Flow Motion | 1 sensor with 4 AA batteries | Auto-retracting, magnetic docking pull-down type with 2 spray modes | 1.8 GPM | 5 years including labor |
| KOHLER Sensate | 1 sensor with power adapter | Auto-retracting, magnetic docking pull-down type spray head with 2 modes | 1.5 GPM | 5-years |
| Anza Touchless | 1 sensor with 4 AA batteries | Auto-retracting pull-down type spray head with 2 spray modes | 1.8 GPM | 1-year |
| Moen Align | 1 sensor, 6 AA batteries, and an optional power adapter | Pull-down type, Auto-retracting head with 2 spray modes | 1.5 GPM | Lifetime warranty |
1. Moen Arbor Motionsense
Moen is one of the most trusted names across the United States. The company has a long and trusted history of making remarkable kitchen fixtures & appliances.
Highlights
Spout height: 15.5″
Spout reach: 7.87″
Installation: single hole deck mounted
No. of sensors: 2 nos
Flow rate: 1.5 GPM
Power source – 6 AA batteries/optional AC adapter.
Warranty: Lifetime warranty against drips, leaks, and defects to finish and a 5-year warranty for electronics-related defects for household use
Moen Arbor is a single-hole sink faucet, which can also be mounted on a 3-holed kitchen sink with the help of the deck plate that comes with the package. Speaking of dimensions, this faucet has a 68-inch long hose, a total height of 15.5 inches, and a spout head that is at a height of 8.25 inches from the base. This gives ample height for washing large pots and such items.
Two battery-powered sensors and an optional power adapter
Moen Arbor has two motion sensors; a 'Wave Sensor' on the top of the spout and a 'Ready Sensor' near the handle. The 'Wave Sensor' turns ON the water flow when you wave your hand near it. You can turn OFF the water flow with another wave. If you are filling pots or working the garbage disposal this sensor is the one activated.
The 'Ready Sensor' keeps the water flowing as long as it detects any objects within its range. The flow is cut off as soon as the object is removed. This sensor is handy when you are cleaning dishes and other kitchenware.
Also, you can turn OFF the sensors by holding your hands in front of both the sensors together. To do this first turn ON the water flow using the handle, then keep your hands in front of BOTH the sensors. If you want to disable both the sensors hold your hands there for 10 seconds. The 'Ready Sensor' will flash after 5 seconds and it will flash again. This means both sensors are deactivated. You can reactivate the sensors doing the same. If you want to deactivate only the 'Ready Sensor', do the same as above, but hold your hands (you need to cover both sensors in this case too) only for 5 seconds until the sensor flashes once. Do the same to reactivate it.
The sensors use 6 AA batteries for their operation. The batteries will last for around 1 year in a regular household. You also have the option to connect an AC adapter with the control box of the faucet. If you are using an AC adapter it is recommended that the circuit is hardwired to a power supply without using an ON/OFF switch.
Rotatable spout, handle, and 2 spray modes
Moen Arbor has a flow rate of 1.5 GPM which is common for most kitchen faucets. Its spout can be rotated with ease up to 100 degrees. It also has a lever-style handle that can be rotated 100 degrees to control the water temperature. You can also control the water flow, and turn ON/OFF the faucet using this handle. So if you want to run this faucet manually, just turn off the sensors and use this handle as in a normal faucet.
Moen Arbor comes with two spray modes; stream or spray. In addition, its spout head can be easily pulled down to wash things with ease. The spray mode produces 50% more power than other pull-down faucets to easily wash off caked-on food wastes. Its hose has a counterweight that retracts the spray head and docks it effortlessly.
Looks, finish, and warranty
Moen Arbor MotionSense faucet has a smooth and straightforward design that looks great in any setting. It is available in four finishes; Spot resist stainless, Oil-Rubbed Bronze, Matte Black, and Chrome.
While this kitchen faucet is meant for household use, it can be used in commercial settings as well. However, in that case, the warranty period will be shorter.
The faucet comes with a lifetime warranty against drips, leaks, and defects to finish and a 5-year warranty for electronics-related defects for household use. But for commercial installations, it is 5 years against leaks, drips, and finish defects and a 1-year warranty against all electronics-related defects.
Other notable features
MotionSense technology by Moen makes sure that the sensors are accurate and responsive minimizing any accidental triggering.
Spot Resist stainless finish resists water spots and fingerprints.
Power Clean spray technology by Moen creates a much more powerful spray (50% more) than other competitors.
The Reflex system allows easy movement of the spout and spray head.
Duralock's quick connect system makes the installation of this faucet much easier and faster.
This faucet is made in accordance with the Americans with Disabilities Act (ADA) specifications
Specifications – http://www.moen.com/shared/docs/product-specifications/7594esp.pdf
Installation
Here is another similar good choice – Moen Brantford Touchless Faucet
2. BioBidet Flow Motion
BioBidet is very popular for its toilet seats. They also make a select number of touchless faucets. Though the number of faucet models they have is very less compared to other brands, one of their faucets made its way to my top ten list due to its popularity.
Highlights
Spout height: 16 5/8″
Spout reach: 8 3/8″
Installation: single hole deck mounted
No. of sensors: 1 nos
Flow rate: 1.8 GPM
Power source – 4 AA batteries
Warranty: 5 years including labor
Just like the Moen Arbor above this one is a single-hole faucet but can be installed on a 3 hole setup as well using a deck plate. This deck plate is included in the package.
The BioBidet motion sensor faucet is slightly bigger than the Moen Arbor. It has a height of 16 5/8 inches and the spout can reach up to 8 3/8 inches. Its large reach makes it an apt choice for large countertop sinks.
Single battery-powered sensor
BioBidet Flow Motion touchless faucet comes with only one motion sensor. It is located at the stem of the spout, just below where the handle is. It has a range of up to 2.5 inches, so it won't detect any movements beyond that distance. This short range helps to avoid any accidental triggering of the sensor.
One thing to note is that this is a 'wave sensor' not a 'ready sensor' like in the Moen product above. So you need to wave again to shut off the water flow. But it will also shut off automatically after 3-minutes.
This sensor can be disabled by turning a knob under the control box in a counter-clockwise direction. It is powered by 4 AA batteries. They usually last up to 1 year in a regular household. Unlike the Moen product reviewed above this one doesn't have an optional AC power source, it operates on batteries alone.
Swivel spout with pull-down head and two spray modes
BioBidet motion sensor kitchen faucet has a flow rate of 1.8 GPM. Its spout has a swivel mechanism so you can turn it in any direction you want. It also has a handle that is used to control the water flow rate as well as temperature. It works like any normal faucet handle, and since the sensor can be switched off you can use it as an ordinary kitchen faucet just in case.
This BioBidet product has a pull-down head that automatically turns ON once pulled out. It also has two spray modes; stream and spray. Once you pull down the faucet head the stream mode is automatically activated, then using the switch on the head you can change it to spray mode. The faucet head retracts automatically once released, this works with the help of a counterweight attached to its hose under the countertop. It also has a magnetic docking mechanism which helps to keep the head in position.
Looks, finish & warranty
This touchless faucet has a simple but impressive design. It is available in 3 finishes: brushed nickel, chrome, and oil-rubbed bronze. BioBidet provides 100% coverage on all parts and labor (including labor! that's rare) for 5 years since the date of its purchase.
Other notable features
SmartLatch retraction – a technology used for the smooth retraction of the pull-down spray head.
The BioBidet also has a limited edition version of the faucet, the only difference is the shape of its spray head. Feel free to check that one here.
Installation
3. KOHLER 72218 Sensate
KOHLER is one of the most common household names in the USA and most of the world. The Sensate touchless faucet is a premium product by this company.
Highlights
Spout height: 15.5″
Spout reach: 8 7/16″
Installation: single hole deck mounted
No. of sensors: 1 no
Flow rate: 1.5 GPM
Power source – AC adapter.
Warranty: 5-years
This is another single-hole faucet. But if you are replacing a 3-holed one, don't worry, you can install this one, just cover the extra holes with a deck plate. Unfortunately, unlike the two faucets I reviewed above, this one doesn't come with a deck plate.
This faucet has exactly the same height as the Moen Arbor but with a little more spout reach which is 8-7/16 inches, almost 1 inch more than the latter.
Sensors
Kohler Sensate faucet has only one touchless sensor but unlike the above two touchless faucets, it is located at the bottom side of its gooseneck spout. Just like the BioBidet faucet's sensor this one too is a wave sensor ie, it turns ON with a wave of hands and turns OFF with another wave. Having an additional ready sensor like the one in Moen Arbor would have been nice.
The motion sensor responds within 20 milliseconds. Kohler has added an unnoticeable response window to avoid any false activations. The range of this sensor is restricted to 6 inches towards the base so that it won't be accidentally triggered while you are washing anything inside the sink.
The motion sensor can be turned off by manually turning a knob on the side of the control box. I find it a little difficult to turn using my fingers, Biobidet does a better job than Kohler here.
The sensor is powered by direct 120 volt AC power. It comes with an adapter so no hard wiring is required. It doesn't have a battery option.
Spout, handle, spray modes
Kohler Sensate touchless faucet has a flow rate of 1.5 GPM (It is given wrongly on Amazon as 1.8 GPM, feel free to check Kohler's specification sheet for the right values). Like all other kitchen faucets, this one too comes with a swivel mechanism for easy maneuverability.
As you noticed Kohler Sensate has a lever on its right side. It can be used to control the temperature as well as the flow rate. I know that the same is the case for the other two products reviewed above, this may make you think that every faucet has temperature control on its handle but no. I am mentioning this because there are some faucets where the temperature control has to be done via the control box.
Kohler Sensate also has two spray modes along with a pull-down spray head. The spray modes are changed using a small toggle button on the spray head. The dock is magnetic so the spray head is easily docked back in position.
Looks, finish, and warranty
I always believe that looks are subjective, so it's your decision. For me, the Kohler Sensate faucet looks really nice, better than the Moen and BioBidet faucets. It is available in polished chrome and vibrant stainless steel finishes with two variations for each.
Kohler offers a warranty period of 5 years for all faucet components but labor is not covered. In case you are using this touchless faucet in a commercial setting the warranty period is limited to 1 year.
Other notable features
Sweep Spray creates a powerful spray to easily wash off any sticky food particles.
DockNetik technology – this magnetic locking system located inside the spout helps to securely lock the spray head.
ProMotion technology allows easy handling of the faucet in any direction you want.
MasterClean spray face prevents the build-up of any mineral build-up and makes cleaning easier.
There is an LED light at the base of the faucet that lets you know it is ready for operation.
Installation
4. ANZA Touchless Sensor Faucet
I bet ANZA is not a familiar brand name. That's because it is a Chinese company, they source their products from China to the USA, nothing many other popular brands aren't doing nowadays.
Being Chinese doesn't mean this product is any inferior, in fact, you will be surprised how good it is.
Highlights
Spout height: 14 5/8″
Spout reach: 8″
Installation: single hole deck mounted
No. of sensors: 1 no
Flow rate: 1.8 GPM
Power source – 4 AA batteries
Warranty: 1-year
Anza Touchless is a little smaller than all the ones I reviewed here. It has a height of 14 5/8 inches and a reach of 8 inches. Its spray head is located at a height of 7.75 inches from its base. This is a medium-sized faucet and is good for most household sinks.
The ANZA faucet requires only one countertop hole for installation but since it comes with a deck plate it can be used to hide any extra holes you have.
Motion Sensor
Anza motion sensor sink faucet has only one sensor. Unlike most touchless faucets its sensor is located on the left side of the spout stem. This perhaps makes it easy to avoid any accidental triggering but it is definitely inconvenient if you are used to keeping any household objects on that side of the faucet.
You can turn ON water with a wave of your hand and turn it OFF with another wave. The water will shut off in two minutes in case you forget to turn it OFF. The sensor is powered by 4 AA batteries. It cannot be used with an AC adaptor. The batteries are likely to last more than a year, so no worries.
Spout, handle and spray modes
ANZA touchless kitchen faucet has a flow rate of 1.8 GPM. The spout can be easily rotated in 360 degrees. The pulldown spray head has a ball joint so in addition to the extended hose the head can be swiveled easily, this is a bit more convenient to use than regular spray heads.
Like every other motion sensor faucet, this one too has a handle, and it can be used to control the temperature as well as flow rate. By default, it is located on the right-hand side but you can also install it on the left side by simply turning the base. Of course, this will put the sensor on the right-hand side.
This faucet also has two spray modes in addition to a pulldown spray head. The pulldown head is self-retracting but the spout is not magnetic, unlike some previous models, however it docks perfectly.
Looks, finish, and warranty
Again, looks are subjective. That being the case, for some unexplained reason, I am not impressed by the look of this touchless faucet, to be honest, I don't know why (maybe because it is a lesser version of this Moen faucet). This faucet is available in two variations; chrome finish and spot finish stainless steel.
ANZA faucet is covered under a warranty of just 1 year, and they currently don't have a US contact number for support either. However, you can contact their support via email and they are pretty responsive.
5. Moen 5923EWC Align
This is another touchless sink faucet by Moen. I chose this not only for its popularity but also for its unique design.
Highlights
Spout height: 22.5″
Spout reach: 10″
Installation: single hole deck mounted
No. of sensors: 1 no
Flow rate: 1.5 GPM
Power source – 4 AA batteries or AC adapter
Warranty: Lifetime warranty
Moen Align is a great-looking faucet with a high spout. It is a single-hole faucet and comes with a suitable deck plate. It comes with a 68-inch long hose. The most distinguishable part of the faucet is its spring spout which has a height of 22.5 inches, which is a lot more than any other faucets reviewed here. The spout also has a reach of 10 inches so this is suitable for large sinks.
Battery-powered motion sensor
Moen Align kitchen faucet has a single sensor which is located on the left side of its base. You can turn the water on/off with a simple wave of your hand in front of the motion sensor. The sensor is programmed to automatically shut off water flow after a period of 2 minutes.
The motion sensor can be disabled in case you want to operate the faucet manually. For this, hold your hand in front of the sensor while the handle is in the closed position, and rotate the handle from hot to cold position three times. To turn on the sensor do the same again.
The sensor is pretty responsive and there will be no accidental triggering. However, I find the position of the sensor a bit inconvenient. In my case, I sometimes put a glass or cup on that side of the faucet while washing, this causes the faucet to shut off water flow. It is powered by 6 AA batteries. You can also opt for a 120V AC adapter.
Spout, handle and spray modes
Like the Moen Arbor, the Align faucet also has a flow rate of 1.5 GPM. Its spring spout can be rotated up to 100 degrees. In addition, it can be stretched or pulled down. Like all other touchless faucets, the handle works as a control for temperature as well as water flow. No surprises here.
Much like the Moen arbor, this kitchen sink faucet to has two spray modes; stream and spray. They are selected using a toggle button on the faucet head. The spray mode provides noticeable additional power which is very helpful in rinsing of cookware.
As mentioned before this kitchen faucet has a pulldown spray head. Once you release the head it is automatically retracted to its spout. It doesn't have a magnetic docking system like some other models but it does dock perfectly.
Looks, finish, and warranty
Needles to say, this is my favorite faucet for its looks. It has an industrial-style design that is apt for a modern kitchen or a commercial setting. It is available in 3 finishes; chrome, matte black, spot resist stainless. I really love the looks of the faucet.
Moen offers a lifetime warranty against leaks and other defects. This is for the original homeowner. If it is installed in a multifamily setup, like a rented apartment the warranty is limited to 10 years. If the faucet is used in a commercial setting the warranty is only for 5 years.
Other notable features;
ADA compliant
PowerClean technology offers an optimized cleaning force.
Reflex pulldown system
Duralock technology makes installation easier
Installation Manual – http://www.moen.com/shared/docs/instruction-sheets/ins10648a.pdf
Installation
My top recommendations
There are many touchless faucets to choose from, and my personal choice for the best of the best is;
Best of the best: Moen Arbor Motionsense kitchen faucet – View Product
Why do I think it is the best of the best?
It comes with all the top-notch features
Moen is a reliable and popular brand.
It comes under the longest warranty period
These are enough reasons to buy this faucet without further thought. But what I really love, what I really think every other touchless faucet should have is its 'Ready Sense' feature.
As you know, each touchless faucet is equipped with a motion sensor that triggers ON/OFF, frankly, they are just replacements for the faucet handle. In both cases you have to open/close them manually (without touching, in the former case), they won't close automatically until the instant cleaning is complete. Since it works just like a faucet handle these touchless faucets won't be able to save any water, and saving on the water bill is one main reason people prefer to go touchless.
In the case of Moen Arbor, the 'Ready Sensor' instantly turns OFF the water once the object in front of it is removed. So if you are switching between pots to wash, the faucet will be OFF for those few seconds. This saves water, and this is what every touchless faucet should do.
Best for the value of money: BioBidet flowmotion sensor kitchen faucet – View Product
Why do I think this faucet is the best for the money?
It has all the basic features needed for a good touchless faucet
BioBidet is a known brand
The quality of the faucet is good, and customer reviews are very positive.
Decent warranty coverage, including labor charges.
Costs much less compared to the competition from popular brands.
An overview of how I selected the best touchless faucets
It is hard to come up with a list of the best products without using a benchmark. This helps to eliminate all the bad ones from the good. So here are the criteria I used to create the list of the best touchless faucets for your kitchen.
1. Popularity
A general belief is that you cannot go wrong with a popular choice. That holds true for touchless faucets. Tried and tested models are more reliable and give peace of mind than trying a new, untested one. So I made sure that my list only consists of the most reliable and popular models.
I also avoided listing faucets with very similar features but included their names for easy reference. This means you will find in my list only the most popular faucets with distinctive features.
2. Features
We all compare the features of one product with another to see which is better. It is no wonder why manufacturers cram their products with new, advanced features and use brandable, technical names to highlight those features. 
But some of these features aside from their technology name are the same across all brands. For example, Kohler uses DockNetik technology; a magnetic locking system to dock the spray head, the same is used by many other brands but under different names. Since that's the case, I prefer to list the features avoiding the technical jargon as much as possible but I have added them at the end of each review under the title 'other notable features' so you don't miss them.
The most common features you can find across all touchless faucets are;
Rotatable spout
Auto retractable, pull-down spray head with multiple spray modes
Motion sensors and a method to deactivate them
Handles that can control flow rate and also temperature.
3. Ease of use
Some motion sensor faucets are easier to use than others. That being said the difference is only marginal.
For example, for Moen arbor, you can disable the sensors you have to follow a procedure that you may not get right the first time. But for some models like BioBidet you just need to turn a knob on the control box. For some maybe the first option is more convenient, so it is all about your preferences.
So I included minor details like this in my review in the hope that it will help readers to make a better decision.
4. Warranty and after-sale services
Without a doubt having a faucet with a long warranty and reliable after-sales services are golden. My top picks, except one, comes with long warranty periods. I also made sure that they all have a background in providing good customer support.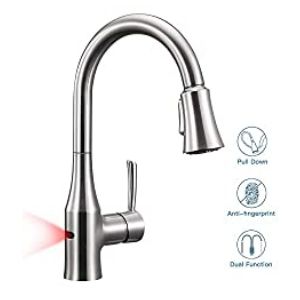 Things to look for while buying a touchless kitchen faucet
1. Number of sensors and sensitivity
Some touchless faucets come with 2 sensors; one on top of the spout and the other on the stem. Yet there are many models that have only one sensor that is placed on the stem. For me, the ones with two sensors are more convenient and controllable than the latter.
The sensitivity/accuracy of the sensor is the most important thing to look for while buying a touchless faucet. A faulty sensor will make the faucet damn useless. Some sensors may be oversensitive causing the faucet to work when you just walk by. For some others, the faucet may not work on just one wave. Both the above cases are not good. So while considering a product, please go through its reviews and check for comments about sensor accuracy. And if possible check this from a store.
2. Flow rate
The flow rates of touchless faucets for the kitchen usually range from 1.5 to a maximum of 2.2 gallons per minute. You won't find any with more than 2.2 GPM because that's the maximum as restricted by the law.
While you may be tempted to go for one with the highest flow rate that may not always be the best choice. Because according to studies we usually open taps to only an average of 1.5 GPM level, so unless you have to fill pots regularly go for one with a lower flow rate. This will save a considerable amount of water in the long term.
3. Pull down/fixed type
Touchless faucets come with fixed as well as pull-down spouts. Pull-down ones allow you to 'pull down' the spout to use it as a hand sprayer. These are usually docked to the spout magnetically. They also retract easily due to the installation of a counterweight on the extra length of the hose under the sink. Pull-down faucets offer better ergonomics and convenience while filling pots and washing the sink. It is easy to use frequently and is also recommended if you have a deep sink.
Pull-down faucets are convenient for rinsing soapy dishes or washing the food wastes down to the garbage disposal.
Fixed spout faucets are useful if the sink space is low. In such cases, a pull-down faucet is not of much use, so go for the latter as they are usually less pricey.
4. No. of holes
These faucets come with 1, 2, 3, or 4 holes installations but the most common ones need only one hole. Most people who buy automatic faucets use them to replace an existing faucet that may belong to any of the above-mentioned categories. Since this is the case try to choose a faucet that can match the existing number of holes.
In case you can't find an ideal choice, don't worry. Simply use a deck plate to cover the extra holes.
5. Hot water control
People like to get an optimum temperature that is neither too hot nor cold. So a faucet with easy temperature control is preferred by all.
Like all traditional kitchen faucets, the automatic ones also mix hot and cold water to deliver an optimum temperature. In the case of the former, this could be done manually using the hot and cold knobs.
But sadly for touchless models, the temperature needs to be set from a control box under the sink, which is inconvenient for users who want to change them frequently. However, for most new models the temperature can be controlled via their handles.
6. Finish and build quality
Finish and build quality are two of the many things that control our buying decisions. The faucet should be aesthetically pleasing and built to last long. The ones made of brass last longer and are considered of the highest quality but these can be really pricey as well.
7. Cost
Generally, a touchless kitchen faucet will cost from $150 to $400 depending on make and brand. Cheaper ones are mostly made with zinc and top-end ones are of brass. Most of them are chrome or nickel plated for looks and durability. The design and size of the spout is an important factors adding to the cost.
Generally speaking, those faucets made in the USA cost more whereas those made in China are cheap. Quality-wise both make are somewhat the same but getting warranty coverage and services may be difficult for the latter.
8. Hose length
Since many of the touchless faucets used in the kitchen are pull-down types they come with extra long hoses. The lengths of this hose are different for different models. So, make sure the faucet you buy comes with an ideal hose length. A short hose will prevent you from pulling down the spout lower enough, while a longer one will reduce the free space under the sink and also add to the cost.
9. Power source
Both the solenoid valve and the sensors work using electricity. They either use batteries or can be connected to the AC power supply using a transformer. For some kitchen faucet models, you can use both AC supply and batteries.
For a normal motion sensor kitchen faucet, the batteries will remain for around two years. So I don't think having one with an AC power source has many advantages here.
10. Auto-switch off time
All touchless kitchen faucets automatically shut off after a specified time. This can vary from a few seconds to a few minutes depending on the brand and model. If you have an ideal time in mind, look for that in the manual before you buy.
11. Warranty
This is a no-brainer. The longer the warranty the better. Just make sure that you will get the promised warranty. Buying from a well-known brand is a good solution. Also, check for customer experiences in reviews.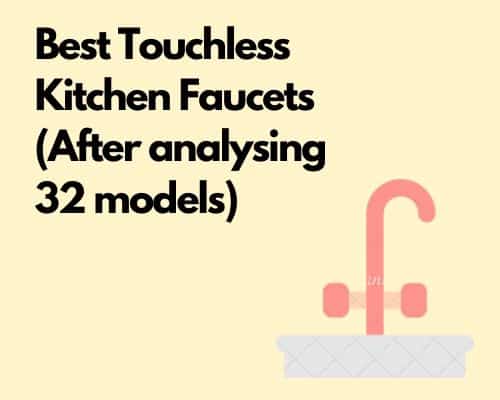 Frequently Asked Questions
How do touchless faucets work?
Touchless faucets use sensors for detecting movements to switch ON/OFF water flow. Their work is simple. Once a sensor detects movement it activates a solenoid valve that activates water flow. Once the input from the sensor is lost the solenoid valve switches off the flow.

Some of them use two motion sensors, one at the stem and another at the top of the spout. The one on top of the spout is a motion sensor while the one on the stem is more like a 'presence' sensor. The top sensor detects hand movement and switches on/off the water flow accordingly. Just wave your hand to turn ON the water and wave again to turn it OFF.

On the other hand, the sensor on the stem detects the presence of our hands or any objects and keeps the water flowing as long as they are there. Water will shut off as soon as you remove the object. This is very convenient while cleaning your pots and other dishes.
Do best touchless kitchen faucets really conserve water?
According to experts, touchless faucets do not save water.
Why?
Unlike conventional faucets, a touchless one opens all the way when triggered. This means the water flows to its full capacity. But when you used manual faucets have you ever opened them fully? Studies show that people usually open them only to a 1.5gpm level. This means more water is actually lost while operating a touchless faucet.
However,
If you take into account the number of people leaving without closing the tap in public restrooms or kids leaving them ON in our homes, automatic faucets save more water.
Are touchless faucets worth it?
The worth of any product is measured in terms of money; is it worth the money. Touchless faucets always cost more than regular ones. But the price difference isn't that huge. Given that you need a faucet anyway, it is worth investing in a touchless sink faucet just for the convenience it offers.
Related Topics:
If you like the article above, here are some other similar articles you should check out!
Do Garbage Disposals Have Blades?