Kohler is very popular for its line of kitchen faucets. One latest addition to their line is the Barossa touchless faucet made for kitchens.
Specifications
Spout height: 10-3/8″
Spout reach: 9.5″
Installation: single hole deck mounted
No. of sensors: 1 no
Flow rate: 1.8 GPM
Power source: 6AA batteries, optional AC adapter
Barossa is a much more compact faucet than others. Its spout has only a height of 10-3/8 inches whereas most similar faucets have them exceeding 15″. But its spout reach is 9.5 inches which is slightly more than that of an average faucet. The shorter height and longer reach make it easy to use especially if you have a double sink.
Sensors
Kohler Barossa comes with a single sensor which is located under the neck of the spout. The location of the sensor is convenient to avoid accidental triggering. It has a range up to 6 inches and has an activation window t avoid any false activations.
Once the faucet is turned ON it will keep working to a length of 4 minutes unless turned off.
The sensors can be turned off by rotating a small knob on the side of its control unit. It may be a little small for your fingers, so use a screwdriver.
Spout, handle and spray modes
The spout of the faucet has a pulldown spray head. The faucet turns on while you pull down the head. Once turned on you can select between two spray modes; spray and stream. Inside the spout is a magnet that helps to dock the head back in position.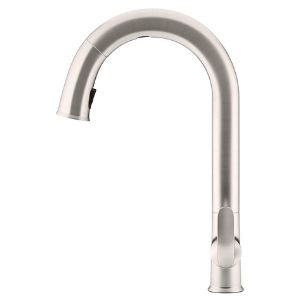 Like most other touchless faucets the Barossa model too has a handle. This handle, located on the right-hand side, can be used to control the water flow rate as well as its temperature.
Power source
Barossa touchless kitchen faucet is powered by 6 AA batteries which will last over a year under normal conditions. In addition, you can also use a 120 volt AC adapter to power this faucet. But this adapter needs to be bought separately.
Looks, finish, and warranty
Barossa faucet has a streamlined design. Its smooth and glossy body is apt for any modern kitchen setting.
This faucet is available only in Vibrant Stainless finish.
Kohler Barossa faucet is covered under a warranty of 5 years. This covers all electrical and mechanical defects including leaks and defects to the finish of the faucet.
Other notable features
Response technology used to make sure reliable touchless operation
Sweep spray creates a wide spray that is powerful enough to wash off any sticky food wastes.
The MasterClean spray face used on the faucet is easy to clean
Precision activation window to avoid accidental triggerings
DockNetik magnetic docking system helps to lock the spray in place.
Kohler Barossa vs Sensate
Barossa and Sensate are touchless faucet models by Kohler. Both have many similar features as well as differences.
Barossa vs Sensate – Similarities
Both faucets are touchless. Both use the same sensors. They also use the same trademarked technologies as Response, Sweep Spray, MasterClean, and DockNetik. Both of them use a handle to control water flow as well as water temperature. Both Sensate and Barossa faucets are covered under a warranty of 5 years.
In addition, both these faucets are pull-down types with two spray modes. It uses a single deck installation, and both have manual overrides to bypass sensor operation.
They may have more things in common but to be honest, it is really boring to write about similarities while everyone is interested in knowing what the differences are. So let's jump into;
Barossa vs Sensate – What are the differences?
The size of both faucets is different. Barossa model has a spout height of 10-3/8 inches while for Sensate it is 15.5″. For Barossa the spout reach is 9.5″ and for Sensate it is lesser; 8 7/16″.
Kohler Sensate can only be powered by a 120 volt AC adapter while the Barossa model can be powered by batteries as well.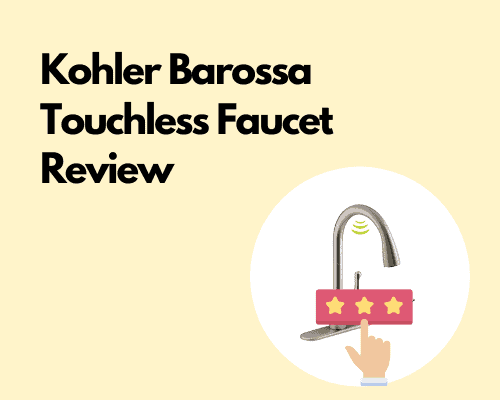 Barossa comes with a soap dispenser free of cost while the other doesn't.
The flow rate of both faucet models is different. Barossa has a slightly higher flow rate of 1.8 GPM while for Sensate it is 1.5 GPM.
Barossa model is available only in one finish while its counterpart is sold with 2 finished and two variations for each.
Conclusion – Kohler Barossa or Sensate, which is better?
Well, that's up to you to decide. Both are good faucets, it is your personal choice what you buy.
Still undecided? Here is a list of the top touchless faucets for the kitchen.
Related Topics:
If you like the article above, here are some other similar articles you should check out!
Best Touchless Bathroom Faucets
How to Install a Touchless Kitchen Faucet?
Garbage Disposal Not Working? Check This List of Garbage Disposal Problems and Their Solutions