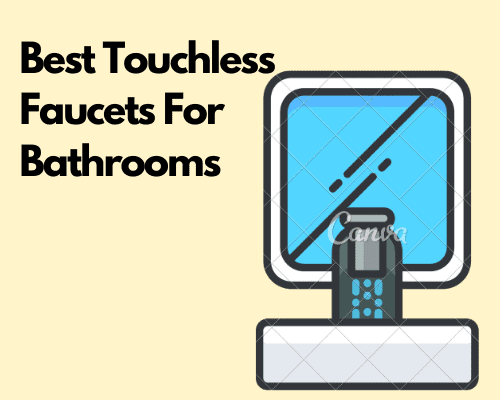 Who doesn't like a hands-free faucet for a bathroom, especially if it is a public one? Touchless faucets are used in commercial bathrooms for their ease of use and hygienic aspect. They are not as big as the ones used in kitchens though.
Here are the best touchless bathroom faucets;
Top 4 touchless faucets for commercial and home use reviewed
Top picks;
1. Sloan Electronic Commercial Faucet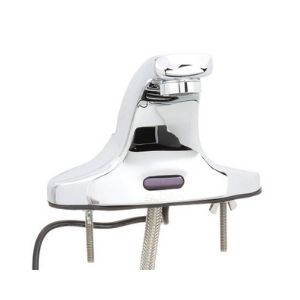 Sloan is a company with a large history in the plumbing industry. Established by William Elvis Sloan in 1906 in Chicago this company's first product was Royal Flushometer (They invented the flushometer).
This bathroom touchless faucet by Sloan is no different from its other innovative products. The Sloan SF-2350 touchless faucet comes with a beautiful, space-saving design. The motion detection sensor is located at the base of this bathroom faucet.
This is a battery-powered, deck mounted faucet. It uses 4 AA powered batteries to operate the sensor. The battery will last for more than two years under normal usage.
This faucet requires three holes of the sink, one for the sensor cable and the flex hose and the other two for fixing the screws. The flex hose and the sensor cable are connected to a control module. The main water line goes into the control module. This control module does the job of a faucet handle.
The control module also has a push-button which allows you to select the range of the infrared motion sensor. Using this, you can keep the range at maximum for more convenience or keep it at the lowest and save more water. To set the range, gently keep the button pushed till the sensor light on the faucet blinks. Then put your hand in front of it at the desired distance, the sensor will detect this and set that as its operating range.
Unfortunately, this bathroom faucet doesn't come with a manual mixing valve. But you can buy one separately.
The installation of this touchless faucet is easy, a full installation guide comes with it, so you can fix this by yourself.
The Sloan 2350 is covered under 1-year warranty.
This is the best commercial touchless faucet. It has a rugged construction and will work for years without any problem.
Good looks, reliability and a reasonable pricing make this faucet No.1 in my list of best touchless bathroom faucets.
2. Fyeer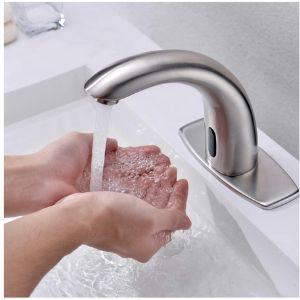 Fyeer is a Chinese manufacturer and is relatively new in the USA. That doesn't mean their product is any bad. Unlike the Sloan product above this one isn't for commercial use so it is much cheaper.
There are many reasons why I consider this one of the best touchless bath faucets. They are;
This automatic bathroom faucet is available in 3 color variations; chrome finish, nickel brush finish and oil rubbed bronze finish. This has brass construction and is guaranteed to last long and not rust.
This is a battery operated faucet, it uses four AA batteries but they are not included in the purchase. They last for around 6 months of regular use.
Installation of this faucet is easy. Note that this is suitable for only sinks with one hole. The sensor cable and the flexible hose goes through the same hole. It uses a single nut to keep the faucet in position.
As per the manufacture the range of the automatic sensor can be adjusted from 4-8 inches though the factory default is 6 inches. But the manual doesn' say how to adjust this, and there are no extra buttons on the sensor or the control unit which leads me to believe that the claim may be false.
Regarding the sensor, it is very sensitive indeed. The water shuts off a few seconds later you remove your hand, and you need to hold your hand in the right position. Some people may not get a good experience out of this faucet.
This faucet comes with a mixer valve which you can set to cold or hot. In addition, you get the hot and cold water flexible hose inlets as well.
Nevertheless, this is a good automatic touchless faucet for your bathroom considering the price point. It is really cheap considering that many similar models cost hundreds of dollars. If you are looking for a cheap, good quality touchless faucet this is a good choice.
3. Charmingwater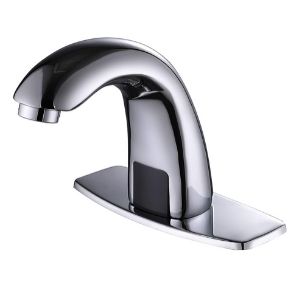 This touchless bathroom faucet is very much like the Fyeer one above. Both are manufactured in China and have a very similar design. But comparing both this one gives a better experience because its sensor works better. And for that reason, I included this one in my list of best touchless bathroom faucets.
This faucet is made of stainless steel and has a chrome finish. No other variations for this product are available. This faucet actually looks better than its photos. The multi-layer chrome finish resists scratches and corrosion.
The installation of this touchless faucet is simple. It is secured in position by tightening a single big nut, so it needs only one hole on the sink for installation. If your sink happens to have more holes you can buy a deck plate to cover the extra holes. The deck plate also makes the faucet looks better so I recommend buying it even if the sink doesn't have any extra holes to cover.
In addition to the standard accessories, this faucet also comes with a water mixer valve, flexible hoses for hot and cold water. I wish the cold and hot hoses were a bit longer but they fit. The build quality of the faucet is really good I should say being made in China doesn't mean low quality.
This faucet is only a few bucks more than the Fyeer one above. So definitely check this before opting to buy that one.
4. Asani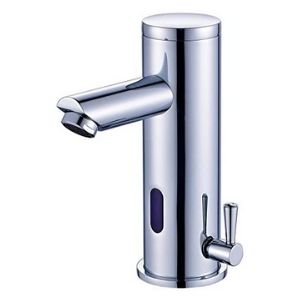 This is another Chinese, low-priced bathroom faucet like the above two. The first thing you notice about this faucet is that it has a handle. Why does a touchless faucet need a handle? Well, this one here is used to mix the water and control its temperature. You see, unlike any faucet mentioned above, this one doesn't have a control unit. Instead, the hot and cold water inlets are directly attached to the faucet. I thought I should also include a touchless bath faucet with a handle to my list of best picks.
The faucet also acts as a holder for the batteries, the batteries are replaced by opening its top.
This setup gives the Asani touchless faucet certain advantages as well as disadvantages. The advantages include easy installation and easy temperature control. On the other hand, you can not control the water pressure here, and there is no way to cut the water supply to the faucet.
The build of the faucet is really good, most of its parts are bronze which is resistant to corrosion. It has a good weight as well which is a good indicator of its quality.
This is also one of the cheapest but high-quality faucets you can buy. If you are not planning to spend hundreds of dollars but need a good touchless bathroom faucet, go for this one.
Related Topics:
If you like the article above, here are some other similar articles you should check out!
Pfister Stellen Kitchen Faucet Review
Garbage Disposal Wrench (What is it, Types, How to Use)