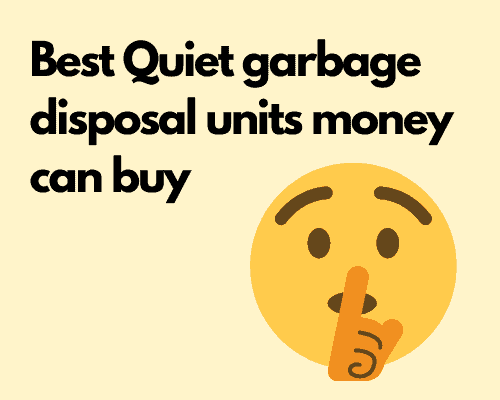 Garbage disposals are very useful and indispensable in modern kitchens. But they are quite noisy as well. So it is no wonder people are looking for quiet garbage disposals. Kudos to manufacturers, they are quick to catch on.
But before I give you the list of these garbage disposal units, may I ask you a question?
How quiet can a garbage disposal be?
You will be amazed to know that a well-insulated disposer makes only as little sound as water flowing down your sink drain.
A normal garbage disposal produces a sound of approximately 80 decibels (same as that of a lawnmower). The quietest disposals produce only a decibel level ranging from 25db to 45db (A normal conversation between two people is 60 dB).
To give you an idea of the sound levels of some popular garbage disposals here is a video;
The noise made by a disposer mostly depends on the level of insulation it has. Premium products tend to have better insulation than cheaper ones.
Also, the sound produced by a disposer is not just from its motor running and grinding but is from the vibrations it causes on the sink. The better fit it is with the sink the lower will be the vibrations and hence the noise.
During my extensive research, I found not one but 7 disposers that run really quiet (which you can easily find with my Disposal Finder Tool). Of course, the levels of noise they make are different but they are the quietest of all.
List of Best Quiet Garbage Disposals
Here are the quietest garbage disposals;
Name
Power, speed, feed type, size & more
Build Quality
Warranty
Quietness Level (My own rating)
InSinkErator
Evolution Excel Check Product
1HP, 1725 RPM, continuous feed type, 40oz chamber capacity
High with Stainless steel body and grinding components.
7 years
9/10 
InSinkErator Pro 1100XL
Check Product
1.1 HP, 1725 RPM, continuous feed type, 40oz chamber capacity
High quality disposal with stainless steel grinding chamber and components.
12-years
9/10
InSinkErator
Cover Control Plus Check Product
3/4HP, 1725 RPM, batch feed type, 40 oz grinding chamber
High quality with stainless steel components
7 years
9/10
InSinkErator
Evolution Essential Check Product
3/4HP, 1725 RPM, batch feed type, 40 oz chamber capacity
High quality disposal with stainless steel body and grinding chamber.
6 years
8/10
InSinkErator
Essential XTR Check Product
3/4HP, 1725 RPM, continuous feed type, 34.6 oz chamber capacity
High quality with stainless steel body and grinding components
6 years
8/10
InSinkErator
Evolution Compact Check Product
3/4HP, 1725 RPM, continuous feed type, 34.6 oz chamber capacity
High quality with corrosion-resistant grinding chamber and stainless steel grinding components.
4 years
7/10
Waste King
L-3200 Check Product
3/4HP, 2700 RPM, continuous feed type, 33.5 oz chamber capacity
Good quality disposal with high quality, glass filled polyester and stainless steel grinding components.
8 years
6/10 
1. InSinkErator Evolution Excel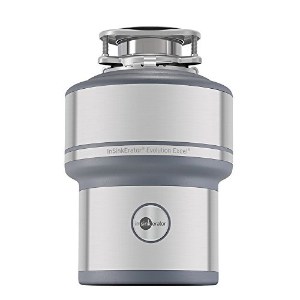 Quietness level – 'Ultra-quiet'
Though only by a small margin this InSinkErator disposer is the quietest on my list.
It is also the best garbage disposal I came across.
Evolution Excel comes with top-class insulation for its grinding chamber. Its 3-bolt mounting and other premium level connection accessories reduce vibrations to none. All these make this disposal the quietest of all.
As you might have guessed this is a premium model, and so it comes with a large array of features.
It is powered by a 1HP motor which runs at a speed of 1725RPM.
A quick overview of its features include;
3-stage grinding system
LeakGuard liner
SoundSeall technology
Stainless steel build
QuickLock easy installation
Jam-sensors
Auto-Reverse grinding system
7-year warranty
I am not going into many details of this disposal as I have already done a detailed review here.
2. InSinkErator Evolution Pro 1100XL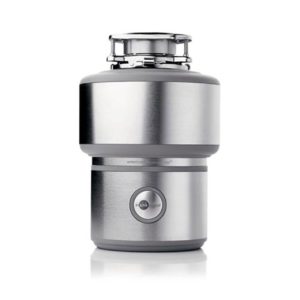 Quietness level – 'Ultra-quiet'
The InSinkErator Pro 1100XL is a relatively new model. It is slightly more powerful than the Evolution Excel yet is ultra-quiet.
It comes with a 1.1 HP induction motor that runs at 1725 RPM. It has all the premium features of the Excel model. What more, it comes with a 12-year warranty; 5-years more than the Excel.
It comes with a 3-stage grindig system, auto-reverse technology, SoundSeal Plus technology, and a JamSensor to detect jams.
Its grinding chamber can accommodate 40 oz of food wastes. Its grinding components, as well as grinding chamber, are all made of Stainless Steel. This is a continuous feed type disposal with a very compact size. You can check my complete review of Evolution Pro 1100XL here.
3. InSinkErator Cover Control Plus Evolution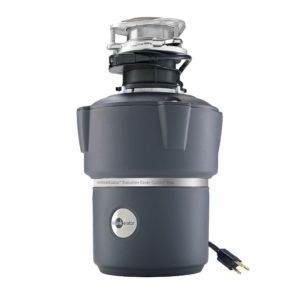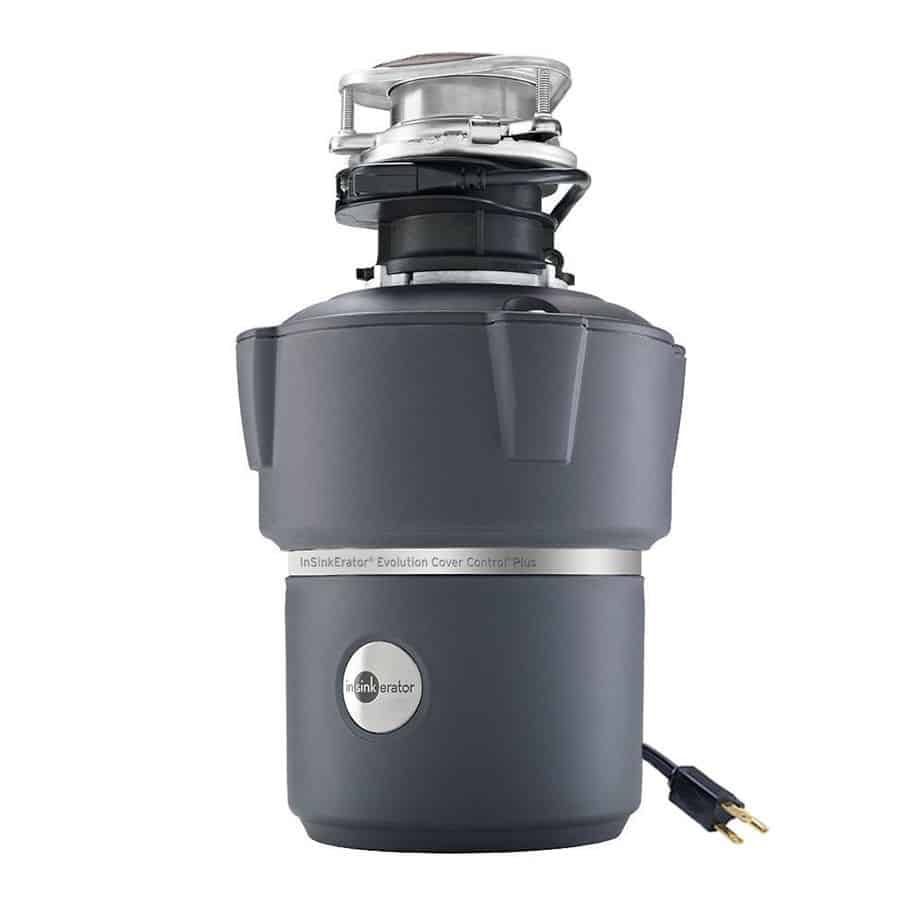 Quietness level – 'Ultra-quiet'
This is quietest batch feed disposal. The only other such type of disposal mentioned in this list is 'InSinkErator Essential'.
Its operation is ultra-quiet which is the same as that of the 'Excel' model and that of the Waste King Knight. It is priced at the premium end.
Without a doubt, this is a premium model and comes with all features of the top InSinkErator models.
Its operation is quiet, it has a chamber capacity of 40oz, is powered by a 3/4HP motor and has a 2-stage grinding system.
In addition, it also has a magnetic collar which helps to prevent any metallic items from accidentally falling into the disposal and damaging it.
InSinkErator cover control plus evolution is covered under a warranty of 7-years. You can read about this disposal here in detail.
4. InSinkErator Evolution Essential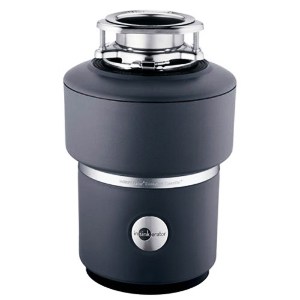 Quietness level – 'Quieter'
Though not as quiet as the Evolution Excel this product has excellent noise insulation thanks to the Sound Seal technology.
In addition, it uses 3-bolt mounting which reduces vibrations.
And this is a Batch feed type disposal.
This top-end InSinkErator model comes with lots of features and premium build quality.
It runs on a 3/4Hp dura-drive motor (all InSinkErator models use Dura-drive induction motors) at a speed 1750 RPM. Though slightly underpowered than the Evolution Excel model it has the same chamber capacity which is 40oz.
It has a 2 stage grinding system ie, food wastes are ground twice which makes them very granular. This makes it easier for the drainage system, and also reduces any chances of jams and clogs.
The Evolution Essential comes with a warranty of 6 years.
If you like to know more about this disposal here is a detailed review.
5. InSinkErator Essential XTR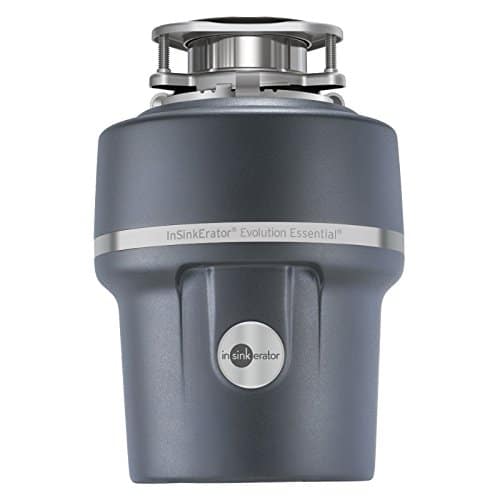 Quietness level – 'Quieter'
This one is as quiet as the above model and is similar too with the exception that this is a continuous feed type disposal.
Like its predecessor, it makes use of 'Sound Seal' technology. It operates quietly, the noise insulation is not the very best but still, it is great.
Though silent it uses a 3/4 HP motor and a 2 stage grinding system to grind food wastes to a pulp. It is pricier than the Waste King models, I should say that unless you have some specific reasons any of the above-mentioned disposals are good. Here is my complete review for this unit.
6. InSinkErator Evolution Compact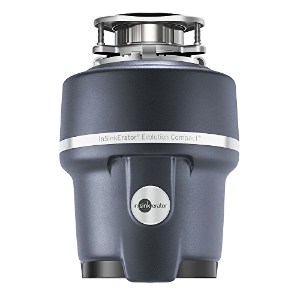 Quietness level – 'Quiet'
Evolution Compact got its name because it targets the small garbage disposal section of the market.
It uses SoundSeal technology, and a 3-bolt mounting system to reduce noise and vibrations.
But it is a tad noisier than the Essential model, which makes Evolution Compact the 4th best quiet disposal unit in the world.
As you know this is an InSinkErator product. In fact, 5 out of the 7 disposals I have chosen here are made by InSinkErator. The company clearly focuses on being the best in this market segment.
As the name indicates, it has a compact design but still can accommodate 34.6oz of food wastes.
It is powered by a 3/4 HP motor which is the same as that of the 'Essential' model.
In terms of features, it stands at par with Evolution Essential and Essential XTR. All of them share common features including multi-stage grinding and Quick-Lock installation.
It also has a 4 year limited warranty.
For more details check out my review of Evolution Compact.
7. Waste King L-3200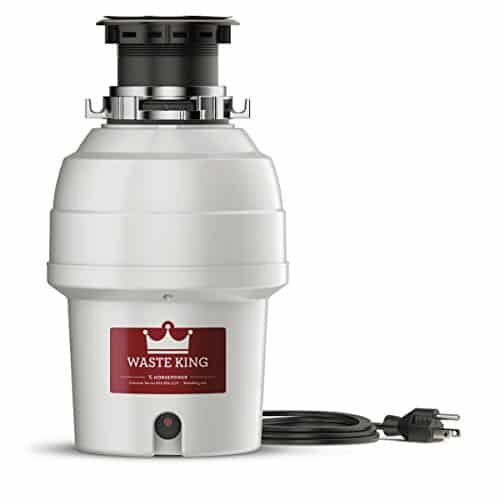 Quietness level – 'Quiet'
The L-3200 is a very popular product from Waste King.
It is not as quiet as the 'Evolution Excel', but its sound insulation comes at par with that of the 'Evolution Compact' model.
It is powered by a 3/HP permanent magnet type motor running at 2700RPM (all Waste King disposers use permanent magnet type high-speed motors.). It has only 1-stage grinding but the grind efficiently is none the less.
One thing I like about the Waste King models is that they all come with a power cord and a removable splash guard which makes it easy to remove and clean them.
This model has a limited warranty of 8 years, the stainless steel components and the corrosion-resistant grinding chamber by no doubt give the confidence that this product will last forever.
While the build quality may not be at par with any of the InSinkErator models mentioned above this disposal is more economical.
If you are looking for a premium quality disposer that gives the best value for money this is what you are looking for.
And here is my detailed review if you need any more info.
How to make a garbage disposal quieter?
Sometimes even if you buy a quiet garbage disposal it may produce more sound than the company claimed. This is not because the one you bought is a faulty product but mostly because of some problems with its installation. As I mentioned earlier, the sound from a garbage disposal is not only due to its motor grinding but also from the vibrations of its accessories and sink. So if the garbage disposal unit is not installed correctly this may cause vibrations that produce a lot of noise. What you can do to avoid this is to double-check that the installation is good. Or make sure to get a professional do it.
In addition, here are some additional things you can do to make your disposal run quiet;
1. Put Sprayed- on Coating on Your Stainless Steel Sinks to Reduce the Amplification of Noise
When Garbage Disposal is at work, it makes a little vibration normally. The same vibration is amplified and multiplied in a loud noise by the surface of a stainless steel sink. Porcelain cast iron sinks are better at noise absorption but in a stainless-steel sink even dropping off a needle can make a loud sound. 
Some sinks come with a coating which makes the metal less noisy. The simple solution is that you can spray your steel sink, this undercoating will help reduce the noise from garbage disposal attached to the sink. 
2. Sound insulation and Noise Shielding by Covering the Upper half of Garbage Disposal
For a garbage disposal, noise reduction is achieved by covering its motor and grinding chamber with insulating materials. If you want to make your disposal unit quieter you can cover the body of the unit with some additional sound-proof materials. Don't worry about the visual damage, hardly anyone sees the garbage disposal in the kitchen.
3. Select a batch feed type unit.
If you are buying a disposal unit that is not in my above list, but you want it to be less noisy for a batch feed type unit. Sice batch feed garbage disposals come with a cover this will prevent noise from escaping through the inlet.
4. Use flexible hoses
Using flexible piping connections with the garbage disposal will reduce vibrations. This, in turn, will reduce the overall noise due to its working. This may not be practical for all but is recommended if you can.
Conclusion
Quiet garbage disposals are getting popular but generally speaking they are also pricey. It is because this feature comes only with top-end models. Like I said before a normal disposer operates at a sound level of 80dB, it is not unbearable, and you use it for only a short period of time. So quiet garbage disposals are not indispensable but just optional.