There are other disposers in the market that bring more grinding. power One example is the InSinkErator Evolution Essential. Though powerful in working, it is a bit expensive. So if you are looking for a disposer within the Evolution series but don't like the small-sized ones like the Evo Compact and Evo Space saver, then the Evo Essential will be able to deliver your needs.
What makes the Evo Essential different from the rest of the Evolution series disposer will be provided below so that you will have a better glimpse of the working condition of the unit.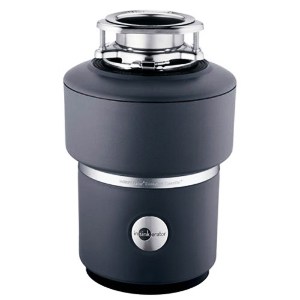 BIGGER SIZE, BIGGER POWER
If the sink clogs up often and it's time to replace that rusty old leaking disposer, the Evo Essential can be a strong replacement. The unit is among the big disposer of the Evolution Series. It measures 14 x 10 x 13. This is far bigger than the Evolution Compact and is the same size as the Evolution Septic Assist, and Premier. It has a good 40 oz. The capacity of holding grinded food waste. It is far better than having a limited capacity. Anyway, I would recommend getting disposers with bigger capacity especially if you have room to spare under the sink.
In terms of motor power, it seems to be working pretty well. Anyway, it has ¾ HP, so it should be performing as expected. The electric motor consumes about 110/120 volts of electricity.
Speaking of HP, I also recommend getting disposers that come with a ¾ Hp and not anything less than that. Because if it is the grinding power that you are after, the bigger the HP the better, if you go lesser than the standard ¾ power, you end up getting more jams in your disposer and it will take you longer to grind up food scraps. And this is an infuriating situation because you have to do extra effort to get rid of the clog.
The Evo Essential is also a bit heavy because it is 25.3 pounds. You will be needing help to have it installed just like what I did. You see, the thing about the Evolution line of InSinkErator is that it's often broader than most regular models out on the market, which means that you will be needing to cut down some pipes to make way for the disposer. That is why before purchasing a unit, you have to do some basic measuring on your sink so that you don't have to be shocked by the unit being a tad too big for the sink.
WARRANTY
The warranty covers a 6-year in-home Limited Warranty. It's great since it covers the parts and services. But it wouldn't be great for someone who is only renting an apartment or a house that will be moving out in the next 3 or 4 years.
The disposer comes with other essential components such as the quick lock sink mount, sink baffle, jam wrench, anti-vibration tailpipe mount, clamp, and a stopper. You have everything for the unit to work properly, but you have to buy a plumbers putty for it to be installed. It's not included in the package and it's a bit disappointing too. But if you don't mind taking a trip to the plumbing supply store then you wouldn't mind it at all.
GRINDERS WORKING
The grinders are working well. Though it takes a longer time to grind everything up, it can still get the job perfectly done. Take in mind that the unit is built to be quiet. And one way of keeping it quiet while working is the rubber on the sink that was designed to drain slowly to reduce vibration noise. That means slower draining. If you are not used to a slow draining disposer, you can simply snip off the pieces of rubber to make draining faster. However, I do not recommend this be done as it can affect the grinding noise.
PROS AND CONS
Now that we are almost at the end of this unit review, here are some pros and cons that I found out from the unit that you will find useful in deciding whether t buy it for your kitchen.
Pros:
Chamber is stainless steel
Quietness is good
Can be hooked up to the dishwasher
Snap installation. It wasn't too hard
Grinds the garbage well
Warranty is 6 years with in-house service
Cons:
Doesn't come with a power cord
No plumbers putty with the unit
Drains slowly
InSinkErator Evolution Essential – Final Words
In the end, I would recommend the InSinkErator Evolution Essential for those looking for a disposer with a good HP in the motor and has enough budget to buy it.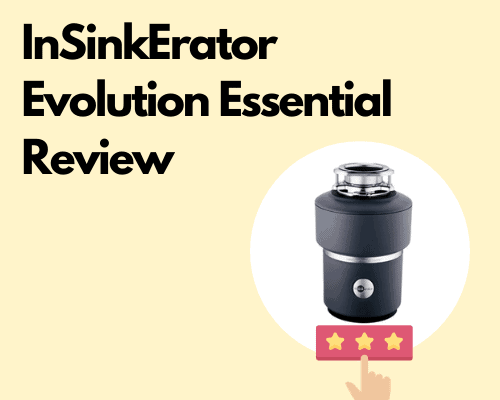 For the price, the Evo Essential works pretty tough and doesn't seem to jam at all.  The only downside I see on it is that the power cord is not included like in other disposers by ISE. I decided to make use of my old one but decided to buy a new one instead. It was a new unit and I think a brand new cord should go with it. With this being said, it would have been nice to have a power cord included. Also, the rubber eyelet in the sink restricts the water flow going into the disposal. It's good because you will be able to save a bit in the disposer water consumption but can be bothersome too if you like a fast-draining action.
Of course, the Evo Essential is an ideal unit for large under-sink spaces. It is also perfect for those looking for a quiet unit but can grind up food scraps very well. Thus, you will definitely get what you paid for in this InSinkErator Evolution Essential disposer.
Related Topics:
If you like the article above, here are some other similar articles you should check out!
InSinkErator Evolution Compact Garbage Disposal Review
InSinkErator Evolution Excel Garbage Disposal Review