High-end, compact garbage disposal at an affordable price = InSinkErator Evolution Compact.
This is the 3rd best food disposer I have ever reviewed, and unlike the best two, this one is better priced. The Evolution Compact comes with lots of features that you can see in high-end food disposers, it also has a more compact design than the latter.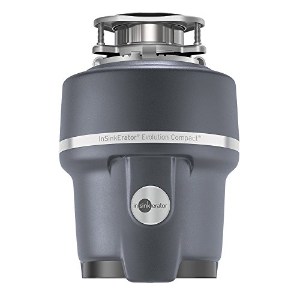 SPECIFICATIONS
Type of Feed – Continuous
On/Off Control – Wall Switch
Motor – Single Phase
HP – 3/4
Volts – 120
HZ – 60
RPM – 1725
Amp. (Avg Load) – 8.1
Time rating – Intermittent
Lubrication – Permanently lubricated upper and lower bearing
Shipping Weight (Approx.) – 19.5 lbs.
Unit Finish – Black Enamel/Gray
Overall Height – 12-1/8″
SoundSeal Technology – Anti-Vibration Mount™, Anti-Vibration Tailpipe Mount™, Quiet Collar™ Sink Baffle, Multi-Layer SoundLimiter™ Insulation
MultiGrind Technology – GrindShear Ring
Grind Chamber Capacity – 34.6 oz.
Motor Protection – Manual Reset Overload
Average Water Usage – Approx. 1 Gallon Per Person Per Day
Average Electrical Usage – 3-4 KWH Per Year
Drain Connection – 1-1/2″ Anti-Vibration (Hose Clamp)
Dishwasher Drain Connection – Yes
THE NAME ITSELF SAYS IT ALL
It is a disposal unit from the Evolution series and as mentioned in the name, it is compact. This unit is relatively smaller than the other Evolution series disposers but has more or less the same chamber capacity. It can hold about 35oz. of food wastes and has dimensions 8x8x12 inches.
GRINDING WITH POWER
The grinding motor packs 3/4HP which is ample power for a garbage disposal of this size.  It is also equipped with Multi-Grind technology in which the food wastes undergo grinding through two stages which include a GrindShear Ring and Tri-Action lug system. The Evolution Compact is capable of grinding even small chicken bones which is not possible with low-end disposers.
NOISE LEVELS
I also noted that against a standard disposer, the level of quietness while the operation is relatively outstanding. It uses SoundSeal technology which can only be seen in the top InSinkErator models like the Evolution Excel and Evolution Essential. This is the 3rd best disposal I have reviewed in terms of quiet operation.
QUICK SETUP IN THE SINK
Of all the things that come with the unit, the quick setup, or as others call it, installation is a breeze to do. The manual is comprehensible and you wouldn't get lost in the process. A home and a kitchen owner like me who has a lot on their hands need things to be done as soon as possible. That is why the easy twist on and off of the disposer for locking is handy.
The Evolution Compact has some accessories included in the package. The unit comes with a sink baffle, jam-buster wrench for unexpected clogging, an anti-vibration tailpipe mount to give you added silence, a clamp, and a stopper.
WARRANTY/SERVICE
In terms of the warranty, the InSinkErator Evolution Compact disposer comes with an 8-year in-home limited warranty. That includes the parts and services to be rendered for the repair.
Within the four years, it is absolutely recommended to always call in a technician for any unusual noise or functioning of the disposer. Do not shrug them off since there are only four years in the warranty tag.
PROS AND CONS
To give you a clear view of how I assess the unit, here are some of the noticeable pros and cons of the disposer.
Pros:
The grinding is good
Quiet operation and build are good quality
In-home installation, just call for a technician
Smooth operation
Easy to maintain and clean
The warranty covers parts and service (installation included)
8-year warranty
Cons:
Doesn't come with plumbers putty
The gasket is too tight, making draining a bit slower
InSinkErator Evolution Compact – Final Words
In the end, This is one of the best garbage disposals I have reviewed. Its compact size and lighter weight make it much easier to mount. With the price, it ranges from typical disposals in the market that has 3/4 HP in the motor. It is decently priced, the quality is good, and is nicely designed. Overall this is a product worth buying.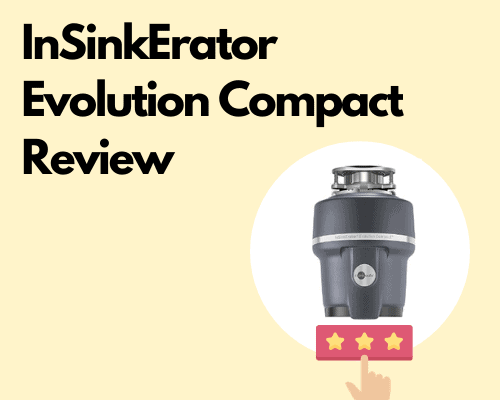 Related Topics:
If you like the article above, here are some other similar articles you should check out!
Waste King 2600 vs Badger 5 – Which is a Better Choice?
InSinkErator 66 vs Evolution 100 – A Comparison
Waste King 9920 vs InSinkErator Badger 5 Garbage Disposal – Which is the Best?