Both Model 66 and Evolution 100 are made by InSinkErator targeting the UK market. Therefore unlike the US targeted garbage disposals which have a 120-volt rating, these ones can run on 220-240 volts. Both units are powered by the same 3/4 HP induction motors. However, there are many notable differences between them.
The main difference between InSinkErator 66 and Evolution 100 is the level of noise insulation. Both Model 66 and Evolution 100 use a noise insulation technology called SoundSeal. However, while Evolution 100 is 40% quieter than a normal food disposer Model 66 is only 20% quieter. This is owing to the difference in the level of insulations on the disposal unit as well as the insulations on the pipes and accessories. Also, the chamber capacity of Evolution 100 is higher than that of Model 66.
But that is not all. Both these food waste disposer models are very different from each other in a number of other factors as well.
| | Model 66 | Evolution 100 |
| --- | --- | --- |
| Power | 3/4 HP | 3/4 HP |
| Feed type | Continuous | Continuous |
| Motor type | induction | induction |
| Overall height | 318 mm | 312 mm |
| Grinding stages | 1 | 2 |
| Grind chamber capacity | 980 ml | 1005 ml |
| Warranty | 4-years | 5-years |
| Auto-Reverse | No | Yes |
| Mounting | 3-bolt assembly | 3-bolt assembly |
| | View product | View product |
The chamber capacity of Model 66 is only 980 ml whereas Evolution 100 can accommodate up to 1005 ml of food wastes.
Model 66 comes with a single-stage grinding system just like in all normal garbage disposals. However, for Evolution 100 the number of grinding stages is two. The presence of multiple grinding stages makes sure that the food wastes are ground to a finer size. This avoids clogging the pipes as well as enables the unit to grind more varieties of food wastes including fibrous vegetables.
Both Model 66 and Evolution 100 comes with Stainless steel grinding components as well as a stainless grinding chamber. This means that these food waste disposal units will last for a long time withstanding any corrosion.
Regarding installation, both of these models use the same 3-bolt assemblies. So their installation process is the same, and these disposals can be switched with each other easily without having to go through all the installation steps.
As I mentioned earlier, the chamber capacity of Evolution 100 is slightly larger than that of Model 66. However, their external dimensions are almost the same. Evolution 100 has dimensions of 312 mm x 205 mm whereas those of Model 66 is 318mm x 185mm.
Evolution 100 also features a technology called Auto-Reverse. This enables the disposal unit to reverse its directions whenever it senses a jam. The to and fro rotation of the blades help to cut through jams easily without any manual intervention. This technology is not present in Model 66.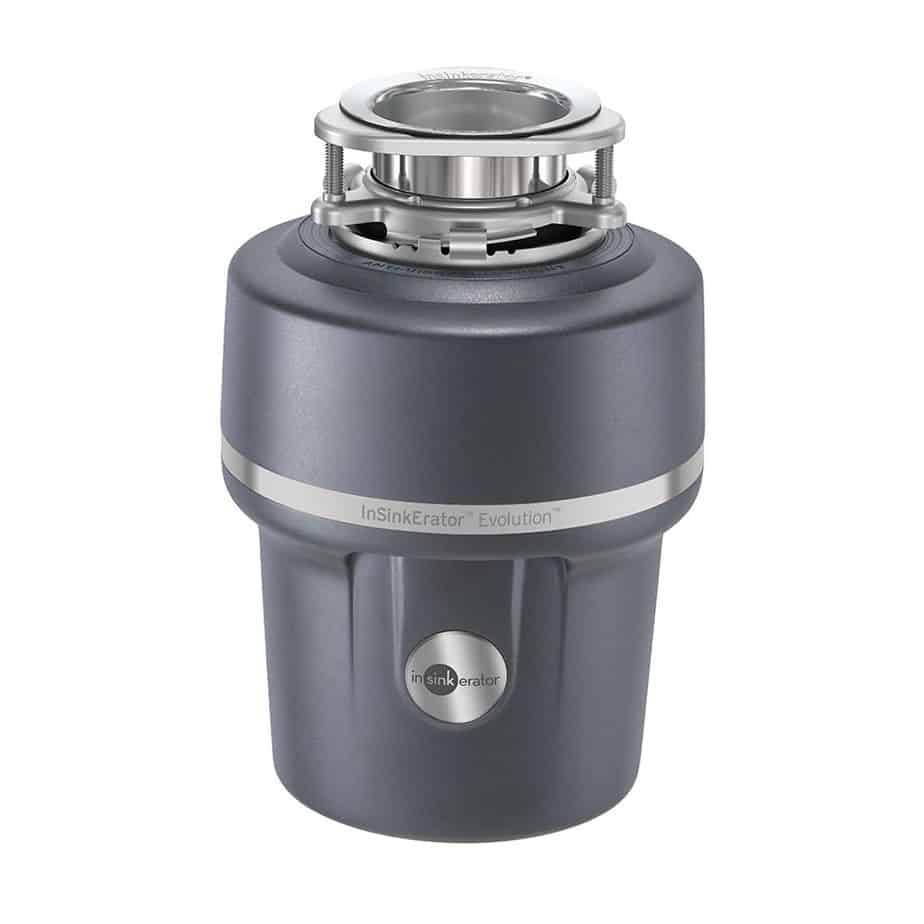 When prices are compared, Evolution 100 is priced significantly higher than the Model 66. This is no surprise since the former comes with many additional features.
Both models come with air switches and stainless steel stoppers.
Evolution 100 comes with a 5-year warranty whereas Model 66 is covered under only a 4-year warranty.
Conclusion
Both Evolution 100 and Model 66 are powerful, continuous feed disposals. Model 66 is a more practical choice whereas Evolution 100 is for those who love premium features and looks. Both models are worth the price tags so if you are willing to spend more money go for the Evolution 100, else, Model 66 is a fine choice.
Related Topics:
If you like the article above, here are some other similar articles you should check out!
Waste King 9920 vs InSinkErator Badger 5 Garbage Disposal – Which is the Best?
InSinkErator Evolution 100 vs 200 vs 250 – A Detailed Comparison