InSinkErator Badger 1 is one of the cheapest food disposers. It is priced somewhere below $100 which is great for those wanting a budget-friendly disposer. Tough cheap it gets things done, which is important. This is suitable for small households and college dorms where disposers are not used frequently.
To know more about the good and bad sides of the InSinkErator Badger 1, here are its specifications;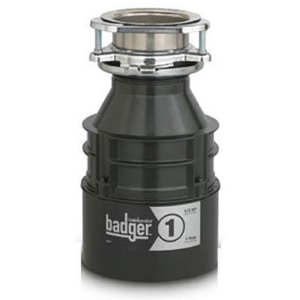 SPECIFICATIONS
Type of Feed: Continuous
On/Off Control: Wall Switch
Motor: Single Phase
HP: 1/3
Volts: 120
HZ: 60
RPM: 1725
Amp. (Avg. Load) : 6.3
Time Rating: Intermittent
Lubrication: Permanently Lubricated Upper & Lower Bearings
Shipping Weight (Approx.): 13 lbs.
Unit Finish: Waterborne Grey Enamel
Overall Height: 11-3/8"
Grind Chamber Capacity: 26 oz.
Motor Protection: Manual Reset Overload
Average Water Usage: 1 Gallon Per Person Per Day
Average Electrical Usage: 3-4 KWh Per Year
Drain: 1-1/2"
Anti-Vibration Connection: (Hose Clamp)
Dishwasher Drain Connection: Yes
POWER & SIZE
Being one of the cheapest priced disposers, this is a useful disposer to spend money on. In terms of size, it is 7 x 11.5 inches. It is small and can fit in tightly fitted areas under the sink.
Though cheap it can last a long time provided that it is well taken care of. The unit is small with a 26 oz. grind chamber and a 1/3 HP induction motor, meaning it will not be able to grind hard and fibrous food wastes, this means hard bones, thick fruit peels and big chunks of food waste will be an issue. With its small power capability, it isn't made to handle a large amount of food. However, for a bachelor's or a college student (and those who don't throw parties often), this is suitable.
NOISE LEVEL
It isn't discreet in noise making as other disposers with a noise suppression technology. Nonetheless, it isn't too loud when in use. I feel that the noise is manageable once you get used to it.
CAN IT GIVE MORE?
Unfortunately, the unit does not have that many additional features to boast about. However, the grind system is galvanized steel, so the shredding of your soft foods will be easy. Despite all these, the installation is quite uncomplicated. There is no need to change mounting brackets if you are going to replace an old Badger with this new Badger unit, as the mounting collar is applicable to other disposers. It can be installed with no additional plumbing work.
Pls note that Badger 1 doesn't come with a power cord, it needs to be purchased separately.
CUSTOMERS REVIEWS
Facing the facts, the Badger 1 unit is not as great as Badger 5. To compare the Badger 1 with other disposers, its advantage is the low price tag.
Some of the consumers also mentioned that the unit works fine but eventually cracks and leaks. But I did notice that most Badger 1 owners that complained that the unit prematurely dies and cracks, have the unit for 3 to 5 years. Some complainants even had it for 10 years and more.
A basic understanding that it is not made for heavy-duty performance is a must to be able to take care of the unit properly. If it is well cared for, it can last for a long time without any concerns.
COMPARED TO OTHERS
Again Badger 1 is convenient for those who cook occasionally. It has a voltage requirement of 120 volts. It weighs 12.7 pounds and is quite small which is perfect for space-saving.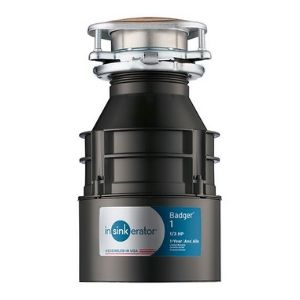 Comparing it with Badger 5, the Badger 1 has 1/3 HP while the Badger 5 has ½ HP. Both units have the same size and same grind chamber, 26 oz. The Badger 1 has a 1-year warranty and the Badger 5 has 2 years warranty length coverage, and both don't come with a power cord.
And if compared with the Evo Spacesaver, both units have 1725 rpm and have a voltage of 120. But for the grinding chamber, the Evo Space saver has 34.6 oz. capacity and the Badger 1 has 26 oz. only. But there is a large price gap.
WARRANTY COVERAGE
The unit is covered for 1 year. This is fairly good for a small unit. Again, as stated earlier, a well-taken care disposer will last long with no serious problem.
But in case a problem arises, first identify the issue very well, call a repair service and describe the problem thoroughly, and do not forget to inquire about the unit warranty. Also, ask the customer service representative if the parts and labor will be covered or if you have to purchase any additional parts for repair.
PROS AND CONS
Coming down to the pros and cons of the Badger 1 unit, here are the conclusions that I gathered about the unit.
Pros:
Absolutely cheap
Efficient
Basic disposer
Can last long with proper care
Small and compact
Cons:
Only soft foods waste
Prone to rusting and corrosion over time
chances of leakage over long-term use
Verdict: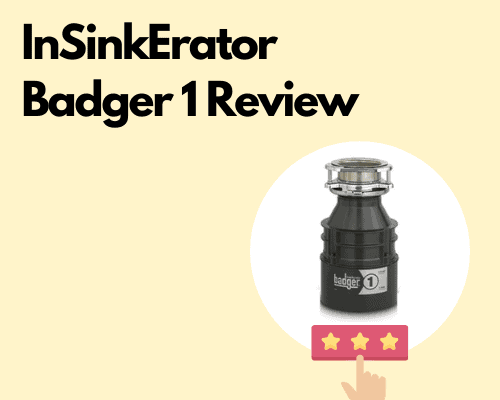 In the end, the unit needs proper care and usage to last a very long time. With installations, there wasn't much trouble in taking out the old sink flange and having to put in a plumbers putty in the Badger 1 unit as the current one installed in the sink was just fine.
Despite having lots of drawbacks, it still has a solid customer base, it is a proven product and has been in the market for a long time. It is advantageous in terms of cost-saving but a bit on the flat side with power and capabilities. But then again, if you only need a basic disposer, then this is the unit to buy.
Want to see the price and more information? Click here
Related Topics:
If you like the article above, here are some other similar articles you should check out!
InSinkErator Badger 1 vs Badger 100 – What's the Difference?
Franke Garbage Disposals – Best Picks & Reviews