What's the difference between InSinkErator Badger 1 and Badger 100?
No difference, both are exactly the same product. The only difference is their stickers one which says Badger 1 & the other Badger 100.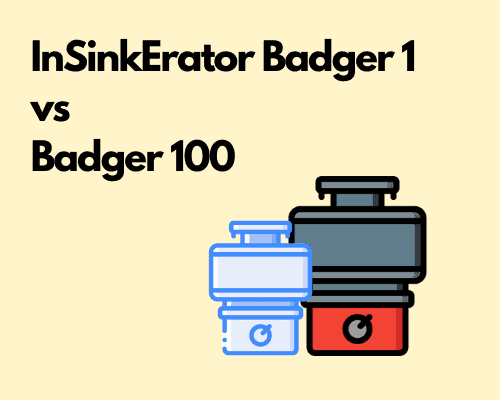 Then why are there two products?
Badger 100 is the HomeDepot version of Badger 1, you can go to a Homedepot store and buy it from the shelf but to buy a Badger 1 you need to get it online and wait for a few days for delivery.
So if you are not in urgent need of a Badger disposal buy Badger 1 online else spend 20 bucks more and get the other; yes, it costs more.
Here is a quick overview of Badger 1 (and Badger 100)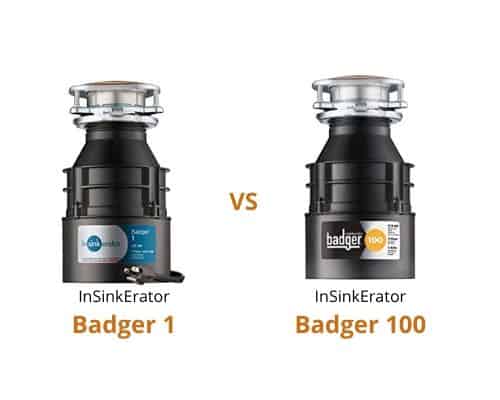 Both disposals are powered by a 1/3 HP motor, these are the least powerful motors among all garbage disposals. But that doesn't mean they can't grind food wastes, both disposals do a good job in disposing of whatever is thrown the drain. Their motors are slow-speed motors, like all other InSinkErator models, which run at a speed of 1725 RPM. Its overall height is around 11.5 inches so it can be fitted in tight spaces.
Badger 1 and Badger 100 are suitable for hostel rooms and small households where cooking is light. Both use 3-bolt mountings and have non-removable splash guards. Their chamber capacity is 26oz. Both have rugged galvanized steel constructions for longevity.
Both Badger 1 and 100 are covered under a warranty of 1-year.
Don't forget to check my complete review of Badger 1. Also my comparison article InSinkErator Badger 5 vs Badger 1
Related Topics:
If you like the article above, here are some other similar articles you should check out!
InSinkErator Badger 5 vs Badger 1 – What is the Difference?
Waste King vs InSinkErator Garbage Disposals. – What is the Difference?