Automatic soap dispensers, also called touchless soap dispensers, are undoubtedly way more convenient than traditional dispensers. They first appeared in commercial spaces like airports and malls but they are now popular in households as well. People love the idea of not touching a dispenser with their dirty hands, which is why these dispensers are so getting so popular.
If you are looking to buy an automatic soap dispenser there are hundreds of models to choose from. Many of these models, by different manufacturers, are very similar in design as well as features. To be frank it is pretty confusing when it comes to selecting an accessory as simple as a soap dispenser!
That's why I decided to write a short review of all the popular touchless dispensers out there. For easy selection, I categorized them into three; those for home, those for commercial spaces, and those that dispense foam.
Please note that the dispensers which dispense soap cannot dispense foam, that's why added them as a separate category.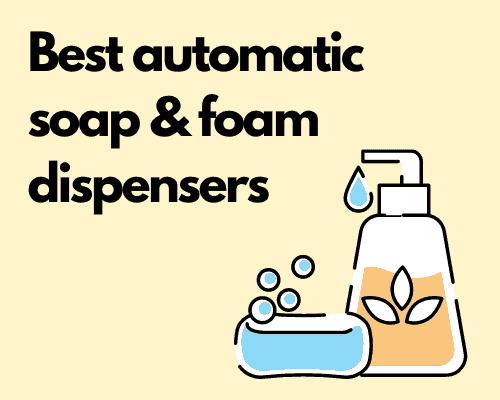 Best automatic soap dispensers for home
| Automatic dispenser name | Capacity | Number of sensors | Warranty |
| --- | --- | --- | --- |
| 1. Kidun | 9.56 oz | 2 | 1 year |
| 2. Simplehuman | 8 oz | 1 | 2 years |
| 3. Secura | 17 oz | 1 | 2 years |
| 4. SimpleOne | 8 oz | 1 | 1 years |
1. Kidun
Kidun Automatic soap dispensers have a built-in infrared motion sensor, which is located under the spout, as well as a PIR sensor, which is located on the base, to detect movements. Its sensors have a range of 0-6cm/0-2.36in. The combination of PIR and IR sensors reduces the chances of false alarms to a large extent. 
With Kidun you can either dispense 1.8 or 4ml of soap per activation. These volumes are switched using the +/- button on top of its head. It has a stainless steel PC and ABS plastic body which can hold up to 9.56oz of liquid soap.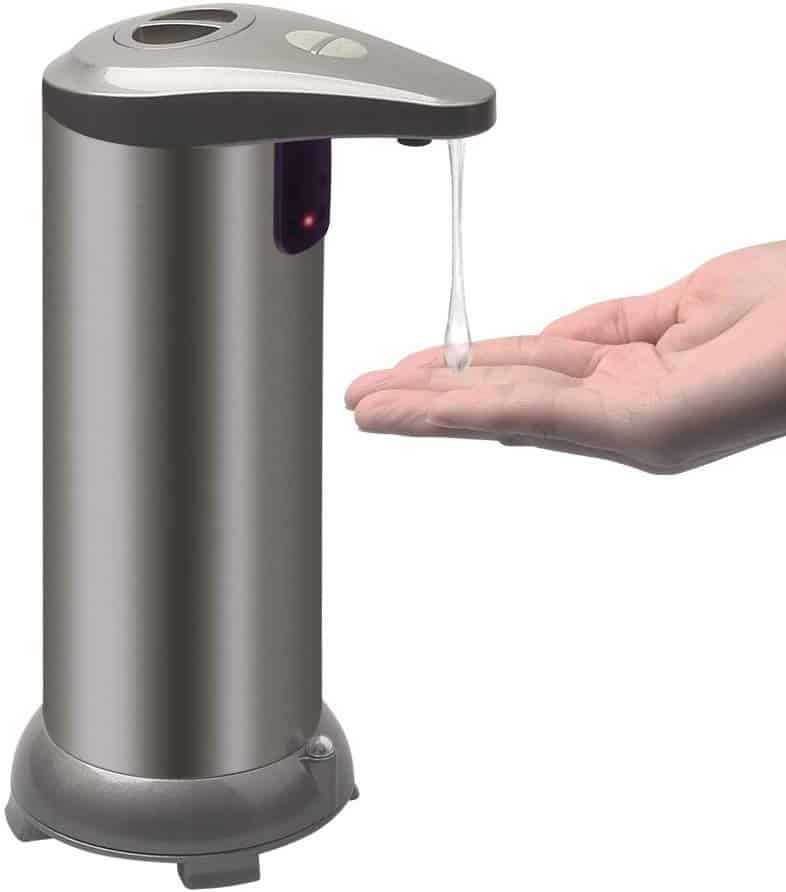 You can either use it to dispense liquid soap or you can use it to dispense sanitizer. It would however not provide a solution for those looking for dispensing foam. The dispenser can be easily refilled by opening the cap on the top.
There is also a power button on the top which when held down switches off/on the dispenser.
This touchless soap dispenser runs on 4 easily replaceable AAA batteries. The battery compartment is located at the bottom, I should say it is a little difficult to open the compartment if you have short nails. The dispenser uses a 3A class leak-proof technology so you don't have to worry about the soap leaking into the battery compartment.
The cleaning ritual for this one is also very easy and it is imperative to keep it clean and dry to prevent rust and corrosion. All you have to do is wipe it inside and outside with a clean cloth on a regular basis.
Kidun touchless soap dispenser looks really good owing to its shiny construction. One drawback I see is that it is impossible to see the liquid soap level.
Sensor Range: 0-6cm/0-2.36in; Its sensitivity is quite good, no need to wave hands multiple times in front of it.   
Dripping Issue: Minimal; it comes with a 3A class leakproof and waterproof technology. This prevents water and soap from dripping. 
Warranty: The Kidun touchless soap dispenser comes with a 1-year warranty period with a replacement service included in it. 
2. Simplehuman
Simplehuman is very famous for its array of touchless trash cans. This is a premium touchless soap dispenser, by the same brand, with a sleek and stylish look ideal for small kitchen/ bathroom sinks in homes. Once the sensors sense movement, the dispensing starts through a flexible silicone valve that springs open for a quick, steady flow of soap onto your hands.  It is equipped with a flexible silicon valve that ensures no messy drips by creating a tight seal around the dispensing area. 
Also, it boasts a highly efficient pump that dispenses soap in about 0.2 seconds with precise control over its fast dispensing action. The wide opening at the top aids in the easy refilling of the dispenser without spillage of the soap.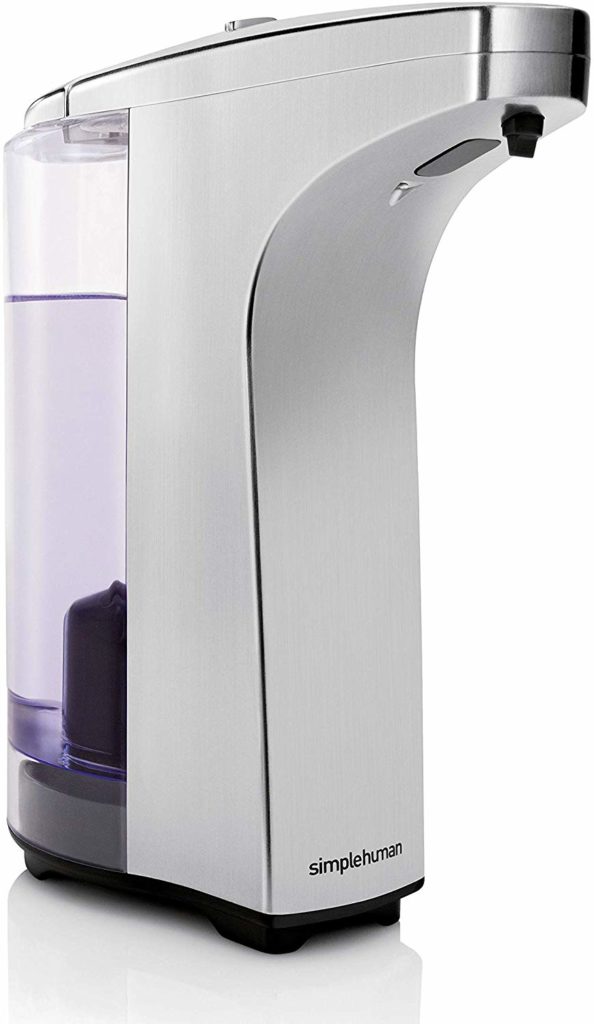 On top of its spout are two buttons to increase and decrease the amounts of soap discharged per activation.
The Simplehuman automatic soap dispenser uses 4 AA alkaline batteries that can last up to 1 year. The battery compartment is located at the bottom, and it can be easily opened by twisting its lid.
Simplehuman also sells 6 other touchless dispenser models each having its own pros and cons. I selected this one because it stands out from the others owing to the transparent liquid compartment which makes it easy to see soap levels.
This dispenser is covered under a 2-year warranty.
While all great this is not without some cons. Simplehuman recommends their own premium soap in the dispenser, which is a turn-off for many people. However, you can use any kind of liquid soap in this as long as it is not too viscous. In that case, you may need to find the right viscosity by trial and error, which is again something people don't look forward to doing.
Capacity:  8 oz liquid soap can be stored in this dispenser. 
Dripping issue:  No messy drips.
Warranty: 2-years
Sensor: 1 sensor which is located under its spout.
3. Secura
This automatic soap dispenser is almost twice as big as the other two models above, it can hold up to 17 Oz or 500mL of liquid soap. It looks great and is available in two finishes: chrome and black finish. 
It has an inbuilt infrared sensor that has a range of up to 2.75 inches. One thing I love about this dispenser is the volume control dial on its side. You can just turn the dial to increase or decrease the amount of soap dispensed (from .03 to .19 oz), and you can also turn off the dispenser by reducing that volume to zero.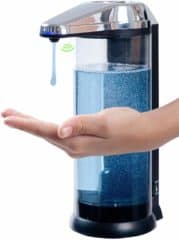 Another feature I love is the mounting bracket. It is sometimes inconvenient to place a soap dispenser on a countertop, this one can be easily mounted on the wall, why don't other brands think of the same thing?
Also, the placement of the battery compartment is unique. Most competing models have their batteries at the bottom, sometimes the soap will leak into the battery compartment and damage the whole unit. Secura definitely thought of it and provided a simple solution.
The transparent compartment not only tells you the level of liquid soap but also makes the unit look good. It is also easy to clean and maintain.
Capacity: 17 Oz. of liquid soap can be refilled in this dispenser. 
Sensor Proximity: Can sense a hand motion that is as far as 2.75 inches. 
The volume of soap dispensed: Adjustable
Warranty: This dispenser comes with a 2-year manufacturer's warranty. 
4. SimpleOne 
One of the best automatic touchless soap dispensers in recent times, SimpleOne stands true to its name. It's a simple automatic dispenser and one of the best ways of keeping dirt and germs that accumulate over the manual hand pump soap dispenser at bay. 
To be honest, 'Philippe Taglioni's' design is both pretty and confusing, it took me a few minutes to realize which end dispenses the soap. However, this unique design is also one of the best selling points of this automatic dispenser.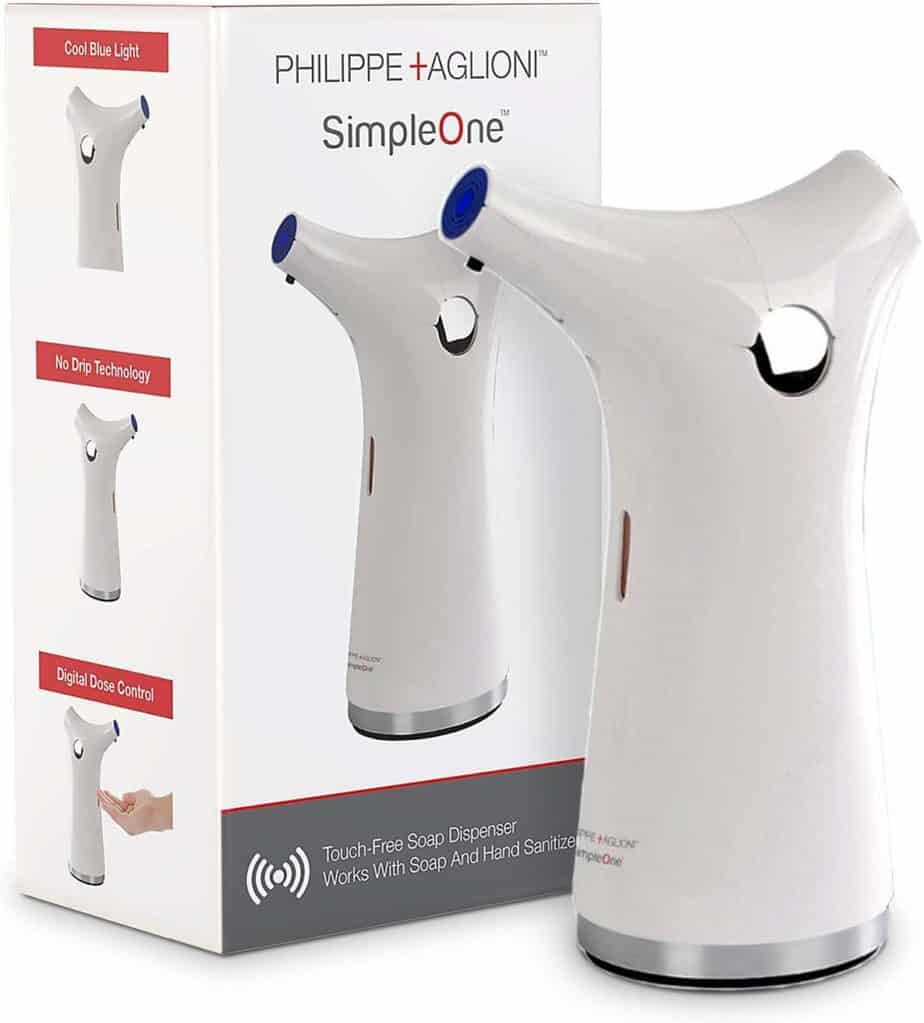 The SimpleOne soap dispenser uses a single IR sensor to detect movements. It also displays a cool, blue light while dispensing soap. It also has a window slot for viewing the liquid level in the container. Speaking of the container, it can be filled from the top by simply removing the smaller antler. It can hold up to 8oz of soap which is pretty standard for a household automatic dispenser.
This unit operates using 4 AAA alkaline batteries which last over 1 year. The battery compartment is screwed to the bottom.
You can use most types of liquid including soap, shampoo (a must-need for my bathroom), sanitizer, dishwasher, etc. in this dispenser.
One thing the SimpleOne soap dispenser lacks is volume control, you cannot vary the amount of soap dispensed like in other models. It dispenses only a factory default amount. Also, I couldn't find any warranty information.
That being said this is a much-loved touchless dispenser and a head-turner.
Capacity: 8oz
Sensor sensitivity: Good sensitivity towards hand movements
Volume of soap dispensed: Factory set; cannot be altered
Best Automatic soap dispensers for Commercial areas
Nowadays automatic soap dispensers are in every commercial space whether it is a busy airport or a small office. They are much larger than household dispensers and are built much stronger to withstand rough usage.
Here are some of the best automatic soap dispensers for commercial spaces;
| Model name | Capacity | Suitable for | Warranty |
| --- | --- | --- | --- |
| 1. Alpine Universal | 33.8 oz | Foam as well as soap | 1 year |
| 2. SVAVO | 21 oz | All types of liquid soap such as dish soap, shampoo, body wash and are also suitable for body lotion | 1 year |
| 3. Albayrak Premium | 22 oz | liquid soap like body wash, hand wash, and dishwashers. | 3 years |
1. Alpine Universal
Alpine is a well-known company that produces world-class quality products and its universal foam soap dispenser is just one of its many innovative products. 
Please note that this one is a foam dispenser, but a liquid soap version is also available.
The ABS Plastic body of this automatic dispenser makes it durable and easy to maintain. A clear, slit window has been provided that helps you to monitor the soap level inside the dispenser. Since it is ADA compliant and can be accessed using one hand, this unit is ideal for people with physical disabilities as well.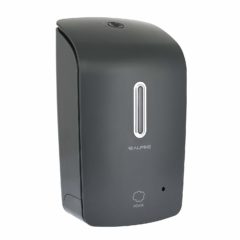 The capacity of this dispenser is about 33.8 Oz which makes it ideal for all commercial spaces. It is opened using a custom key that reveals a well-sized soap container as well as the battery compartment. There is also an on/off switch as well as volume control inside the front cover.
It has multiple mounting brackets on its back so it is easy to fix it on walls.
This universal foam soap dispenser works with almost all the foam dispensing brands which adds to its versatility in use.
It has two sensors on the bottom side, the combined action of which activates the dispenser motor. For each activation, only 0.3mL soap is dispensed, which results in longer life of the liquid soap and lessens the burden of refilling the dispenser very often. 
This unit works with 4 C-type batteries which can last up to 55,000 single uses. It is equipped with an LED indicator that blinks every time the batteries need to be replaced. Also there
It is available in two colors; white and grey.
Capacity: 33.8 Oz/ 1000ml makes it ideal for commercial area space 
Sensor sensitivity: Good sensitivity towards hand movements, can be used single handedly, and is ADA compliant
The volume of soap dispensed: About 0.3 mL of soap per activation. 
2. SVAVO
When it comes to the best choice of hygienic solution for soap dispensers, SVAVO hands-free soap dispensers can be counted in. The easy-to-use wall mount automatic soap dispenser creates a sterile environment in public/commercial bathrooms, where there are more chances of germ transfer. 
It comes with a preset volume, 1 mL of soap will be dispersed on activation which can be set to a high efficient quantity to keep the wastage of soap to a minimum.  The built-in infrared motion and PIR sensor technology sense hand movements within 6.5 inches. The sensors are not overly sensitive, so there won't be unnecessary triggering, which causes unwanted spillage.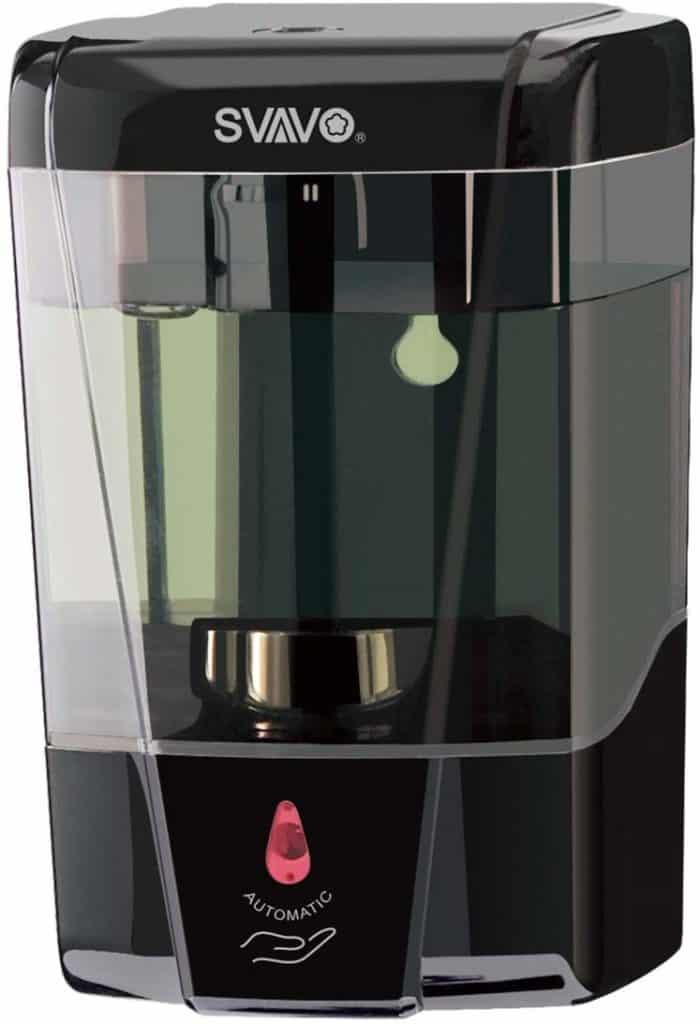 Maintenance of the dispensing unit is imperative but easy; it only needs to be wiped using a dry and soft cloth regularly.  The SVAVO dispensing unit comes with a unique safety lock feature where this unit can be locked with a key that keeps unauthorized access to zero. 
The large capacity of the dispenser to hold up to 21 Oz of soap avoids frequent refillings which makes it further suitable for commercial areas. 
Note that it is suitable for almost all brands and different types of liquid soap such as dish soap, shampoo, and body wash, and is also suitable to dispense the body lotion. Make sure that the soap used is liquid enough to pass through the nozzle without clogging the dispensing unit. 
If you are however looking for a solution to dispense hand sanitizer this unit is not suitable as the harsh chemicals of the hand sanitizer are likely to damage it.   
To operate this unit you will need 4 AA alkaline batteries. 
One drawback I find is that this is not a waterproof unit, so you will need to wall mount it at a height of at least 8-12 inches above the countertop. 
Capacity: 21 Oz liquid soap (Not too thick)
Sensors: IR sensors and PIR sensor technology; 6.5 inches proximity range
The volume of soap dispensed: About 1 mL of soap per activation. 
Warranty: 1-year Manufacturer's warranty on service and replacement. 
3. Albayrak Premium
Albayrak Premium touchless soap and shampoo dispenser is another ideal choice for commercial places like public washrooms in offices, malls, etc. It is engineered to produce the most precise results and the manufacturer guarantees up to 1.15 million shots.
The sensors precisely trigger the unit. Its dispensing valve cuts off immediately after dispensing which reduces the wastage of soap and reduces mess on the sink countertops. The capacity of 22 oz is large enough to handle the high traffic of commercial areas. The quantity of soap that gets dispensed per activation can be set according to your routine and this can be set up to 7 different levels.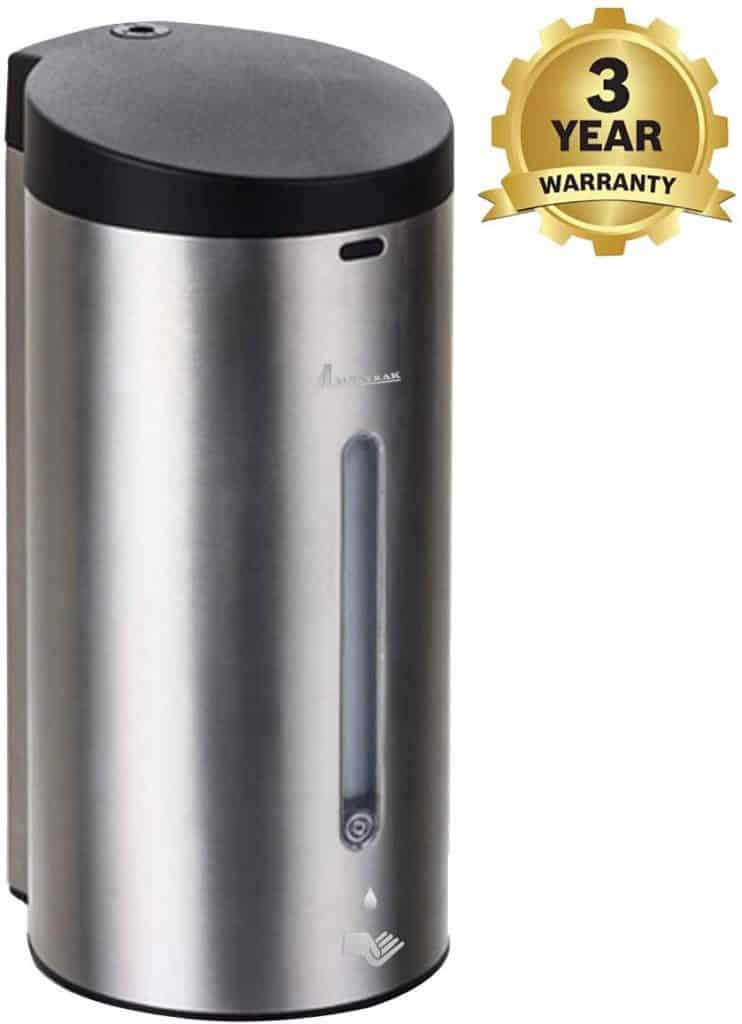 Looking into its design, it has a basic cylindrical shape with a body made of stainless steel. The look blends well in any of the kitchen and bathrooms. It is ideal for dispensing liquid soap like body wash, hand wash, and dishwashers. 
Note that it does not dispense foaming soap, spray, or granular soaps. Using any of these can cause major clogging issues.
One thing I really liked about this unit is its battery placement. Unlike some other dispensing units where the batteries are placed at the bottom, this one has the battery compartment at the top. This ensures that the batteries are safe from soap leakage. 
What's missing in this unit is a power button. It is not very necessary but can come in handy in certain situations. 
Capacity: Can hold up to 22 Oz of either liquid soap, shampoo, or sanitizer
Sensors: Built-in IR motion sense technology, works very well
Spillage Issue: None or very minimal; the dispensing valve cuts off immediately after pumping
The volume of soap dispensed: Can be preset to an optimal value. 
Warranty: 3 years manufacturer's warranty for non-human damage
Best automatic foam dispensers
The basic difference between liquid soap and soap foam dispensers is that the latter pumps out liquid and air simultaneously. Not all liquid soap dispensers produce foam, however, some do. 
There is however an array of models dedicated to dispensing foaming soap. These are ideal for commercial spaces, public bathrooms, etc. as it saves the soap and minimizes waste. These foaming dispensers are generally bigger in size than liquid soap dispensers.
Here are some of the best automatic foaming dispensers available in the market. 
| Model name | Capacity | Warranty |
| --- | --- | --- |
| 1. Xiomi | 9 oz | 1 year |
| 2. TROPRO Soap Dispenser | 15 oz | 1 year |
| 3. iTouchless Ultraclean Automatic Sensor Foam Soap Dispenser | 8 oz | 1 year |
1. Xiomi
Xiomi presents an automatic sensor foaming soap pump with in-built infra-red sensors that produce bubbled soap which dispenses out at least 30% lesser soap foam volume. This will help you in reducing the refilling needs and thereby prove to be economical in that aspect. This battery-operated unit works on a 3 AA battery and can sense hand motions within the proximity of 2.7 in. 
One of the annoying things about an automatic dispenser is its clicking noise. This bionic arc-shaped unit, however, is designed in such a way that it makes no noise even when it operates at night.
It can be used to dispense all types of liquid soaps including body washes, face wash, hand wash, dish wash, and shampoos. But make sure to dilute these liquids so they won't clog the unit.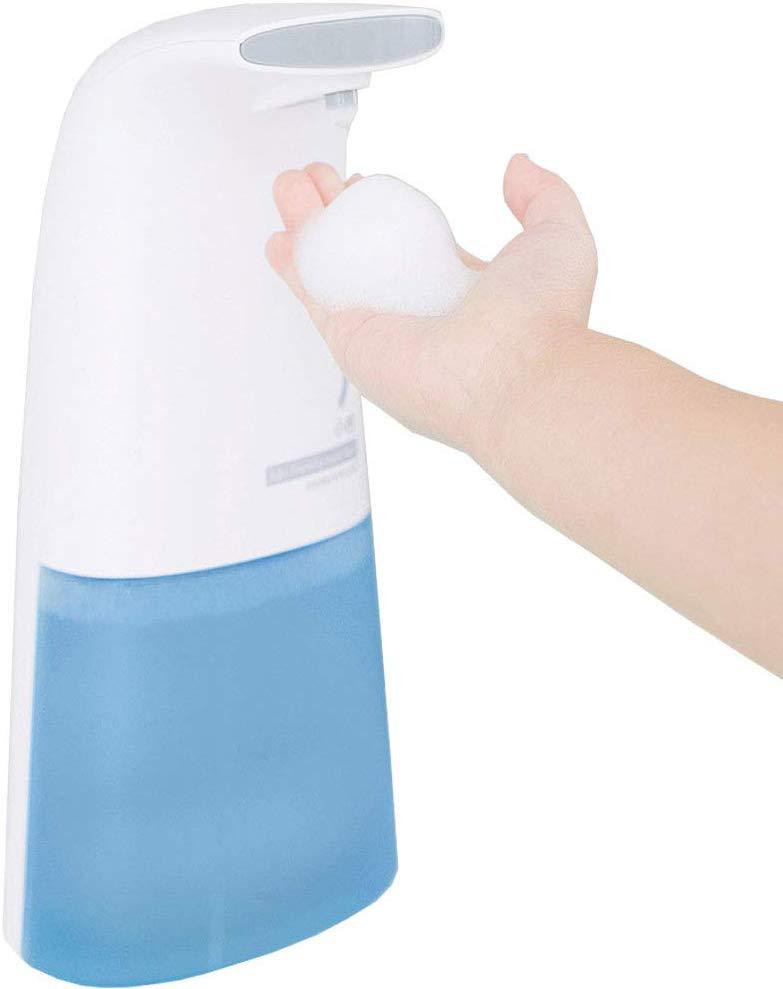 The ABS plastic body makes the unit resistant to water and dirt. Another feature of this dispenser that I find unique is its foaming ratio (ratio of compressed air to a gas-to-liquid ratio) which is about 12:1. This is different than the standard ratio of 6:1 used in typical foam dispensers which leads to a collapse in the foam and hence liquid wastage. 
One little drawback to this unit is that the sensors are placed just below the dispensing nozzle. This may sometimes lead to insensitivity towards the hand gestures due to the accumulation of foam on them. 
Capacity: 9 Oz of foaming soap can be stored in this dispenser
Sensor Proximity: Senses hand motion within its 2.7 Inches range
Spillage issue: designed to produce no such issues
Warranty: 1year manufacturer's warranty
2. TROPRO Soap Dispenser
Tropro brings you a versatile unit that can dispense any soap from liquid hand soaps to body washes and shampoos. The unique design has the reservoir at the bottom and the spout including the sensor placed on it. The pump can be detached from the reservoir which makes the refilling process very easy. 
The Infrared sensors have PIR detection technology embedded in them.  The unit works with rechargeable batteries of 1500mA rating and one recharge can last more than one month. This eliminates the headache of changing the batteries now and then and also saves you that extra cost.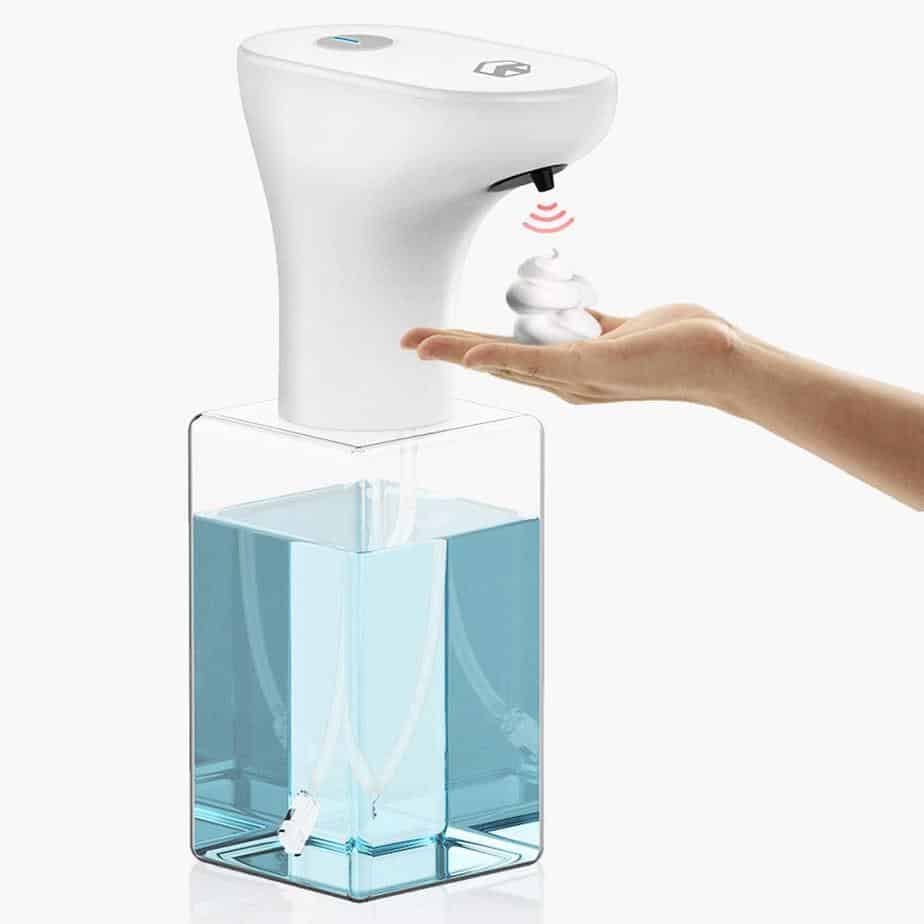 It has 2 dispensing volumes: One with a foaming time of precisely 0. 5 seconds, and the dispensing volume is around 10 mL, and the other one with a foaming time of 1.2 seconds and a dispensing volume of around 24 mL. A toggle switch is used to choose between these two settings. 
I really liked this idea of letting the users decide the dispensing volume since we all have different needs and habits it helps a lot in making the best out of this product. 
Capacity: It can hold around 15 Oz of liquid soap
Dispensing volume:  Depends on the mode selected; can be either 10 mL or 24 mL. 
Sensor Proximity: Around 1-2 inches 
Warranty: 1-year manufacturer's warranty
3. iTouchless Ultraclean Automatic Sensor Foam Soap Dispenser
Itouchless Ultraclean Automatic foam soap dispenser is one of those dispensers that is not only a treat to the eyes but is very effective in its working. A unique air injection technology has been introduced here to produce foam soap that does not collapse into liquid. This creates very little spillage and mess. Another plus point of this dispenser is its 18/10 surgical-grade stainless steel body which makes it rust-free and waterproof. Therefore, these can be placed anywhere in bathrooms or kitchen countertops or can also be wall-mounted. 
The high proximity IR sensors placed right below the spout ensure that soap gets dispensed quickly within 0.5 seconds, whenever there is any hand movement within 4-6 inches of proximity. The no-drip spout is placed at the top and it also has a water-proof base, thus making it ideal for countertop placement.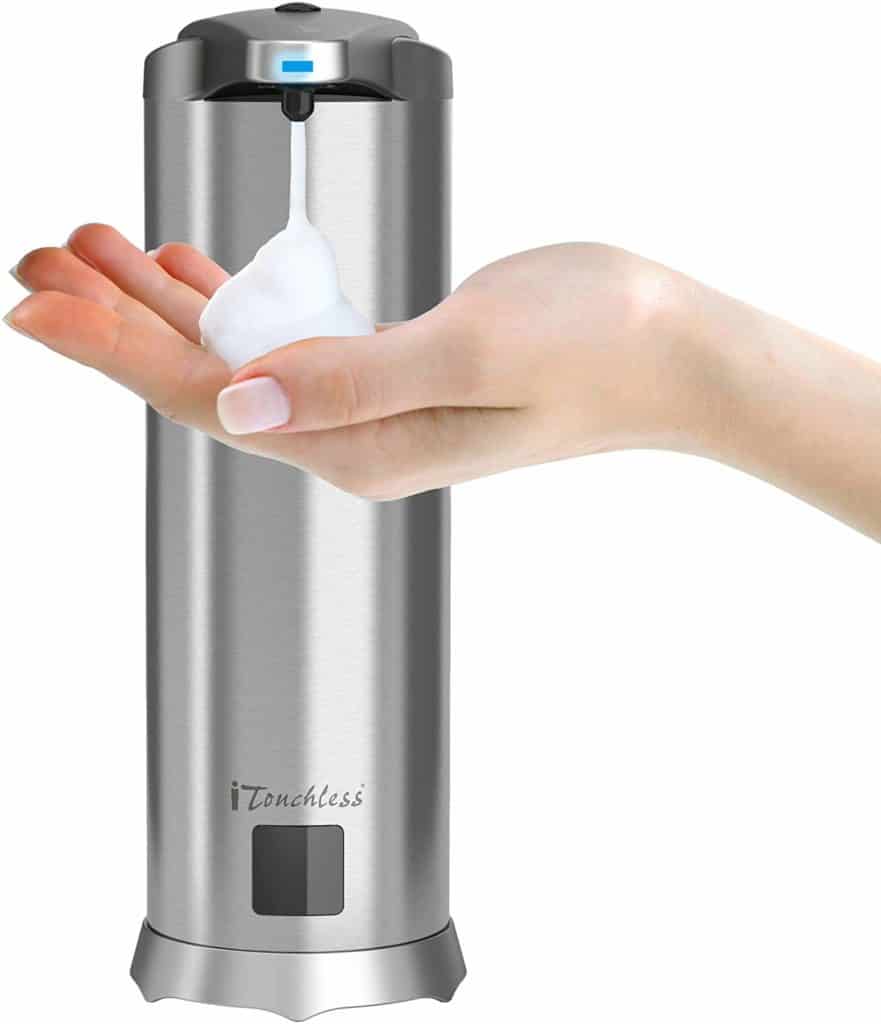 Apart from this, I find its clear window placed at the bottom very useful as it indicates the soap level and is an easy way of knowing when to refill it. 
Sensor Proximity: 4-6 inches, and fast dispensing time of 0.5 seconds
Rust-free and waterproof: Yes
Volume of dispensed soap: Cannot be altered
Warranty: 1 Year
Powered by 4 AAA batteries
Quick notes to keep in mind before you buy
Now that you have read about some of the best automatic dispensers, there are a couple of things that need to be considered to make sure you make the best choice for your home or commercial area.  Have a look:
Clogging issues can make your dispenser stop working and are a common issue for all dispensers. Frequent and regular cleaning needs to be done every now and then. Therefore choose a dispenser that is easy to clean and maintain. 
Double Check the sensors before you buy a touchless dispenser, to avoid malfunctioning of the sensors. Some sensors can be more than sensitive to motion and some can be unresponsive. In either case, it creates a mess and needs to be avoided. 
Benefits of Touchless Soap Dispenser
You will be surprised to know the benefits that a soap dispenser yields. Check out some of the advantages of using a soap dispenser. 
Hygiene
Imagine the volume of germs a dirty pair of hands can carry before they get washed. Now think of those dirty hands being used on the pump of the manual soap dispensers placed in public bathrooms, dining areas, and homes. Gross, isn't it? 
With the use of a touchless soap dispenser, the need to touch the pump disappears, thus making it germ-free. 
Therefore, it increases overall hygiene and prevents harmful micro-organisms from spreading from one hand to another. 
Ease of use
A manually pumped soap dispenser requires a lot of effort when it comes to using liquid soap. In a touchless soap dispenser, all you will need to do is place it in front of the dispenser's sensor, and voila! You get the required amount of soap. 
Thus it is super easy to use with minimal effort. 
Economic soap usage
You must have encountered a situation where you pumped out more than the required amount of soap from the dispenser. This actually finishes off the soap way faster. With automatic soap dispensers, however, only a specified amount of soap comes out every time. This makes sure that the soap can be used optimally leading to a lesser frequency of refills. 
Apart from this, if you have kids around they will love this too. And save you the mess that they might create by unmindfully pumping out the soap just for fun. 
Related Topics:
If you like the article above, here are some other similar articles you should check out!
InSinkErator Badger 1 Garbage Disposal Review