Also called automatic trash cans, touchless trash cans are those garbage cans that you can open with just a wave of your hand (or voice). Obviously, you don't have to touch them. They can be used in kitchens, offices, and pretty much anywhere.
How do touchless trash cans work?
Touchless trash cans come with infrared motion sensors that can detect movements up to a certain distance. This distance is different for different models. Once a movement is detected it triggers a gear system that opens the lid. The lid will stay open as long as the sensor detects any activity in its proximity so you don't have to worry about the lid closing when you are halfway through.
Once you are done the lid will close automatically after a few seconds.
Since they all come with sensors these are also called sensor trash cans.
Update: There is also a new variety: voice-activated garbage cans. These are newly introduced by SimpleHuman. You can open them by using voice commands. They also have motion detectors, just in case.
Most of these garbage cans are powered by AA batteries. A few can be connected to the mains via an AC adaptor. Some models can work on both batteries as well as mains.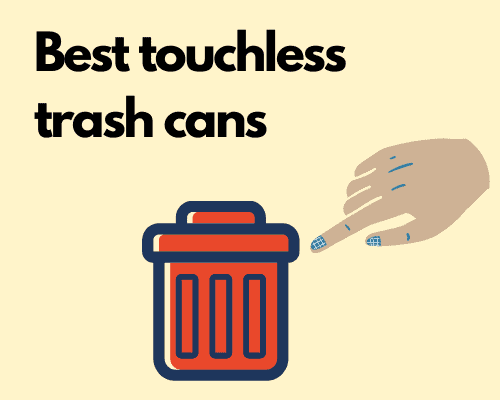 Which are the best touchless trash cans to buy?
Here are my top picks;
Simplehuman semi-round sensor can
iTouchless DZT13
BestOffice 13 gallon
Ninestars DZT-70
iTouchless sliding lid
1) Simplehuman semi-round sensor trash can
Simplehuman is quite popular for its line of garbage bins. They are like the Herman Miller of the trash can industry, their bins excel in design as well as functionality.
Among their models, this semi-round sensor bin is the most popular. I won't say this is the best because there are some superb choices but they are very pricey so most people don't go for them.
This is a 12-gallon garbage receptacle made of stainless steel. Its outer body has a nano-silver clear coat for protection from germs and fingerprints.
It uses a high-quality, accurate infrared sensor. Due to its placement, it can sense movements both above and in front of the bin. The opening and closing of the lid are pretty silent. According to the manufacturer it only makes around 52 decibels of sound which is the same as that of a normal conversation but practically I heard nothing.
The lid uses a special planetary gear arrangement so its opening and closing are slow and smooth. This is why its operation is so silent.
It has an outer lid that also serves as a liner rim. This can be flipped up during liner changes. It also helps to hide the edges of the bag from view.
All Simplehuman trash cans come with custom-fit liners. You get a pack along with this bin. The bin also has a storage place on its back for the liners.
UPDATE: The custom-fit bin bags by Simplehuman are really expensive. PlasticPlace.com offers a good alternative to this, they provide cheaper bags that are compatible with Simplehuman trash cans. You can check their collection here.
It uses 4 AA batteries which can last up to 1 year.
This garbage can is covered under a 5-year warranty. 
If you are looking for a premium sensor trash can, this is it! It has an excellent build quality, the best sensor response, and many other premium features. Highly recommended.
2) iTouchless DZT13
iTouchless is also a popular brand manufacturing garbage bins for homes and commercial spaces. They have both high-end and low-end products.
The DZT13 is the most popular of all touchless trash cans. It just gets the thing done without any fancy tech. Its simplicity, reliability, and affordability are what made this a popular choice.
It has a compact, rectangular shape that fits in tight spaces. Its body is made of stainless steel and its top cover is made of high-quality plastic. The stainless steel is fingerprint-proof which prevents any smudges and it is easier to clean. 
It can accommodate 13 gallons of rubbish. Unlike some trash cans, this one doesn't have an inner bucket. Therefore it can accommodate 25% more garbage than a similar-sized bin.
Speaking of its operation; Its infrared sensor is pretty good. The lid opens automatically and effortlessly when you wave and it stays open for around 5 seconds. It also comes with two manual buttons for opening and closing the lid. If you open it via the button it stays open for around 5 minutes. This feature is very convenient when you are cooking. The sensor understands when you are adding food waste continuously so it will keep the lid open until you are done.
You can also deactivate the touchless feature using an on/off button on the back of the bin.
DZT13 uses 4 D batteries. It also has a power adapter so you can plugin it directly as well.
There is an active carbon odor filter fitted on the inside wall of the bin. It reduces bad odors to some extent. It is removable so it can be refilled once due. 
If you look at the bottom of the bin there are some holes. They help to remove the garbage bag effortlessly.
It is covered under a warranty of 1 year but I guarantee that this trash can will last for years.
If you are looking for an affordable and reliable touchless trash can the iTouchless DZT13 is the one.
3) BestOffice TC-1350R-SS
BestOffice TC-1350R-SS is a direct competitor of the iTouchless trash can I mentioned above. Both are similar in size but this one is slightly bigger due to its shape and weighs more.
The body of this 13-gallon automatic sensor trash can is made of stainless steel which has a finger-print-proof coating. Its lid is made of high-quality plastic.
You can use any regular 13-gallon-sized trash bags in this bin. Disposing of food wastes and other garbage is easy because of its oval-shaped opening.
Its sensor works fine but with a slight delay. This is to avoid any false triggers and also to extend battery life. It uses 4 D batteries which can run this trash can for over a year. Or you can run it using an AC adaptor.
The battery compartment where the batteries are stored is on the bottom side of the lid setup. This compartment and its lid are pretty strong and tight.
There is a button behind the lid which lets you deactivate the touchless sensor. The top of the lid also has buttons to open and close it manually. If you open the lid via this button it will stay up indefinitely. You can then close it either manually or using the other button.
In my opinion, this one looks far better than the iTouchless DZT13. So you can use this as an office trash can as well.
4) Ninestars DZT-70
Ninestars is another popular brand focusing on making automatic trash cans. The DZT-70 is a dual-trash can ie, it has an additional compartment for dumping recyclable items. Its total capacity is 18 gallons.
I expected the width of each compartment to be pretty small considering that the 18-gallon space is shared equally between the two. But Ninestar designed it in a way that each has a 12″ opening when measured diagonally. 
Much like every other touchless garbage can, its body is made of stainless steel, and the lid is high-quality plastic. Its sensor detects any movements within 130 degrees. 3 C batteries power the trash can, and there is no option to plug in an adaptor. The batteries are placed in a compartment below the lid but behind the bin. Ninestar bins often have a problem of batteries falling out of the compartment and into the trash bin but at least, in this case, they won't end up in the landfill.
The sensor and the lid work pretty well. There is a red on/off button behind the lid, near the battery compartment, to activate/deactivate its sensor. Besides, the open/close buttons near the sensor let you operate it manually. If you want to keep the bin open for a long time, use the 'open' button.
It comes with a 2-year warranty. This one is much like the other two trash cans above in terms of build quality and working, the main difference is this one has an extra compartment.
5) iTouchless sliding lid trash can
At first, it looked like a DZT13 (the second trash can on my list) with a sliding lid. Both have many similarities in common but the notable difference is the shape of the bin and the sliding lids. Unlike the DZT13 this one has a tapered shape with a smaller bottom and a larger top. It is slightly bigger with a 14-gallon capacity.
I thought twice before adding this to my list because this doesn't have any features that stand out; except the 'SLIDING LID'. That's the whole reason I added it here because I think this is the only trash can with a sliding lid, and it is cool.
That being said I don't see any practical advantage in having a trash can with a sliding lid, I think the normal ones are better because sliding lids are more likely to get damaged or get stuck. However, a lot of people buy this one and it got nice reviews so why not!
Just like the regular sensor trash can it got an infrared sensor, two buttons for closing and opening manually, and an on/off button to deactivate the sensor. It can run either on 4-D batteries or electricity (buy an adapter). 
Inside the can, there is a carbon filter to remove bad odors. You can use any normal trash bag in it, the removable plastic ring sits inside the bin so the trash bag won't be visible outside.
It comes with a 1-year warranty, and their customer support is pretty commendable. 
Is there any practical benefit in buying a touchless trash can?
A touchless trash can is practically more convenient than a step-on or other models. Well, nothing is as convenient as an open-top model but in a kitchen, it will stink! So I guess the next best option is a touchless one.
Also not touching the trash can practically avoid all germs and other contaminations.
And they look cool as well.
On the downside, they have more complex parts than regular garbage bins (which have only a bin and a lid) so they are more likely to run into problems.
But are they worth the money? yes.
Related Topics:
If you like the article above, here are some other similar articles you should check out!
Best Trash Cans for Camping – Collapsible, Pop-Up Trash Cans