Back when I started this blog, trash cans were plastic and cheap. Then came a sudden influx of costly, sleek trash cans, and now there are voice-activated trash cans! There was a time when I thought no one is going to buy a trash can for over $50 but thanks to Frank Yang (Founder of Simplehuman) now some of them cost $300!
Well, the latest news is voice-activated trash cans. One of the main attractions of CES 2019 (Consumer Electronic Show) in Las Vegas were two Simplehuman trash cans that could be opened with voice commands.
Just say 'Open Can'
As mentioned above Simplehuman introduced two trash cans, one regular and another with an extra compartment for recyclables.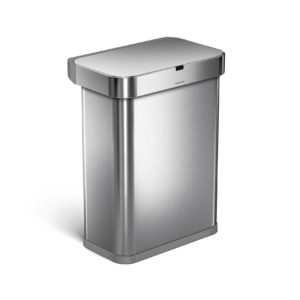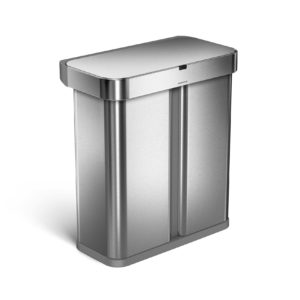 As you can see one main difference between the two is that the second one has a separate compartment to dispose of recyclable items. But when you open both trash cans you will see that the latter also has two custom buckets inside it, one for each compartment whereas the former can be used only with a trash bag.
Other than this both trash cans are almost similar. Both of them have a volume of 58 liter/15.3 gallons. They use 6AAA batteries, or you can plug them into the mains.
Both of these trash cans can be hand gesture operated as well, they come with an infrared motion sensor. When you wave your hand in front of the sensor it opens the lid. I have done a detailed post on touchless trash cans so you can find some more information there.
Like in all their touchless garbage cans Simplehuman uses a patented planetary gear system in the lid opener. This makes the lid opening not only reliable but also smooth and quiet. The lids are tested to withstand more than 150,000 openings, that's like 20 openings a day for the next 20 years! Also, the lid doesn't just flip open, it opens smooth and slow without making any sound.
Both trash cans use custom trash bags that fit the bins perfectly. There is even a compartment behind the can to store these custom bags. You can pull these bags one by one through a slot inside the bin, it is really cool.
Both of these are made of stainless steel, and they are available in different colors. Their bins have an anti-fingerprint coat to avoid any smudges or fingerprints.
Both versions of the Simplehuman voice-activated trash can are covered under a warranty of 5-years.
What are the voice commands you can use on Simplehuman trash cans?
Currently, they use three-voice commands;
'Open Can' – To open the lid
'Stay Open' – To keep the lid open for a long time
'Close Can' – To close the lid.
Simplehuman is continuously tweaking and testing new commands based on customer feedback, so they will come up with more commands in the future.
How do voice-activated trash cans work?
Simplehuman uses three inbuild microphones made by Vesper to capture voice commands. The trash can has an operating system to process these voice commands. This operating system is made by Simplehuman itself so they don't have to rely on Alexa, Siri, or any third-party systems. Based on the commands this operating system triggers the motor of the trash can which opens and closes the lid.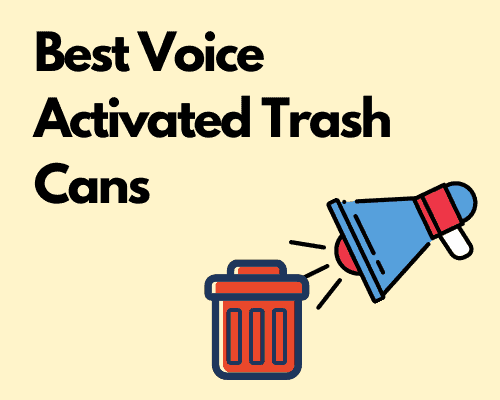 Can this trash can be connected to wifi?
No, Simplehuman uses a standalone technology that doesn't require any input from other connected devices. Since it is not connected to the web you don't have to worry about any privacy concerns either.
Conclusion
The implementation of voice activation in trash cans is just beginning. I bet, in a few months you will be seeing a lot more voice-activated ones from different brands, maybe some economical models are well. Stay tuned.
Related Topics:
If you like the article above, here are some other similar articles you should check out!
Best Outdoor Trash Cans for Curbsides with Locking Lids and Wheels
5 Best Touchless Trash Cans for Kitchens