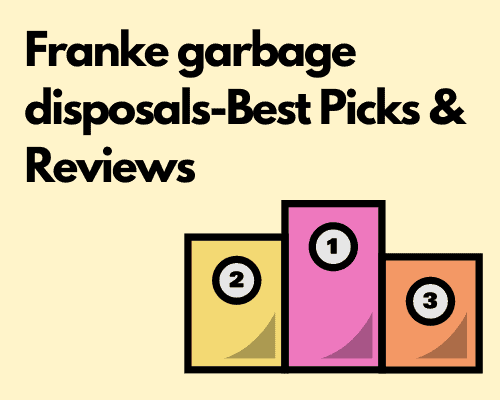 Best Franke Garbage Disposals Compared;
Here is a comparison table of my best picks;
| | | |
| --- | --- | --- |
|   |   |   |
| Power | 3/4 HP | 1/2 HP |
| Size | 6.5 x 6.5 x 13.5 inches | 6.5 x 6.5 x 13.5 inches |
| Feed type | Continous | Continous |
| Noise Insulation | Improved sound baffling | Improved sound baffling |
| Power cord | Yes | Yes |
| Grinding system make | Stainless Steel | Stainless Steel |
| Turntable material | Stainless Steel | Stainless Steel |
|   | Check Price | Check Price |
Franke Garbage Disposal Reviews
Here is my overall opinion of these two garbage disposals;
1. Franke WD75RC WD Food Waste Disposer With Cord
Franke is a new range of garbage disposals that offers affordable products. The WD75RC comes with a high-efficient D/C motor which allows finer grinding and makes it septic system compatible. This model is great for reduced power consumption. The ¾ HP motor runs at 2700RPM, much faster than many other models on the market.
The WD75RC comes in the dimensions of 6.5 x 6.5 x 13.5 inches and a weight of 11.55 pounds. It is easy to install and if you have any problems with it, the company offers 5 years of warranty to use. This is a high-quality product that can definitely be one of the best options you find within this price range.
2. Franke WD50 1/2 HP Continuous Food Waste Disposer With 2600 RPM
Franke WD50 is another great option when it comes to food waste disposers even if it is not the cheapest model you will find in this power range. Yes, there are lots of other garbage disposals available at a much cheaper rate but this one comes with lots of features that are actually useful. For one it is jam-resistant, a feature that's seen in many costly disposals. Actually, it doesn't have any anti-jamming auto-reverse function but its high-speed generates 30% more torque than slow-speed disposal which helps to cut through any jams.
It also has much better sound insulation than many other disposals in the 1/2 HP range. This promises a quieter operation. Its internal components are molded with Bio-shield Antimicrobial agents to inhibit the growth of bacteria and reduce odors.
Overall this is good garbage disposal if you have the budget. But there are many other 1/2HP models so pls check them all before you decide.
Related Topics:
If you like the article above, here are some other similar articles you should check out!
Best Emerson Evergrind Garbage Disposals
Best Mrliance Garbage Disposal