Emerson Evergrind garbage disposals are part of the InSinkErator family. InSinkErator is a very popular garbage disposal brand in the USA, and Evergrind is one of the sister brands of the company.
There aren't many garbage disposals under the Evergrind brand. Here are the best ones available in the market;
| | | |
| --- | --- | --- |
|   | | |
| Power | 1/2 HP | 1/3 HP |
| Size | 6.3 x 6.3 x 12.6 inches | 6.3 x 6.3 x 11.3 inches |
| Feed Type | Continuous | Continuous |
| Noise Insulation | no | no |
| Power cord | no | Yes |
| Grinding System make | Stainless Steel | Stainless Steel |
| Turntable Material make | Galvanized Steel | Galvanized Steel |
| Warranty | 1 year limited warranty | 1 year limited warranty |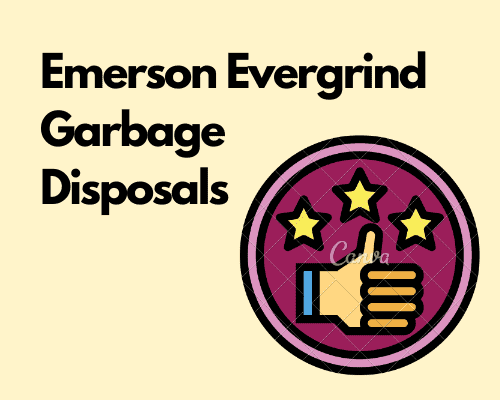 Emerson Evergrind Garbage Disposal Reviews
Given below are the disposals of my choice;
1. Emerson Evergrind E202 1/2 Horsepower Review
Are you looking for wallet-friendly disposal but don't want to compromise with product quality and performance? Then Emerson Evergrind E202 is the best garbage disposal to have. Whether you talk about its price or its sturdy galvanized stainless steel construction, it offers everything that most of us seek in quality disposal. It is compact, lightweight, and can be fitted easily under the tightest spaces.
Also, its equipped with a 1/2 Horsepower motor and a 26-ounce grinding chamber to offer the best performance on a wallet-friendly budget. It's effortless to install. All you need to do is to follow the installation instruction provided with the product, and within no time you will be able to install it like a professional.
Overall,  Emerson Evergrind E202 is an excellent garbage disposal available in the market with an affordable price tag. It's super easy to install and offers excellent grinding performance.
2. Emerson Evergrind E101 CORD 1/3 Horsepower Review
It's another garbage disposal that offers excellent performance and takes care of almost every waste without affecting your budget. Emerson Evergrind E101 CORD has a ½ hp motor but will not let you notice many differences in the performance. With a great built quality, sturdy design, and exceptional performance, Emerson Evergrind E101 CORD is the best option for individuals on a tight budget.
Even its installation is not that tough. Anyone can install it effortlessly following the installation guide provided with it.
So, if you want a quality product within your budget price without compromising on performance and functionality, Emerson Evergrind E101 CORD is must-have stuff for you.
Related Topics:
If you like the article above, here are some other similar articles you should check out!
KitchenAid Garbage Disposal Reviews