Best General Electric Garbage Disposals
 General Electric GFC320V
General Electric GFC520V
General Electric GFC530V
General Electric GFC720V
General Electric Garbage Disposal Comparison
Everyone knows about the company General Electric. Founded by famous figures like Thomas Edison, JP Morgan, and three others it is now one of the largest companies around the globe. Here is my review of the best General Electric garbage disposals.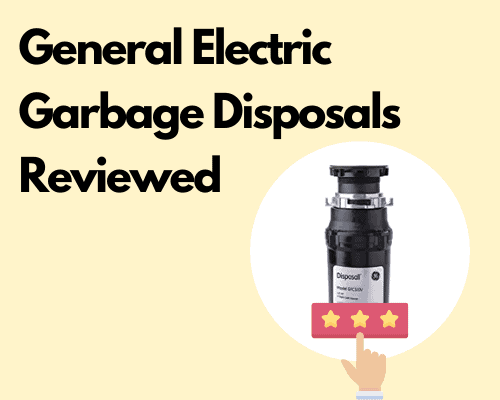 GE Garbage Disposal Reviews
1. General Electric GFC320V
GFC320V garbage disposal is the least powerful among the four disposals I have reviewed. It is powered by a 1/3HP permanent magnet motor running at 2500RPM. Compared with other popular models by manufacturers like Waste King or InSinkErator the GE garbage disposals are really high-speed. It is an indicator of how fast it can grind food wastes into pulp. High-speed motors also help in reducing jams.
This disposer can process up to 27 ounces of food waste at a time, nevertheless, this is continuous feed disposal so the chamber capacity doesn't really matter unless you plan to add large chunks of food together. It is compact in size and the EZ Mount installation makes it easier to set it up.
It doesn't have any special noise insulation technology but that's justifiable by its price tag. It comes with a limited warranty of 1 year which I wish were longer.
2. General Electric GFC520V
GFC520V garbage disposal is a powerful version of the 320V model with the exact same dimensions and chamber capacity. It is equipped with a 1/2 HP motor capable of running at 2800 RPM. The only other difference between this and the 320V model is the warranty period; which is 2 years.
Both models are priced very close so if I were to choose between GFC520V and GFC320V I would go for the former.
3. General Electric GFC530V
GFC530V garbage disposal is a lot different from the GFC520V model. The only notable similarity between them is that both use the same motor; 1/2 HP, 2800 RPM.
The GFC530V disposer is bigger with dimensions of 7.75 x 13.44 inches and has a chamber capacity of 31oz. It has a better build quality and uses Stainless Steel grinding components which last longer than the galvanized ones.
'Sound Reduction Technology' makes it quieter than the above two models. This garbage disposer comes with a 3-year warranty. Definitely, this is a little more costly than the other two models but if you have the budget don't forget to add this to your list.
4. General Electric GFC720V
This is the most powerful garbage disposal by General Electric in this review. The GFC720V is powered by a 3/4HP permanent magnet motor and achieves a speed of 3100 RPM; the fastest I ever reviewed.
This disposal is bigger in size with 8.5 x 14.5 inches in dimension and 34oz in chamber capacity. Its build quality is as good as the 530V model with Stainless steel grinding components and a corrosion-resistant grinding chamber. It is covered under a 5-year warranty.
More Features Of GE Garbage Disposals
My review above just highlights how those four disposals are different from each other. But they share a lot of common features, which are;
Non-removable splash guard
Sink stopper
Manual reset button
EZ Mount for easy installation
Dual swivel impellers made of Stainless steel
Drain boost technology – forces the water down with angled fins to easily remove any clogs in the drain pipes.
Dishwasher drain connector
GE Garbage Disposal Installation
Here is how the General Electric garbage disposer is installed with EZ Mount.
Looking for more garbage disposal reviews? See all my reviews here.
Related Topics:
If you like the article above, here are some other similar articles you should check out!
These 13 Gadgets will make Your Kitchen Smarter
Can Garbage Disposals Attract Cockroaches?