The most desirable qualities of a garbage disposal are grinding power and noise reduction. Then come the look and design. The InSinkErator Evolution Excel is an excellent product with brute grinding power, zero noise, and a great design!
No doubt this is a premium product and costs many $$s, but make no mistake, it is definitely worth the price. If budget is not an issue for you then Evolution Excel is the best food disposer available in the world!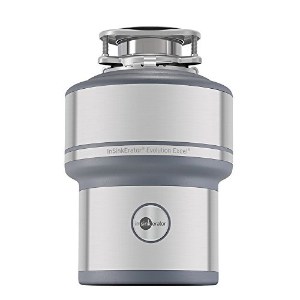 Evolution Excel is crammed with all the features you can have in a garbage disposer, it is built with stainless steel, rust-resistant has a shiny, eye candy design, it is anti-jamming, easy to mount, multi-grind technology, ultra-quiet, blah blah blah…, it is a shame to hide such a beautiful product under the sink. This is the quietest garbage disposal ever! and is our choice for the 'Best Garbage Disposal'.
The Evolution series features a dozen or more improvements over the popular Badger series line. And the Excel has one of the most powerful and efficient grinding systems I know of.
SPECIFICATIONS
Type of Feed – Continuous
On/Off Control – Wall Switch
Motor – Single Phase
HP – 1.0
Volts – 120
Reversing – Auto-Reverse Grind System™ feature
HZ – 60
RPM – 1725
Amp. (Avg. Load) – 10.2
Time Rating – Intermittent
Lubrication – Permanently Lubricated Upper & Lower Bearings
Shipping Weight (Approx.) – 25.5 lbs.
Unit Finish – Stainless Steel Light Gray TEN-1706
Overall Height – 13-1/2"
SoundSeal Plus Technology – Anti-Vibration Mount™, Anti-Vibration Tailpipe Mount™, Quiet Collar™ Sink Baffle, Multi-Layer SoundLimiter™
Insulation
MultiGrind Plus Technology – GrindShear Ring™, Tri-Action Lug System™ feature, Undercutter Disk™, Jam-Sensor Circuit™
Grind Chamber Capacity – 40 oz.
Motor Protection – Manual Reset Overload
Average Water Usage – 1/4 Gallon Per Person Per Day
Average Electrical Usage – 1/2 KWH Per Month
Drain – 1-1/2"
Anti-Vibration Connection – Hose Clamp
Dishwasher Drain Connection – Yes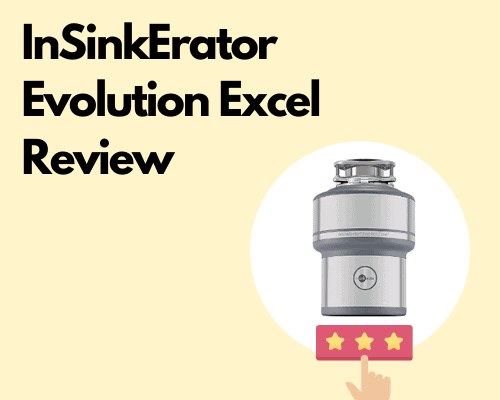 IS IT RUNNING?
Evolution Excel is highly recommended by many customers due to its awesome features and power. For all the Apple fanboys over here, it is like an iPhone, it is beautiful, smooth, and gets things done. People really really love how quiet it is (yes, I have mentioned this above multiple times, and will mention it again  ) One customer even stated it is so quiet that he had to check the drain to make sure it was actually working. The entire unit is designed to be as quiet as possible. The InSinkErator Evolution Excel disposer comes with SoundSeal Technology which is a collective name for all the soundproof things done on this disposer. The hardware for the drain and inlet and outlet ports on this machine are also reinforced to reduce any vibration that could potentially occur.
DISPOSE OF EVERYTHING AND ANYTHING
Another feature I really like about this disposer compared to the more conventional units on the market is the MultiGrind Technology. The Evolution Excel breaks down food through three stages of grinding.  I don't want to bore you with the details, so let's just say that it will take out a whole chef salad complete with chicken wing bones and potato peels on the side. This disposer has technology built-in to deal with jamming as well.  If the disposer senses jams, it automatically increases power up to 500 percent.  It also reverses its running direction if it comes across something it cannot handle.
TECHNICAL ODDS AND ENDS
The Evolution series comes with a very generous warranty.  The people at Insinkerator offer a seven-year come-to-you warranty on their Evolution Excel disposers. It is pretty easy to install especially to switch your current InSinkErator disposal with this one.  If you want to install this beauty yourself, you can just twist and lock the disposer onto the existing InSinkErator drain. If you are not replacing an old disposer, you may need some plumbing fittings and pipe to complete installation, which is the same as installing any other food waste disposal. It comes with instructions and a user manual to guide you through installation.
IS THE HIGH PRICE WORTH IT?
The Evolution Excel comes with a hard-to-digest price tag. However, if you are looking for quality and performance this is the model to get.
I also believe that, if you are a firm believer that you get what you pay for, this disposer comes highly recommended owing to its function and advanced features.
PROS:
Extra powerful induction motor for heavy-duty service.
Seven-year warranty with a three-year warranty on all parts.
Very quiet.
built completely with stainless steel
Auto-reverse grind system
Multi-stage grinding with 3 grinding stages
Large grinding chamber
eye-candy design
CONS:
Pricey.
No power cord included.
Final words:
I have great respect for the InSinkErator brand and its products.  The Evolution Excel garbage disposer boasts advanced technology for serious grinding with little noise while operating. If you want to have a hassle-free kitchen where nothing goes wrong at the worst possible time, this tough disposer can make your worries a thing of the past.
Related Topics:
If you like the article above, here are some other similar articles you should check out!
Waste King 9930 vs 9920 – Which is the Best?
Waste King L-9940 vs L-3200 – What's the Difference?