Waste King Legend 3200 is a popular budget garbage disposal by Waste King. Like every model, this has some pros as well as cons.
Let's see in detail what features this disposal pack.
Power, size, performance
L-3200 packs enough power to turn regular household food wastes into pulp. It is powered by a 3/4 HP motor, and it runs at 2700 RPM. Unlike some other slow-speed disposals which require special technology to prevent jamming, this high-speed motor allows it to break food particles without jamming. This machine is suitable for a normal household with up to 5 people.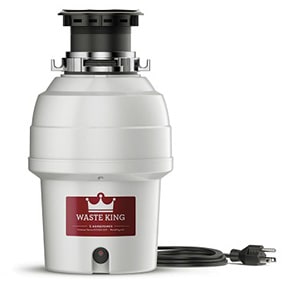 L-3200 is a continuous feed type disposal. With its power and high speed, its performance is at par with some of the premium disposals. If you are looking for a mid-range model with ample power and reliability the L-3200 is a very good choice.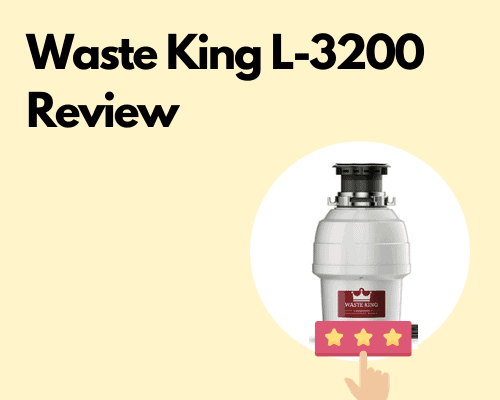 Noise Levels
L-3200 doesn't come with any noise insulation. But since it uses a permanent magnet motor the noise levels are relatively low provided the pipes and fittings are well insulated. Of course, it cannot be compared with that of premium models, that will be like comparing apples to oranges.
Build Quality
Average garbage disposal has a life expectancy of 10-12 years. To withstand corrosion from food wastes and water the disposal needs to be built with corrosion-resistant materials. The grinding components of L-3200 are made of stainless steel. As you know stainless steel is resistant to corrosion. In addition, the grinding chamber, where food wastes are ground, is made of corrosion-resistant polymer.
Space & ease of installation
L-3200 is not exactly compact (at least it doesn't fall under that definition of mine.) but not very space-consuming either. It has a height of 13.75 inches and a diameter of 7.75 inches. It uses EZ mount installation so the installation is a breeze.
Here is how to install a L-3200 disposal;
Looks and design
The L-3200 follows the standard design of all Waste King disposals. It has an off-white color and a practical design. Its older models had a very boring design, I am really glad they thought of changing it. (That being said no one is going to see your disposals because in most cases if not all, they are hidden in the sink cabinet.)
Price & Warranty
Waste King L-3200 is a mid-range garbage disposal, and is priced to fit your wallet. In addition, it is covered by an 8-year warranty which is the best in this price range.
My Verdict
If you are looking for a proven, reliable, practical, and budget-friendly garbage disposal this is the one. No company is going to give an 8-year warranty unless the product is that reliable. You won't get a better deal within this price range.
Frequently asked questions about L-3200
What is the difference between L-3200 and L-3300?
Both are very similar models but they have some differences. Please check this post to find a detailed list of similarities and differences between the two models.
Where is the reset button on L-3200
The reset button is located on the front face of the disposal towards the very bottom.
Can this disposal replace another Waste King disposal?
Yes, sure, as long as it is an EZ mount disposal all you have to do is just press and twist. This is if your pipings are flexible. There are slight height variations between any disposal models so you will have to adjust the pipings if they are not flexible.
Still not sure? Here are some other disposals to consider;
Related Topics:
If you like the article above, here are some other similar articles you should check out!
Garbage Disposal Wrench (What is it, Types, How to Use)
American Standard Garbage Disposals