American Standard is a comparatively new brand among garbage disposals. Nevertheless, they offer disposals of premium quality. Currently, they have just two models available. Here they are;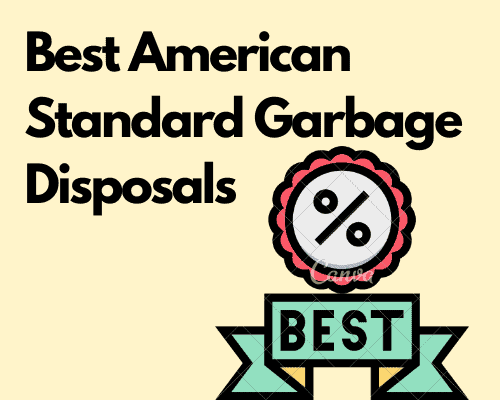 Best American Standard Garbage Disposals
 

American Standard High Torque

 

American Standard ASD-1250

 

Power
1.25 HP 2700 RPM
1.25 HP 2800 RPM
Motor
High Torque Permanent Magnet Motors
High Torque Permanent Magnet Motors
Size
15 x 9 x 9 inches
15.5 x 8.7 x 8.7 inches
Noise Insulation
yes
yes
Power Cord
Yes
Yes
Grinding System
Stainless Steel
Stainless Steel
 
Check Price
Check Price
American Standard Garbage Disposal Reviews
1. American Standard High Torque Garbage Disposer Review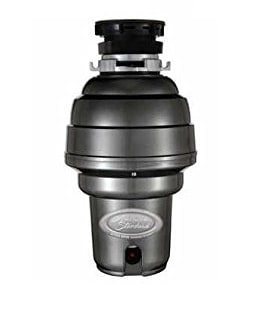 Are you looking for a garbage disposer with high performance that can grind everything and anything? With 1.23 horsepower and 2700 RPM speed, American Standard High Torque Garbage Disposer is made for you. It justifies the actual purpose of a garbage disposer by breaking down everything into tiny chunks and then flushing them down the drain.
Also, its equipped with a magnetic guard ring that ensures complete safety. Imagine what will happen in case a knife will fall into an operating garbage disposer? It can be hazardous. The magnetic guard ring works to ensure complete safety by catching all the metallic elements and keeping them away from the disposal chamber.
The balance turntable is there to eliminate vibration and offer smoother performance. Also, its shell is well insulated, and thus there will be no operational noise or least noise as compared to its competitors.
Grinding elements are made of stainless steel, and thus there is nothing to worry about food or debris buildup on its blades. Its grinding unit works powerfully with extreme torque and effectively breaks down difficult food scraps into tiny pieces and prevents unwanted sewer jamming and clogging issues.
PROs
Compelling but quiet performance
Super easy to install
Ability to chop up almost anything
Extended lifespan with stainless steel
The magnetic guard ring is there to ensure complete operational safety
CONs
You may need to apply some putty to ensure it is locked properly in place.
2. American Standard ASD-1250 Garbage Disposer Review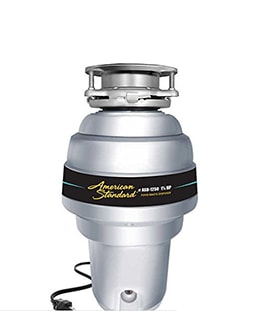 If you are looking for a disposal product with an extended lifespan and quality performance, American Standard ASD-250 deserves to be there in your kitchen.
American Standard is known for delivering quality products in a wallet-friendly price range. It is equipped with a high torque motor rated with 1.25 HP 2800 RPM. Its motor itself justifies its price. Also, its shell is insulated effectively to produce the least noise while functioning. Also, the product is known to have better vibration protection. Installation is easy and doesn't require any expertise. It will not take more than one hour to install it.
When it comes to appearance, American Standard ASD-250 is not as sleek and small as other disposal product models available in the market, but it's not that bulky either. Overall, it's a value-for-money disposal product available at an extremely fair price that deserves to be there in your kitchen and other target premises. Have a look at some of its pros and cons…
PROs
Powerful but quiet
Quick and super easy installation
Stainless steel components
Magnetic guard ring for extra safety
CONs
Additional plumber putty may be required to install it properly.
Related Topics:
If you like the article above, here are some other similar articles you should check out!
Best Commercial Garbage Disposals for 2020
General Electric Garbage Disposal Review